Feels like I've been waiting forever to tell you this and I'm nearly bursting at the seams. So I'm just gonna blurt it out: GUYS, I HAVE MY OWN LUBE NOW.
It was my BFFs over at SheVibe who helped me turn this dream into reality. They've never helped develop a lube before, but they were down for the challenge. Now, after many months of planning, designing, and testing, it is here. Introducing Piph Lube: a radically stimulating water-based lubricant formulated with pure Portland rain water.
This is the height of celebrity. I am so stoked.
My first thought when brainstorming ideas for this lube was "how can I make it my own?" It's easy to throw together some water, xanthan gum, and potassium sorbate and call it a day, but how could I make the lube unequivocally mine? I knew I wanted to make a water-based lube, since those are compatible with all sex toy materials and situations. Of course, it needed to be glycerin- and paraben-free and entirely flavorless. (Sorry, flavored lubes, I'm just not that into you.)
You've seen some of these ingredients before in other lubricants — I drew inspiration from the base formula used in my favorite lube brand Sliquid, with plant cellulose as a thickening agent, vitamin E for a moisturizing glide, and potassium sorbate and citric acid as preservatives.
But the rest of the lube is a departure from traditional lubricants. In fact, Piph Lube is infused with 5 uniquely-stimulating ingredients never before used in a lube. That means it doesn't just lubricate — it enhances. And it enhances much more effectively than other so-called "stimulating" lubricants with their dull, underwhelming ingredients like menthol. I wanted to go beyond surface-level tingling. I wanted something more… psychoactive.
---
Infused with stimulating ingredients
Piph Lube's stimulating ingredients work in tandem to both heighten physical sensation and inspire an overall sense of emotional well-being and confidence. Getting the formula exactly right took some time, though. I gave samples to trusted friends for their input, using their feedback to tweak ingredient levels. After many rounds of testing, and a rigorous production process including filtering out stray cat hairs, we finally landed on the perfect formula.
Ingredients: Portland rain water, plant cellulose, tocopherol (vitamin E), cannabis, caffeine, queer magic, pinot grigio, potassium sorbate, citric acid, catnip.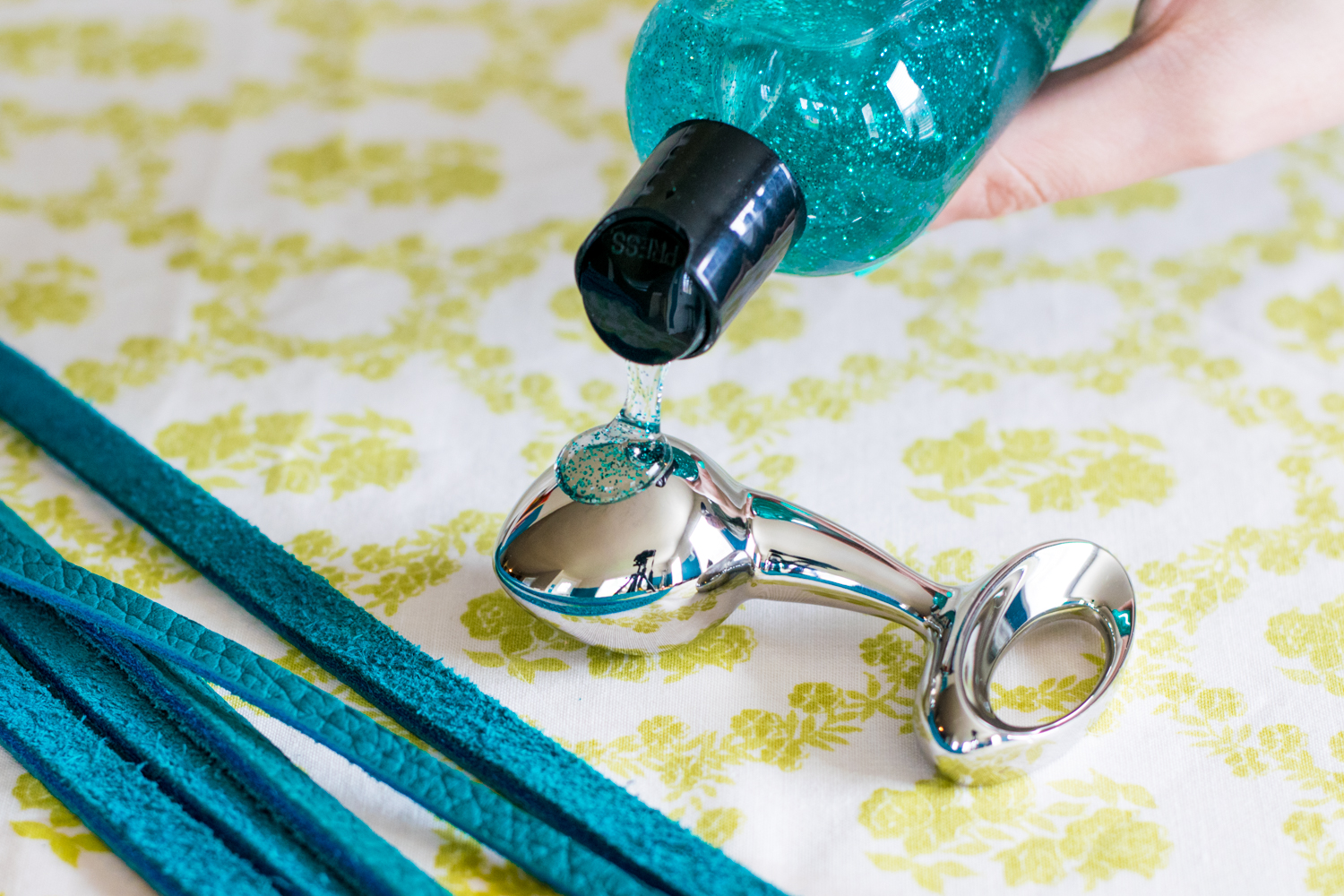 The biggest component of water-based lube is water itself. Piph Lube, however, isn't formulated with just any water — it's made with certified Portland rain water. The purest rain, the kind that angrily hits the windshield of your Subaru or lightly drizzles upon your skin as you wait for your food cart order, the kind you dare not shield yourself from, diverted off the roof of the PDX airport and filtered for impurities. I'm not saying you're going to grow a beard after using this lube, but I also can't say you won't — we didn't have enough time to study the long-term physical effects.
Here are the 5 key stimulating ingredients in Piph Lube, plus why and how each was incorporated.
Cannabis

C'mon, of course weed is in this. Masturbating while stoned is one of the simple pleasures of life — I needed to recreate that sensation in my lube. We're using my favorite strain, OG Kush, for a body high that electrifies your senses, so you'll feel every inch of whatever's touching you or inside you. It makes the mediocre sex toys feel amazing and the bad sex toys feel mediocre. (It does the same with humans, for better or for worse.) As a bonus, afterward you'll want to tell all your friends how much you love them.
---
Caffeine
The fuel of my life. It only made sense to have it power my lubricant as well. We started with unroasted coffee beans from my favorite local company, Extracto, distilling them down to just the caffeine — for all the jolt with none of the unpalatable discoloration or divisive flavor. This'll give you a rush of energy and optimism, the feeling that anything you do next is going to be just great!
---
Queer magic

The most elusive and ephemeral of the ingredients, yet absolutely key to the formula of Piph Lube. This rare ingredient was harvested directly from a queer sex party, where the affirming energy and sound waves from moans and spankings was carefully collected and bottled for future use. Queer magic's effect is exhilarating, making you feel both more passionate and communicative as well as deeply validated and seen.
We found that adding this ingredient caused a glitter-like substance to appear in the lube. But don't worry — it's 100% body-safe, does not add any grittiness to the texture, and flows freely through a lube dispenser. Plus it looks fabulous as fuck.
---
Pinot grigio

The best thing to sip after an infuriating day on the internet, this variety of white wine calms your nerves and ensures that you give zero fucks what other people think. This ingredient is particularly powerful in combination with the queer magic — some testers reported that after using Piph Lube, they "felt fearless and ready to take to Twitter with the knife emoji." Good. As it should be.
---
Catnip

I don't know why catnip hasn't been utilized as a stimulating ingredient until now. I regularly witness the effects that it has on my band of felines. As you'd expect, this ingredient puts you in a playful, feisty mood with a slight air of superiority and a desire to roll around on anything soft. I figured this wasn't a big problem considering you're probably in bed already…?
---
As you might imagine, our biggest hurdle was balancing all the ingredients appropriately. Too much cannabis and folks reported being more excited about ordering Domino's than having orgasms. Too much caffeine and testers found themselves up until 3 am reading about unsolved murder cases. We had to tweak the portion of queer magic a few times, after some testers said they felt "stuck in a loop of all communication and no sex." Now, queer magic only has one manageable side effect: an unshakable love for Tegan & Sara, which everyone should have anyway.
Full disclosure: due to the considerable Portland rain water content, prolonged use of Piph Lube has been known to manifest a photograph in your phone's camera roll: a from-above shot of your feet standing on the PDX airport carpet. This is normal. You can use the photo for street cred or you may delete it, but if you continue using Piph Lube, it will eventually reappear.
---
Cool, but how does it really feel?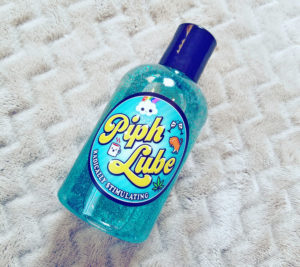 I mean, I wouldn't be releasing this lube into the world today if I didn't love it personally. But you don't have to just take my word for it, because I gave a bottle to the lovely Kate at Girly Juice, who wrote a full-length review on her experience. (She was also involved in the early testing process.)
Here's what she thought:
. . . the formula is finally exactly right, I'm thrilled to report. When I smear it all over a dildo or a butt plug for a luxurious wank sesh, I know I'm about to have an experience. The first time I tried this final formulation, I had three theatrical orgasms in a candle-rimmed bathtub while intermittently wailing along to Ani DiFranco and giggling like a six-year-old at a birthday party. The next time I tried it, I channelled my inner Rosie the Riveter and got most of my own fist inside me while chanting, "We can do it! We can do it!" The time after that, I squirted so hard I thought I was gonna pass out, and when I looked at the puddle on my bedsheets, I swear to god it was shaped like a unicorn. Hey, don't ask me, I can't explain the hows and whys of queer magic.

When I brought Piph Lube to a Tinder hookup's house and explained what was on offer, he eagerly agreed to give it a shot. Five hours later, we finally collapsed in a heap of glitter and sweat — me scratched up and sated, him wide-eyed and whispering piously about how a communist, matriarchal society would reshape our sexual culture.
Dang, I wasn't even trying to make a feminist lube and yet somehow it happened anyway!? Being the smarty-pants that she is, Kate also explains how to make the most of your time with Piph Lube:
I recommend pairing Piph Lube with a hyper-textured or visually stimulating toy to take full advantage of its sensual effects. Smear some on a heart-shaped butt plug if you just wanna feel more in tune with the love energy of the universe, y'know? Drip some on your BS Is Nice Rainbow dildo if you're like, "Hey, I'm pretty gay, but I want to feel even gayer today." Squirt some in your Tenga 3D Spiral if you want your dick to feel like it's trapped in an Escher painting.
The final verdict?
I want to use it a lot. Like, all the time. It's hard not to love a product that makes your vagina feel like it's flying through the cosmos holding hands with Cher and Prince . . . Now, if you'll pardon me, I'll be in my bathtub, crying happy tears, coming too many times, and fucking myself into a sparkly stupor.
---
Order Piph Lube now!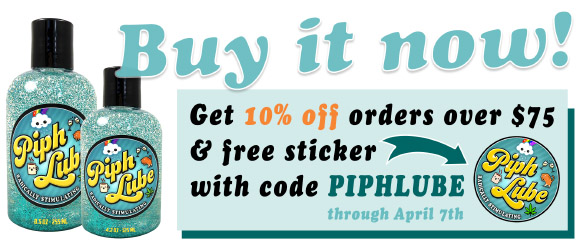 Piph Lube is available directly through SheVibe. It comes in two sizes: 4.2 ounces and 8.5 ounces. Use promo code PIPHLUBE to get 10% off orders over $75, and they'll even toss in a free Piph Lube sticker with your order! (Through 4/7.) If you've purchased from SheVibe before, be sure to login and leave a review on the product page!
While you're shopping, why not peruse my very favorite toys and pick something nice to go with your new lube? Piph Lube pairs well with silicone toys such as VixSkin dildos and the We-Vibe Rave, or use it to further enhance the G-spotting prowess of the njoy Pure Wand or Fun Factory Stronic G. Or, be cool like me and drizzle it on an njoy Pure Plug. If only because it just looks adorable.