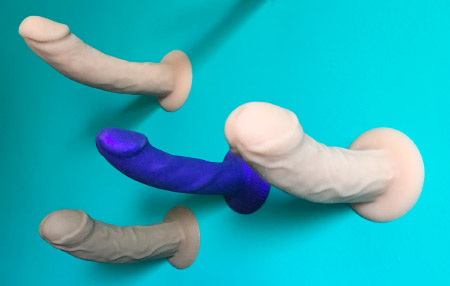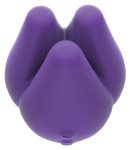 Yay, the Canadian cuties at Fuze have four new suction cup dildos: Flame, Major (uncut and girthy!), Freddie, and Star. They can attach to each other, too, to make a custom double-ended dildo.
Jimmyjane's new Tre looks like a bundle of alien fingers. Isn't that what you want to put on your clit? (Hot tip: if you want to be even poorer, buy the version that comes with a UV sanitizing case!)
Dicks that become erect at the push of a button? THE FUTURE IS NOW.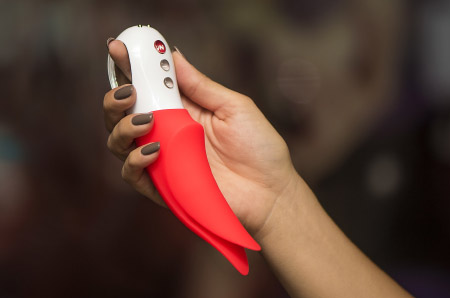 Flickering tips, y'all! The Volta is Fun Factory's latest, and I must tell you from first-hand clitoral experience: I quite like it!
Although composed entirely of knock-offs, Cal Exotics' "Packer Gear" line is worth a look if you're after some inexpensive gender stuffs. Notably, they just added a $13 (!!!) silicone STP to the line.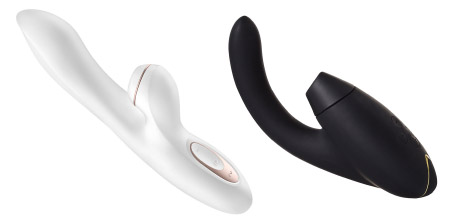 File this under "things the world did not need": rabbit-style suction toys. There's the Satisfyer Rabbit, of course, and then there's the one from Womanizer. Keeping up their time-honored tradition of not knowing how to name things, it's called… Inside Out. Ew?!
I have no idea if Rianne S.'s new vibrators are any good… but they do come with adorable storage bags.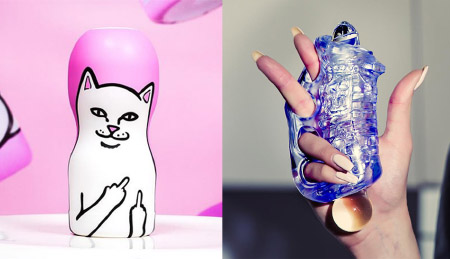 The product itself is nothing new, but Tenga released one of their masturbation cups with a snarky cat on the label. It's a collab with some ~influencer~ dude, apparently, but shhhh, CATS.
The first sleeve-only Fleshlight product is here and it's called, unfortunately, Fleshskins. It features holes for your fingers and comes with a drying case. Meanwhile, Hot Octopuss released a smaller version of their vibrating penis toy, deemed the Pocket Pulse.