Me, masturbating: uh, don't mind me, I'm just over here jamming this ugly-ass hairbrush-lookin' thing against my vulva in a feeble attempt to orgasm. And I'm failing, friends. I'm failing and I'm angry.
Me, writing: my fingers tingle with impending rage as I hover over the keyboard. I'm looking for a word. Like "disappointing" only meaner. Like "frustrating" but 100 times worse. Abhorrent? Heinous? Exasperating? Disgraceful? Language can't fail me now, not when so much is at stake. Not when there's still a possibility that some human on earth might buy the Queen Bee.
The Queen Bee is the first vulva-specific vibrator made by Hot Octopuss, a company known for trying to make the word "Guybrator" happen penis toys such as the Pulse. Their products utilize what they call PulsePlate Technology™, which creates up-and-down oscillation rather than vibration. "Oscillation" is one of those words that gets me excited, so it was with visions of my beloved Eroscillator dancing in my head that I lunged for the Queen Bee.
But there is no word in the English language that encapsulates the depth of my disappointment. There is only the story of how I got here — how my resentment grew with every abysmal orgasm I had to endure.
The Queen Bee is made of medical-grade thermoplastic elastomer (TPE), which is functionally non-porous and therefore body-safe. 1
It feels like hard plastic. The toy comes with a drawstring storage bag with cord fastener, and the packaging feels really cheap, so cheap I have to actually mention it. The USB charger has a subtle Hot Octopuss logo on it, and its light glows red while charging and green when complete — helpful touches. You might want to re-read that sentence with the knowledge that it is the nicest thing I will say about the Queen Bee in this entire review.
The Queen Bee's design is nightmarish: a lifeless grey body, crevasses everywhere just waiting for vag gunk, buttons on the wrong side of the handle made of thin raised lines that all feel the same, and dubious overall construction. Supposedly this vibrator is waterproof, except my first one got water trapped under the PulsePlate which then began… rusting? (Here's a picture.) And my replacement has been doing this cool new thing where I have to smack it with my hand to get it to start up. Yeah. Like a stuck vending machine. That's not disconcerting at all.
Then there's the hideous noise this thing emits. It's loud as sin and as jarring as that viral sheep video. I can tune out certain levels of buzz, but this is unconscionable, not to mention mood-ruining.
And that's all before I even touch the thing to my genitals.
The size of the PulsePlate is the main cause of my strife. The oscillating technology is there, but it's being channeled in the worst way imaginable, distributed through this humongous plate that focuses the sensation nowhere. I have to manually spread my labia and wedge it in there, sort of, and even then the vibration feels eerily distant. I'm forever moving it around my vulva, searching desperately for some precision, some edge. There's none to be found.
It teases me so much it makes me mad.
Matters are made worse if I want to use an insertable toy at the same time (and I do because omfg I need so much more stimulation). This presumptuous motherfucker thinks it's the only thing I need against my genitals when in actuality it's the last thing I need there. To have any hope of orgasm I have to smother my vulva with the widest part of the PulsePlate; add a dildo to my vag and I can't do that anymore. And lo, my resentment builds.
So I'm always adjusting the Queen Bee, chasing fleeting blips of pleasure that immediately pass. It's like that time I was stricken by norovirus: bed-ridden, plagued by a fever, tossing and turning and unable to find any comfortable position. Everything felt terrible because being alive felt terrible. Occasionally, after eating a single saltine cracker or taking a shit, I'd experience a brief reprieve. Then, 5 minutes later, the sickness would bubble up again, and I'd be back in bed curled up in the fetal position.
With the Queen Bee, orgasm no longer feels like a logical conclusion — it feels like a distant goal I must concentrate to accomplish. Then there's that moment mid-orgasm when it fails to deliver adequate stimulation, robbing me of fully enjoying what I've worked so hard for. It's like meticulously wrapping all your presents only to have them destroyed by your aunt's overzealous dog. They're still presents, and it's still an orgasm, but now you're upset and there's dog slobber all over everything.
After a while I started using only the highest intensity. Why bother with anything else? There is no "warm up" with the Queen Bee. There is only constant, relentless struggle.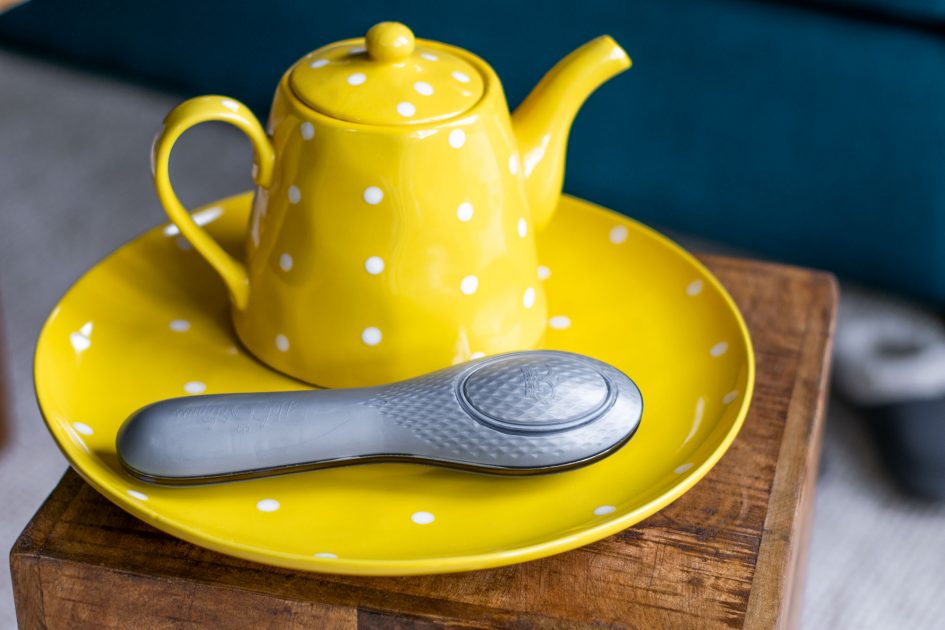 Plus, and I don't normally think much about the aesthetics of my toys during use, but I really feel like I'm trying to get off with a shitty hairbrush or weird object I found around the house. There is absolutely nothing luxurious or romantic about it. Picture this: I'm shoving the Queen Bee against my vulva — my unintentional death grip makes my fingers hurt — and I have to pull it away from my body and turn it around any time I want to change settings. It gets noticeably warm after less than 10 minutes of use, and it's so loud I have to crank the porn way up. Sorry, but any vibrator that prevents me from hearing pretty boys murmuring sweet nothings to each other can go STRAIGHT TO HELL.
It's been a while since I tried something this wholly aggravating. It's honestly the kind of sex toy that makes me feel broken, like my clit is too buried or I'm doing something wrong. I'm self-assured enough to know that's not true, but not everyone else is, and that's what freaks me out.
Also, $119 is about $319 too expensive for this toy. As far as I'm concerned, the Queen Bee fucking owes me.
The Queen Bee makes me instant message my partner post-orgasm ("dear lord I hate this toy!") because somebody needs to feel my pain, now. It's the kind of toy that makes me sprint to my WordPress dashboard to tag this review with "orgasm ruiner." Once, after it botched yet another orgasm, I looked at the Queen Bee and muttered "I hate you." Then I grabbed my Eroscillator so I could have an orgasm I could actually be proud of.
Maybe, just maybe, I shouldn't end a masturbation session feeling more annoyed at everything. Apparently, no amount of endorphins can cancel out this horror show.
The Queen Bee is the saddest excuse for an Eroscillator competitor since the Synergy Pleasure System, which is incredible considering that's a review from OVER 8 YEARS AGO about a toy that smelled like a dumpster fire, and even that vibe brought me more pleasure than the Queen Bee does. But if oscillation is what you seek, the Eroscillator remains the gold standard. And if you're looking for broad stimulation, get the Magic Wand Rechargeable.
During one of my last forays with the Queen Bee, I pulled up a new porn scene I'd purchased and slapped the toy against my thigh to get it moving. The scene was smokin' hot, the toy was on high the entire time, and it was my first orgasm of the night, yet it still took me 15 minutes to focus enough to come.2 And the orgasm sucked.
Afterward, even though I hadn't finished the scene yet, I decided I wanted to quit masturbating if masturbating included the Queen Bee. That's my boundary: if the Queen Bee is involved, I'm not interested. I have presents to wrap, peppermint schnapps to drink, cats to snuggle, true crime documentaries to watch. If the Queen Bee was a person, my therapist would tell me they're sapping my joy and I should cut them out of my life.
Gladly.
You can learn more in Hot Octopuss' materials FAQ sheet.