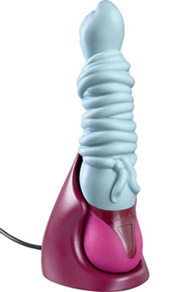 When I began reviewing sex toys, my vagina was the biggest wimp. I was still a virgin, after all, and had only penetrated myself with a tiny toy skinnier than two of my fingers. Of course, I was promptly assigned an insertable toy to review. It was a rabbit, but the shaft really wasn't very thick. Nonetheless, I found I could barely insert it without wincing in great pain. I couldn't insert it far enough to even take advantage of the clit stimulator. I was so embarrassed.
I have made a ton of progress with my vagina since then. Losing my virginity probably helped, although I moreso credit toy usage and diligence. With time, I experimented with different shapes and materials of insertable toys. I worked my way up to toys 1 1/2″ in diameter, and yeah, I feel pretty freaking proud of that.
But when I got the Fun Factory Benjamin Bond, a rechargeable silicone cutie that I've been coveting since I saw it, I felt I had traveled back in time. When I tried to use it, I found myself in pain. I tried just pushing it in, but eventually gave up. Either my vagina had shrunk or there was something making this guy feel a lot bigger than everything else in my collection. I eventually realized there were three reasons: Benjamin Bond's diameter is 1.65″; it has a hard center housing all the electronics; and — obviously — its texture is totally wild and crazy.
So, admittedly, I procrastinated trying again with Benjamin Bond. I only reached for it during serious masturbation sessions. And, although it is still a bit painful at times, I have conquered it enough now to tell you about it.
This is not a toy for the faint of heart. One must really love texture and girth to enjoy using this. I do think, though, that it is a great toy for those who fit the bill. It produces a great sense of fullness, and the ridges make themselves known against my vaginal walls. Surprisingly, Benjamin Bond also hits my G-spot; but, because the handle is heavy, I quickly grow exhausted by trying to thrust quickly against my G-spot.
Vibrations are controlled by a strange joystick on the handle that doesn't exactly… move. You just press it and the vibrations change. I found this very weird, since I am used to buttons decompressing when I touch them, and this joystick stays completely stiff. Nonetheless, it is an easy vibe to operate, and has nine levels of constant vibration and three pulsation patterns. In all, the vibrations have a very good range from low to high, and even on high, the noise level is very tolerable.
One thing that disappointed me was the charging station. I do like that it uses an average-sized plug (not a weirdly-shaped one that will screw up your power strip), but I was very sad when I realized there was no charging light. In fact, there is no way to even know if Benjamin Bond is sitting right on the charging station (although I don't know how you could really mess that up). The instructions say that Benjamin Bond should just be kept on the charging station when not in use, so I guess I should start doing that. Otherwise, a complete charge takes 10 hours.
Benjamin Bond is also waterproof, but I am not about to try this thing without lube, and water-based lube ceases to exist in water.
This is not a vibrator I will reach for every day, but it definitely follows through when I need something monstrous and daunting (and yes, sometimes I do!). I'm looking forward to using Benjamin Bond more and more often.