There are still people making good decisions in this world. The reason I know this is because the Magic Wand Plus exists.
The Magic Wand Plus is an upgraded version of the Magic Wand Original, the classic 50-year-old "back massager" famous for "relieving aches and pains." We're not supposed to call it the Hitachi Magic Wand anymore, precisely because Hitachi was starting to sense those suggestive quotation marks, but it remains colloquially known by its former name — and forever revered for its ability to cause near-instantaneous orgasms. The cat is out of the bag, so to speak, and it's never going back in. (Uncharacteristically.)
But updating anything without ruining it is an art form. You run the risk of merely reminding people how much more they loved the original, especially when something is a beloved and established piece of popular culture. Case in point: me at the theater seeing the Lion King re-make, realizing maybe I didn't want to see hyper-realistic animal mouths moving in such an unsettling, uncanny valley way. I'm sure the folks who made The Lion King are fine people, but in the push toward cutting-edge innovation, something was lost.
Lucky for us, Vibratex is careful with the Magic Wand, and their upgrades to it have never felt superfluous. In 2013, they reinforced the inner workings of the original and removed Hitachi's name, as requested — saving the Magic Wand from extinction. In 2015, they released the revolutionary Magic Wand Rechargeable (MWR), with four vibration intensities rather than two. Finally, the Magic Wand was free of its cord, and it offered lower settings to ease into things. I quickly married mine in an informal orgasm ceremony, and we remain a happy couple to this day.
Now there is the Magic Wand Plus, a corded wand that bridges the gap beautifully. Vibratex didn't hipsterify the toy at the expense of useful features — it still resembles the classic Magic Wand, but now it has a smooth silicone head and four steady vibration intensities. The cord detaches, if you need that for some reason,1 and it's compatible with 100-240V electrical systems, so it won't fry if you use it overseas. Most notably: it's priced at a cool $75-80, about $50 cheaper than the rechargeable version.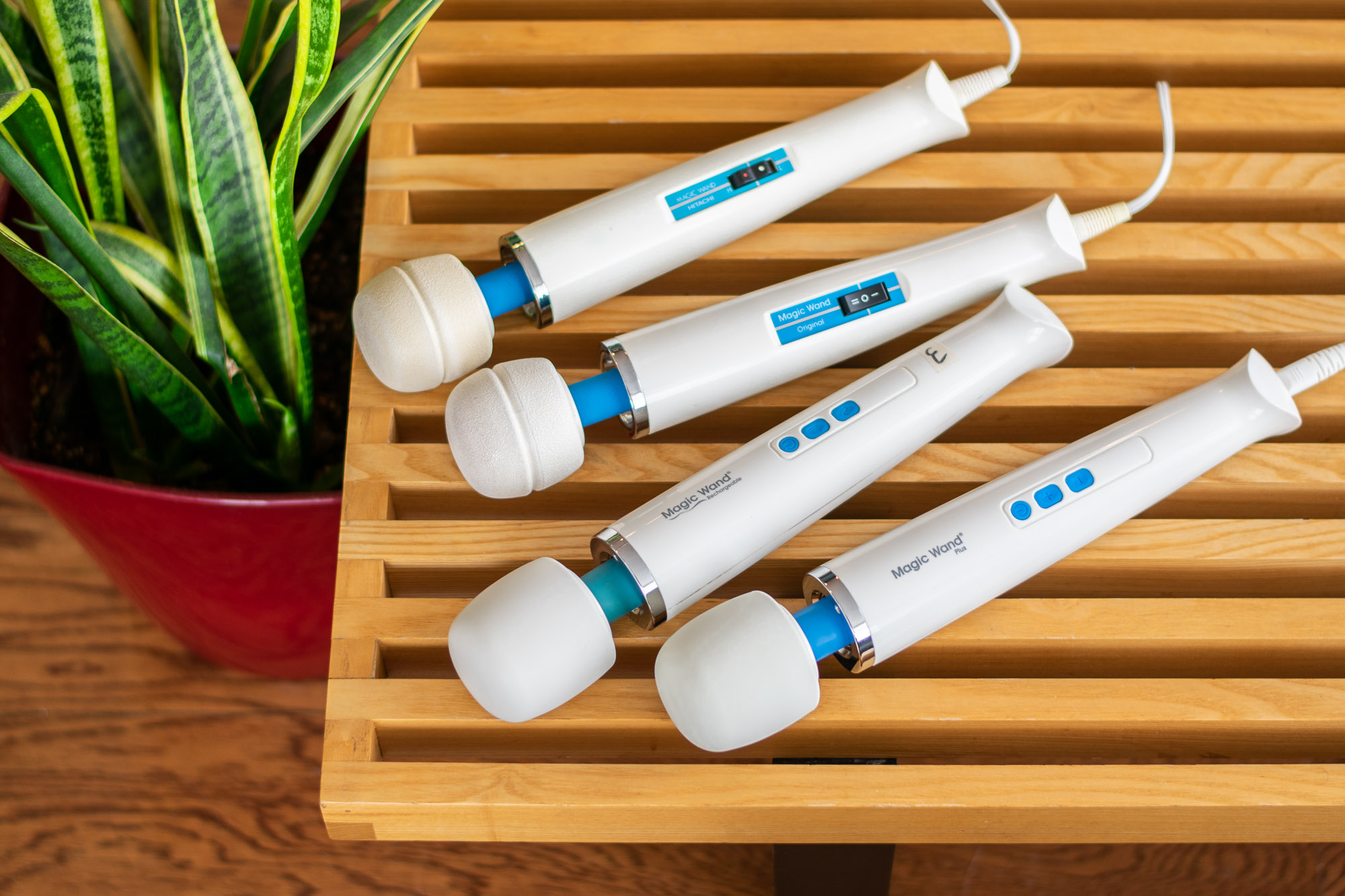 I still haven't acquired the perfect wine rack for my wand vibrators (I know, a great travesty), so for now I've been messily storing them in a heap on my desk, behind my computer monitors. It's not ideal, but it enables me to grab one at a moment's notice. For example, any time I so much as glance at pornography on Twitter. It's right in front of my eyes, what am I supposed to do, suppress my urges!?! My pattern: 1) remember sex exists, 2) grab a wand, 3) pull up some porn, 4) get off through my underwear.
Bonus steps: 5) take a brief break, 6) notice the porn tab again, 7) repeat.
That's what power does to me. That's the role wands play in my life, particularly the Magic Wand Rechargeable (MWR). The cost-per-orgasm with that thing is becoming laughable. I got it in May 2015 and I probably have 3 orgasms a week with it, conservatively. Which means we're down to 17 cents per orgasm, likely less. The MWR is one of my most prized possessions, and the only reason I have not plastered it with cute stickers is because I need it to look pristine for ~professional~ blog photos.
The Magic Wand Plus technically contains the exact same motor as the Magic Wand Rechargeable, but they do not feel exactly the same. The Magic Wand Plus feels somewhat sharper, buzzier, and stronger, particularly on the higher settings. I asked Vibratex about this, and they theorized that the added weight of the rechargeable battery in the MWR slows the motor a bit, creating rumblier, slightly subdued vibes. Seems true. Makes sense.
This disparity only really bothers me between levels 2 and 3, where the leap in vibration intensity seems more extreme on the Magic Wand Plus than it does on the Magic Wand Rechargeable. I wish I could just crack the toy open and re-program an extra level into it. That's all it needs! Well, that and a longer cord. Why they keep insisting on this 6-foot malarkey, I do not know.
I should also warn you that the Magic Wand Plus has that same ridiculous 20-minute auto shut off "feature"(MISTAKE) that the MWR does, which I suggest you circumvent by training yourself to periodically flick the toy off and on again to reset the timer. It sucks, but it's doable.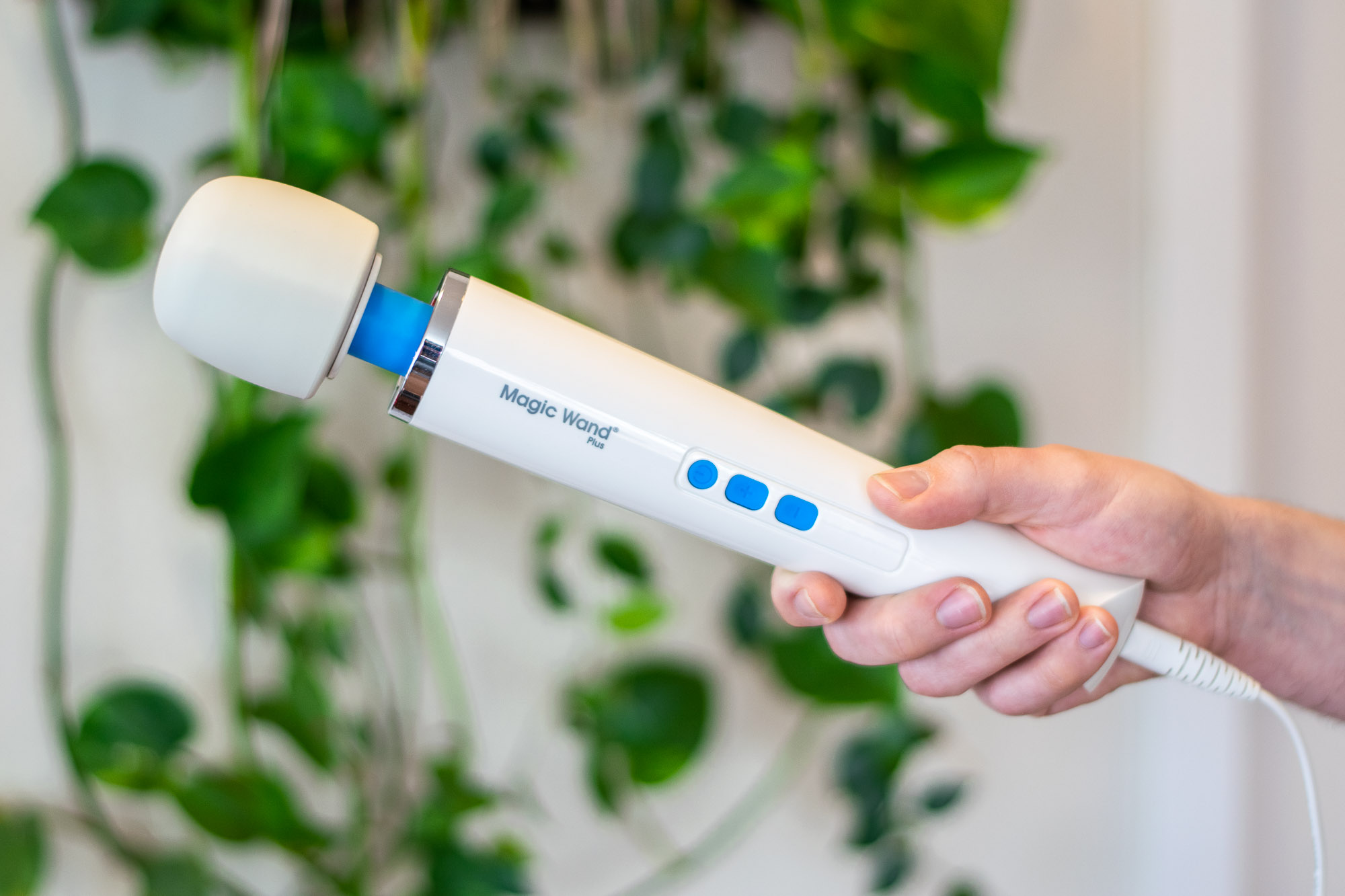 Because the power in this puppy is fucking wild. The highest intensity more or less matches that of the Magic Wand Original,2 and the range from "tantalizing rumble" to "buzz your bush off" is astonishing, especially for the price — this vibrator is cheaper than the Doxy and Le Wand, and only $20 more than the classic corded Magic Wand. In my humble opinion, it's worth $20 merely to avoid watching the vinyl crevasses of your vibrator's head turn ever yellower with each passing year. Silicone, wow, look at it go! Bleed all over it and worry not!
I also remember what it was like, as a sex toy novice, to try to derive pleasure from the harsh, untempered vibrations of the original Hitachi Magic Wand. To awkwardly buffer my genitals with a towel because internet forums told me I should. The internet wasn't wrong, either. This lack of vibrational subtlety was always an issue with that first Hitachi — and the reason I refuse to recommend it to sex toy beginners. It's far too big of a leap from no vibration against your genitals to THE MOST VIBRATION AGAINST YOUR GENITALS.
With its lower vibration modes, the Magic Wand Plus is finally accessible to novices, removing (some of) the elements of overwhelm. It still looks ancient and bumbling, yeah, but now it inflicts pleasure rather than instant vulva itch, and that's all I ever wanted from it. I didn't need an elegantly-curved handle or an app or imaginary technology, I just needed that shit toned down a notch. More precisely, I needed that shit to be adjustable.
The Magic Wand Rechargeable is still my fave, because cordlessness sways me very much and the slightly rumblier vibrations win out. But if you don't mind a cord and the little bit of a power edge piques your interest, or if you simply want to save some money (extremely valid and smart!), consider the Magic Wand Plus.
I've come full circle from that person struggling on the couch under layers of towel, as I now regularly utilize wands for stress relief throughout the day. Clitoral stress relief, obviously. Using a wand is not something I must endure but something that adds genuine value to my life, and which wand I grab from the pile on my desk is of less consequence than the security said pile represents. Knowing orgasm is a minute or two away at any given moment is a powerful feeling.
Get the Magic Wand Plus at SheVibe, Spectrum Boutique, Early to Bed, Smitten Kitten, Peepshow Toys, Lovehoney US, Pleasure Chest, Enby, Good Vibes, Babeland, or Come As You Are (Canada).