Yes, we play with dildos, but not in the way you think…
Yes, we ride sex machines, but it is not very sexual. I just want to share the wealth that is the Sybian, and everyone's curious about whether it feels like $1,300 of awesome. For many of my sex blogger friends, I am given the distinct honor and privilege of controlling the dial while they ride. I can now die happy.
We all agree that there is a point, somewhere after about 60% power, where we start to feel like we need to poop. That's also the point at which Queeraschino starts yowling, "I haaaaate it!" But JoEllen is not phased…
We start a Sybian guestbook and everyone records their experiences. Queeraschino, missing not a single beat, runs into my kitchen, flings open my freezer, and returns with a bag of peas for her crotch.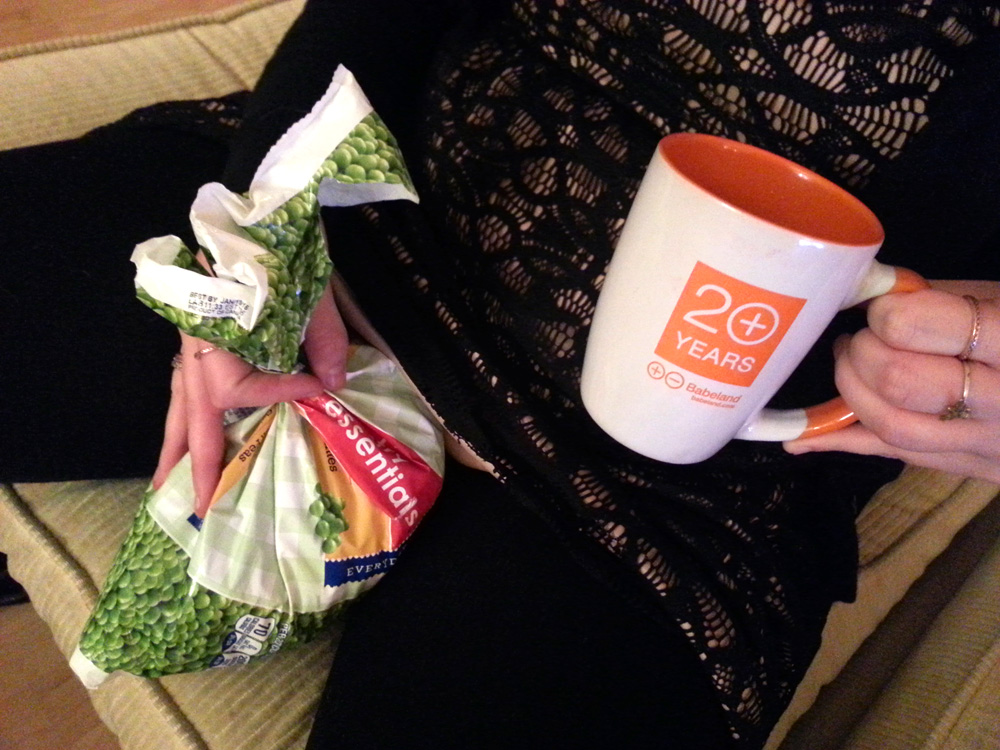 Each of us reports our favorite setting on the Sybian — or as Kynan calls them, our "sleep numbers":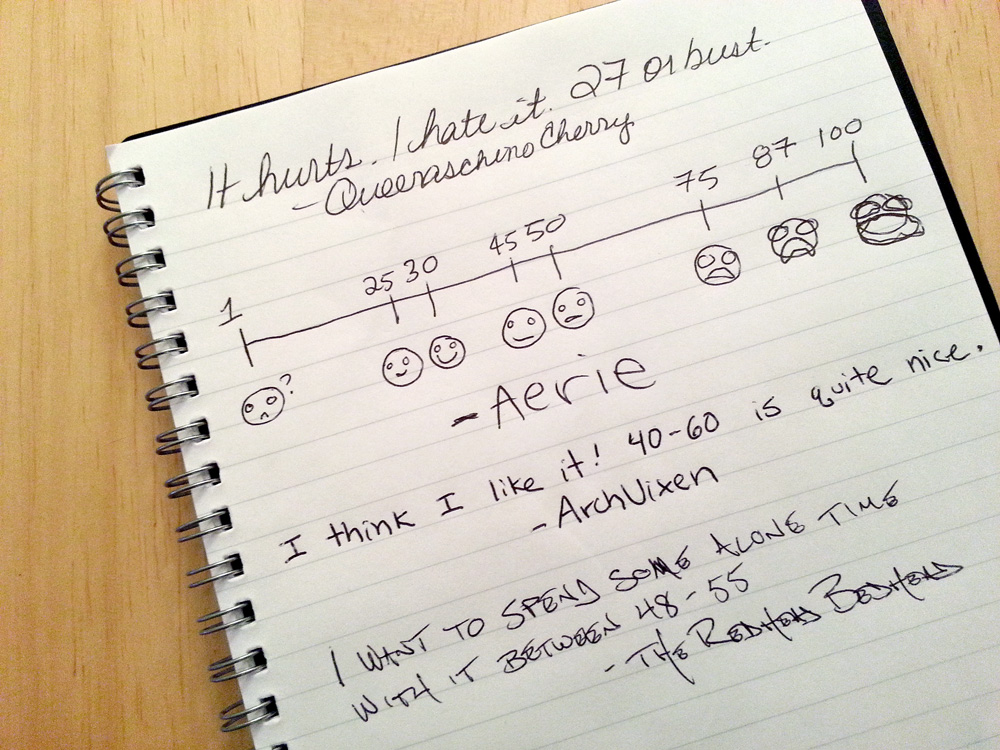 Yes, we get naked, but that's only because we Skype Lorax in from their atomic green bathtub, drinking an entire bottle of sparkling cider and showing off the horrifying Eiffel Tower dildo, and because I have to loan Kynan my pajama pants during his ride on the Sybian because jeans are not appropriate Sybian-riding attire.
Yes, we give each other "inappropriate" gifts, but we also give each other burrito earrings and special instant cameras and strange Japanese "point brushes" that will be perfect for cleaning ornery seams in sex toys.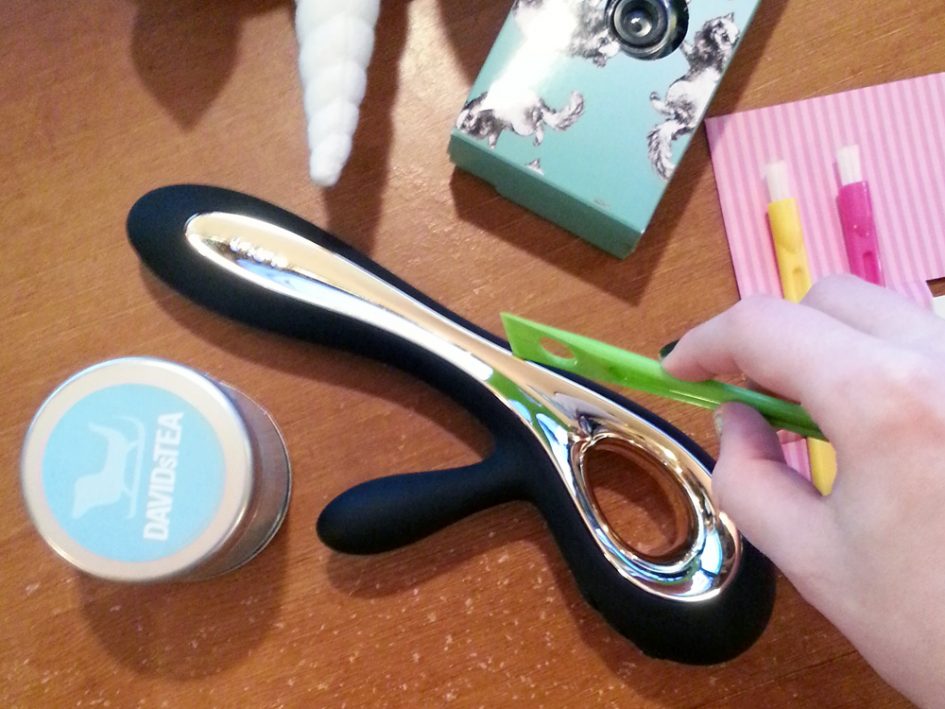 Yes, we play games, but when we play Cards Against Humanity, we tweak the black cards to read "what's worse than the iGino?", "what did EdenFantasys airdrop to all the sex bloggers?" (Winner: A web of lies), and "what is arousing to the CEO of Pipedream?" (Winner: Fabricating statistics). We call my boyfriend in to fact check whether it is actually possible to get so angry you pop a boner. He claims no.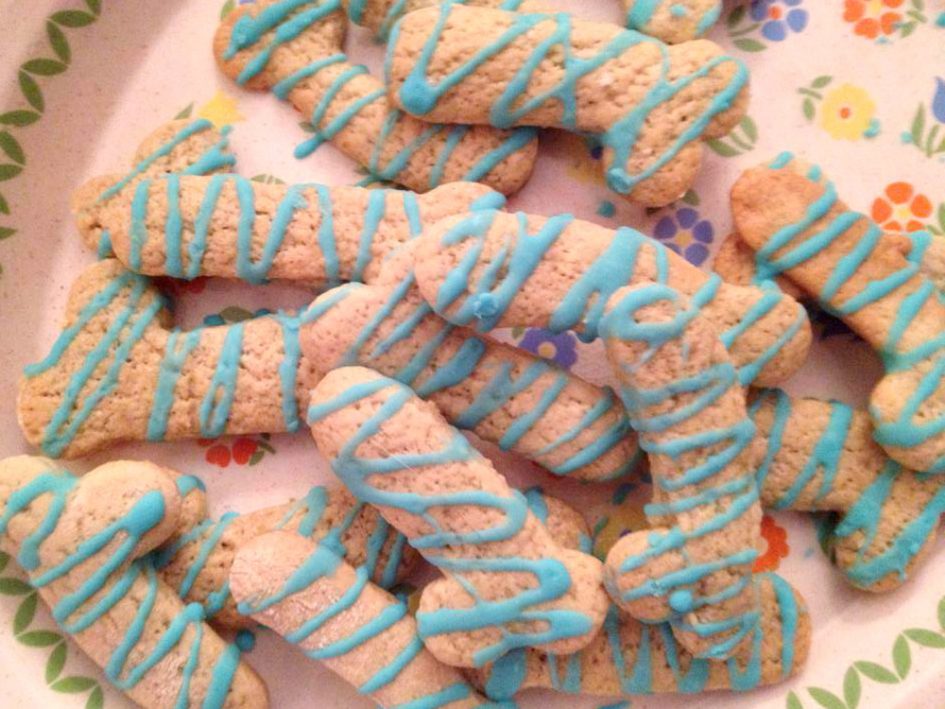 Yes, we snack (JoEllen supplies what is now her signature fishbowl drink — complete with gummy sharks), but when Queeraschino brings in a plate of dick cookies and I comment on how small they are, she yells, "everyone's DIFFERENT, Epiphora!" We also invent Rumosas™. This has nothing to do with being a sex blogger, but everything to do with being geniuses. It sounds disgusting, right, but it is NOT. Fact: Rumosas taste better when imbibed out of Babeland mugs.
Yes, dildos are everywhere, standing proudly on the coffee table among the crackers, cookies, drinks, and dips. Everyone brings a few toys for comparison purposes, for squeezing and for mocking. Fittingly, the shitty toys end up falling into a somewhat shitty 3-layer dip. But they're silicone, so, easily cleaned. (Eventually.)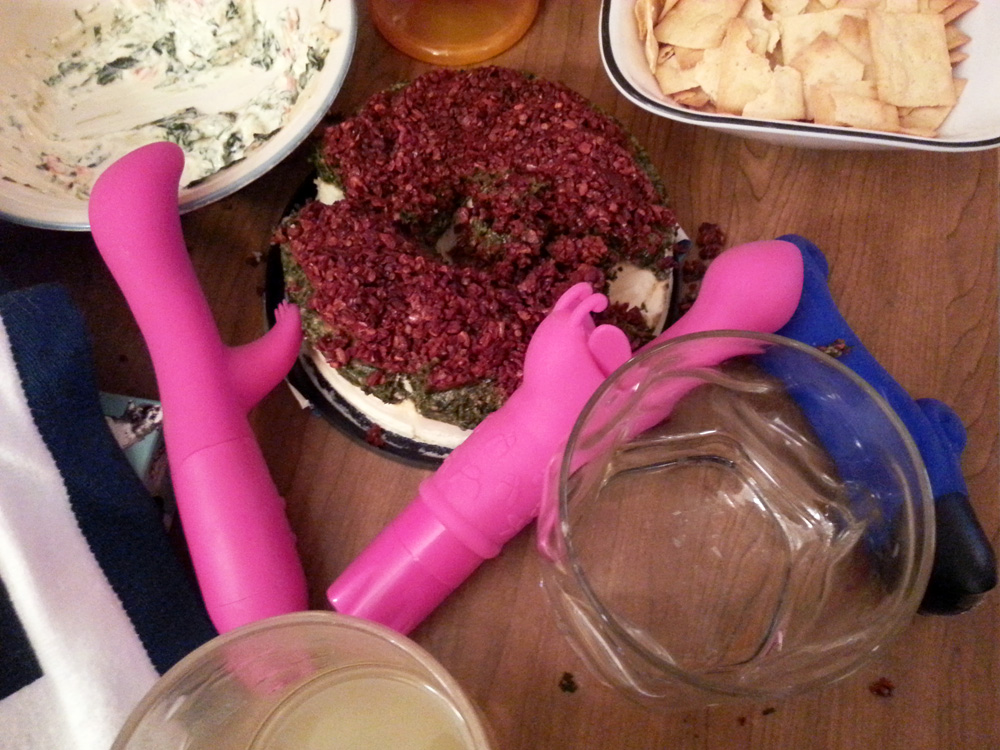 Yes, we chat about sex things — without hesitation or preface, we compare sex toy experiences and vagina facts — but when our conversation devolves from the lack of racial diversity in our city to Queeraschino's "name your favorite Jew" giveaway to this…
…we make sure to tweet about it. There is lots and lots of tweeting, photo-taking, and phone-gazing, and nobody ever scolds anyone else for not "living in the moment." Because that is how we live in the moment. In our own strange little bubble of sex blogger normal.