2013 was a good year. I attended CatalystCon East AND CatalystCon West (even doing a panel), hit 500 posts, became a superhero, conducted my most elaborate April Fool's joke ever, and oh yeah, I was gifted a $1,345 Sybian. I spilled my guts about the horrible sex toys I used to lust after, why I hate pink, and why I think sex toys should not be called "pleasure objects." I wrote my epic beginner's guide to sex toy reviewing and gave you a peek into my life as a sex toy reviewer.
But most of all, I tried heaps of new sex toys and brought my wrath down upon them. The majority of the stuff I tried this year can be pretty firmly classified as either "really awesome" or "really horrible," which worked out well for these yearly lists.
As in 2010, 2011, and 2012, I'll first list the best/worst toys, then give out faux awards such as "Most Heinous Controls" and "I Risked My Life For You; You Are Welcome." PLUS, I've added a new award this year: "Ridiculous Sex Toy Trend of the Year."
Don't forget to comment with which toys you loved and hated this year!
---
Best sex toys of 2013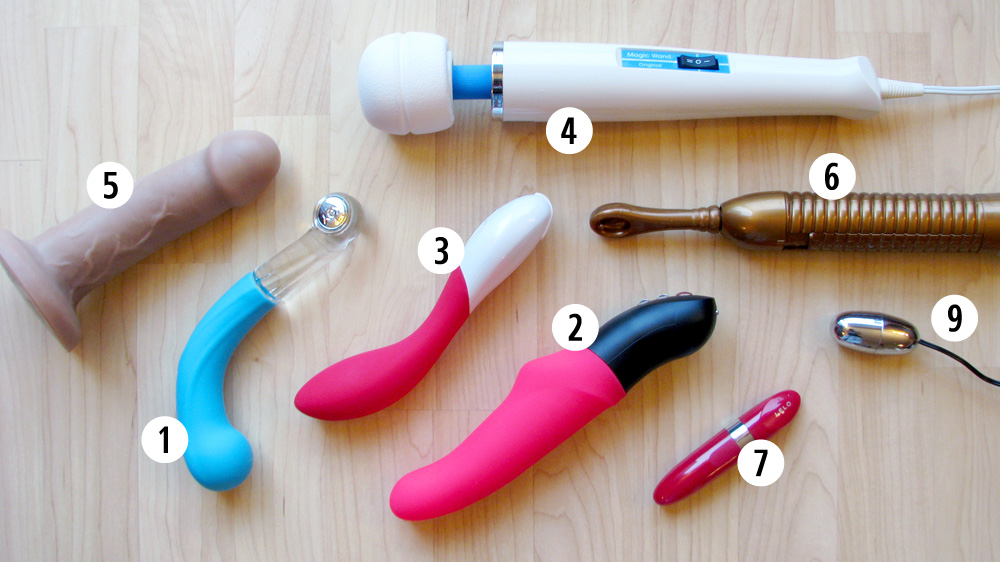 Jopen Key Comet G Wand — Prophetically, I wrote in my review of this dildo, "[it] has a very good chance of being the best sex toy I try all year." Well, NAILED IT. Nothing came close to the G-spot majesty of the Comet G Wand.
Fun Factory Stronic Eins — A very close second, this toy is also an awesome G-spotter. Because it thrusts back and forth on its own, it does most of the work for me. I find myself craving it often.
LELO Mona 2 — This is totally cheating, since Mona was on last year's best of 2012 list, but this is my list and I'll do what I want, because I did not find a new clitoral vibrator that trumped the Mona in 2013. I continued to use the Mona religiously, and in fact I added a line to my bio which reads: "When not smashing out paragraphs for this blog, I can be found working on the floor at a local sex toy boutique, making it my personal mission to sell as many Mona 2s as possible." Truth.
(Hitachi) Magic Wand Original — 2013 was the year I finally "got" the Hitachi. After my first one gathered enough dust to throw anyone into a sneezing fit, I acquired the new and slightly-improved version and promptly became quite addicted to it. I now have one Hitachi next to my desk, and another next to my bed. As it should be.
Vixen Creations Buck — Rounding out my extensive collection of VixSkin, Buck turned out to be one of the best I've tried. I called it "the Goldilocks of VixSkin dildos" because the girthy body and gentle G-spotting head are just right. (I still love you, Mustang and Maverick!)
Eroscillator 2 Plus — This year, I tried the less expensive and less strong version of my beloved Eroscillator, and found that it was still worthy of recommendation. Good news for wallets everywhere, and a reminder of how goddamn much I love my Eroscillator.
LELO Mia 2 — Although I was disappointed with the marketing of the Mia 2, this USB-rechargeable vibe remains a favorite for sneaky wanks and traveling.
Fleshlight Flight (not pictured) — Fleshlight's smallest sleeve yet was a hit. If you don't need the extra inches (and ounces) that the regular Fleshlights boast, it's a great choice. And cheaper, too.
Honorable mention: Silver Bullet — I tried this to see if I wanted to put it in my holiday gift-giving guide, and it turned out to be the solid, inexpensive toy I hoped it would be. For $16, it's hard to beat.
Worst sex toys of 2013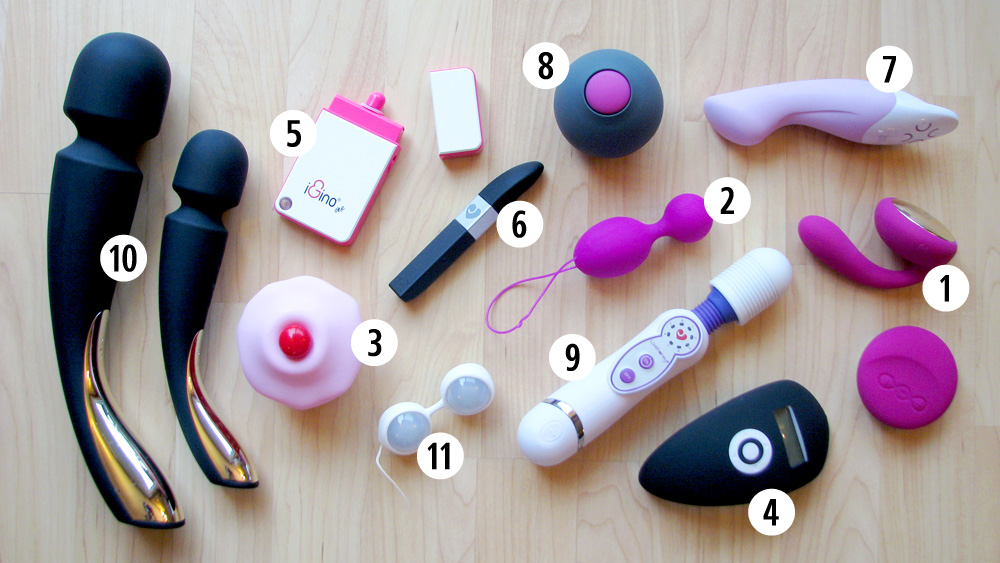 LELO Ida — I knew this one had to take the #1 spot. It's the only toy on the list that caused me physical pain and made my boyfriend want to break up with me.
Jopen Vanity VR1 — Not only did it completely fail at the "exciting" thing it was supposed to do (vibrate when I squeezed it with my PC muscles), the retrieval string came out of its socket after very light use. I can think of few things that are more of a waste of $135.
Shiri Zinn Cupcake — Always the trooper, I tried this confection-shaped vibrator solely to make sure it sucked. It sucks. Oh my god, it sucks.
Wake-Up Vibe — I discovered that I actually do not want a big bulky thing hanging out in my underwear, no matter how much it promises to wake me up with vibrations. Also, it bit the dust for no apparent reason.
iGino One — This crowdfunded disaster is equipped with a pink, flower-shaped head and the tagline "What Women Want." I do not think the creators of this toy have ever met a woman?
Lovehoney Flash — This sad little toy reminded me of how horrible buzzy vibrations can be. I likened it to bees stuck in a gourd, which may have been good enough for Cleopatra — but not me.
Topco U Touch Side — Bigwig Topco's attempt at a rechargeable toy featured a shape stolen from another company and "touch sensitive" controls that responded roughly 3% of the time.
Revel Body — With loud, public cries of "revolutionary!" and claims of being better than all other vibrators, the Revel Body was poised to fall far. And fall it did, earning a nickname along the way: "Shit Orb." It's like a grotesque eyeball staring at you!
Lovehoney Mini Magic Wand — Much like the Flash, the vibrations in this toy were so buzzy I could barely derive any pleasure from them.
LELO Smart Wands — These promising poor souls were ruined by a glitch that causes the vibrations to randomly drop down to a lower intensity out of nowhere. Orgasm ruiners are not allowed around these parts.
LELO Luna Beads Mini — I really could not feel them inside of me. At all.
---
The Ends Justify the Means
(My favorite review of the year.)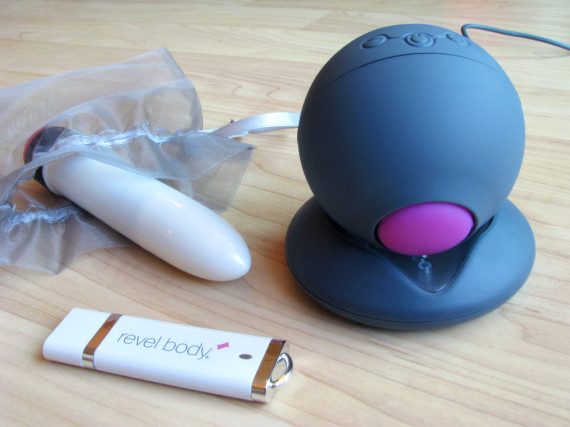 This was a hard choice, and the world is still divided on whether this is the best one, or whether the iGino, Ida, or Cupcake wins. But I have a fond place in my heart for the Revel Body review because I wrote most of it at Queeraschino's house in a delightful, fiery rage after the CEO of the company threatened to sue me over calling the toy "Shit Orb" on Twitter. (The scandal!)
What made the review better, of course, was the aftermath: the CEO jumping into the comments section to make an ass out of himself, the suspicious Twitter account that popped up to "refute" my review (with a profile photo stolen from a site called Average Woman), and eventually, the eerie silence that comes from a company finally realizing they should just shut the fuck up.
My favorite part of the Shit Orb review was this paragraph:
Good god, I feel like I have a terrorist in my midst. An egomaniacal terrorist who purports to be my friend but gets drunk and makes extremely insensitive jokes about "disabled persons" at parties. A terrorist who is secretly stealing all my money and wiping all the data off my computer. How can my vulva be safe? Oh wait, it's not — it has loose skin and hairs!
But I did like these other moments throughout the year…
I feel pretty strongly that if a sex toy cannot handle my uterine lining, it is not "what women want."
I even, one brave brave night, set out five VixSkin dildos for comparison purposes. Because what is a sex toy reviewer if not a vaginal endurance champ who uses sex toys in succession as if sampling a plate of cheeses?
Other bloggers experience loud vaginas when wearing the Luna Beads Mini. I don't. At first I thought that other reviewers had echo chambers for vaginas, but then I realized (and verified with LELO) that the design has changed . . . I even did some extreme naked pelvic thrusting toward my phone's microphone to be sure. I'd upload it, but it's just 16 seconds of phone movement and mouth-breathing.
The Flash is the very definition of buzzy. And so, I resent it as much for its objective qualities as I do for what it represents. Like American Cheese and Hostess Fruit Pies trying to pass themselves off as food, like Exodus International's notion that gay people can be "cured," the Flash should not be disseminating the idea that this is what a vibrator is.
Then I look down and I'm holding a fucking cupcake against my vulva and that's just embarrassing.
I can see it in his eyes. The despair. The dread. When I say, "hey, you know what we should do?" his features fall because he's afraid I'm going to say "have sex." But instead I say, "watch Orange Is The New Black" or "boil the potatoes for dinner" and all is forgiven. For now.

. . . he looked at me with pained eyes: "can we be done?" Cruelly, I told him to try to come, since he had been so close before Ida was introduced. But before he could attempt that, his penis slipped out and we looked at each other like fuck it.

Afterward, I apologized. (This would become a trend.) "It's okay," he said. "It's not like I thought it would be any good."
The cord isn't any longer, which is a shame. The 6 feet work perfectly for my jacking-off-at-my-desk set-up, but will still be a dilemma for people who masturbate upon tall beds or away from outlets. (I just pictured someone going to a coffee shop to use their Hitachi. For the outlets.)
—Hitachi Magic Wand Original review
---
Hardest to Wrangle
(My most difficult review to write.)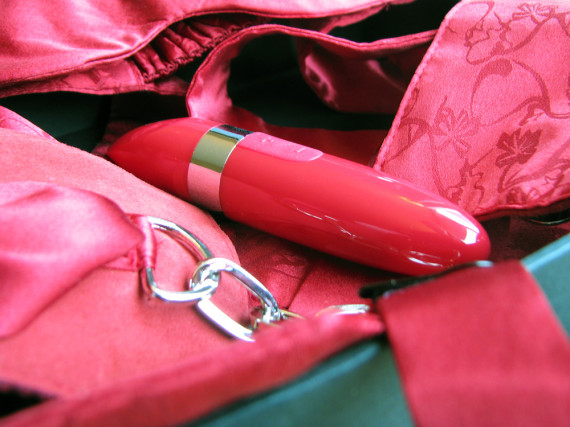 LELO made it hard for me when they sent me the Mia 2, because they sent it as part of a set containing shitty and overpriced bondage gear. Also, the Mia 2 is not much of an improvement over what I now call the Mia 1.5. How does one articulate that a toy is still good while expressing extreme disappointment in the marketing tactics? I am not sure I succeeded, and I'm fairly certain this review continues to scare people away from the Mia — which is not what I wanted to do.
Honorable mention: I tried to ignore the fact that I even had the Wake-Up Vibe in my possession… but then the truth caught up with me.
---
I Risked My Life for You; You Are Welcome
(A toy that caused pain, night sweats, disillusionment, etc.)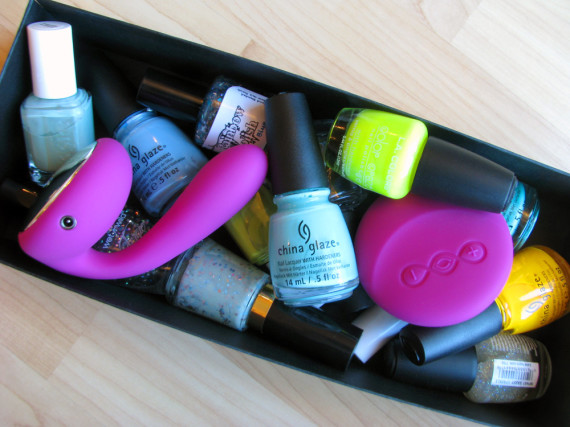 I risked my relationship for you, peeps. My boyfriend feared me every time I opened my mouth, thinking I was going to make him test the LELO Ida with me again. But also — it physically hurt in ways that made me wish I was not a sex toy reviewer:
Once, I warmed up with some fairly large toys first, which made insertion easier — and thrusting slightly more achievable. My boyfriend was pain-free and almost didn't want to murder me in my sleep, but there was still this sharp, unpleasant pain for me, and I couldn't pinpoint where it was.
Honorable mention: The new Tantus paddles. Wooo, boy, the pain! I know, that's the point, but I don't suggest nonchalantly thwacking yourself with them like I did.
---
Cats' Choice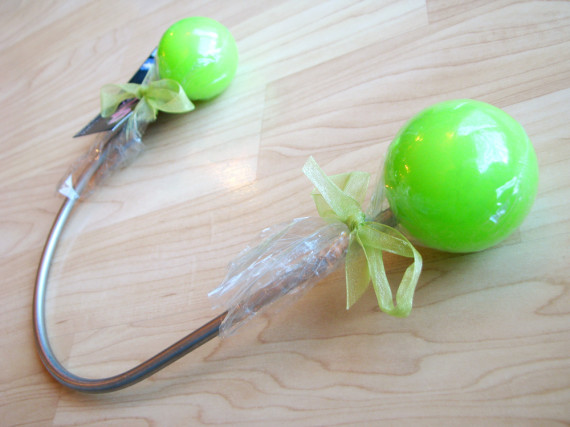 My cat's favorite thing on earth is plastic. Especially crinkly plastic. So the plastic bits that came shrink-wrapped to the J-Pop were, according to him, THE BEST PRESENT EVERRRRRR.
Honorable mention: I got a couple small things from Sportsheets, like nipple clamps and bondage wrap, and my cat thought the plastic bags in those were also THE GREATEST. (He, unlike me, is easily pleased.)
---
Biggest Disappointment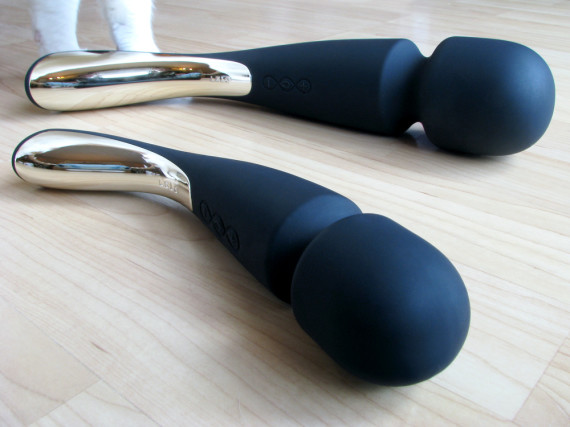 If successful, the LELO Smart Wands would've been the rechargeable wands to rule them all. But instead, they do not feel ergonomic, they don't hold their charges, and they crap out right when things are getting good. LELO needs to stop trying to make "innovative" things and focus on making solid, dependable vibrators. I know they're capable of it, so this is just upsetting.
Honorable mention: I was hoping to laugh maniacally at my ability to persuade someone to send me super luxurious bedsheets, but instead the sheets were mediocre as fuck. Damnit.
---
When I Use This Toy, My Desire to Throw It Across the Room Rises Exponentially With Each Passing Minute
GONNA HAVE TO GO WITH THE IGINO ON THIS ONE, for the sole reason demonstrated in the above video. It sounds like a goddamn electric razor. It can get me off, but definitely isn't any fun getting there.
Honorable mention: The LELO Ida, of course. There was definitely a moment at which it was vigorously tossed away from me.
---
Most Heinous Controls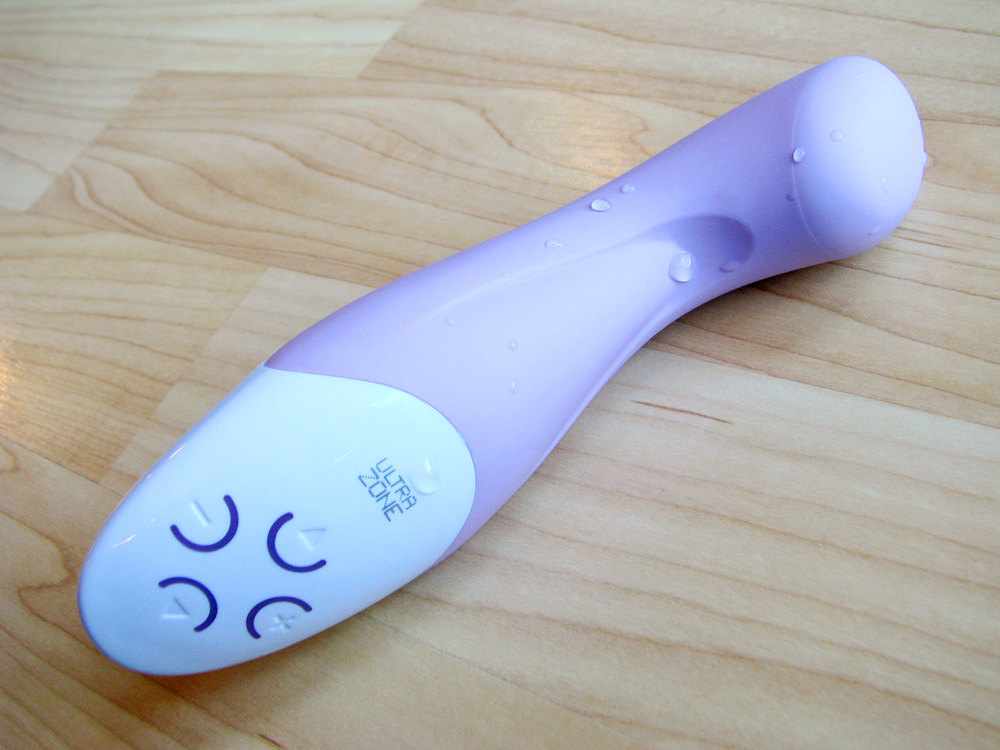 The Topco U Touch Side would be hard to top, considering:
It's nearly impossible to turn it on or off. Full stop. It will take you between 1 and 19 attempts. I'm not being hyperbolic. I did tests, excruciating tests, and it averaged out to about 6 presses. Remember, this is a double press, using two hands. Who the fuck has two hands free when they're masturbating? What kind of monsters did they design this for?

This is especially awesome when you start cycling through the settings and find yourself in vibration pattern purgatory, unable to halt or change the mode. Sweating profusely and suffering from hallucinations, you'll be on the brink of insanity when finally, after 8 attempts, the vibrator will finally turn off.
Honorable mention: Programming the Wake-Up Vibe, which runs on 24-hour time, was a test of my patience.
---
Ridiculous Sex Toy Trend of the Year

Water-powered sex toys.
So far I've been exposed to the Aqueous Vibe, WowerShower, Private Jet, G Splash, and ClitWafer. FIVE! I'd try them if I had any way of disassembling my shower head, but I do not. Somehow I doubt that, when I buy a house, any of these products will still be around for me to try. Too… bad?
[Update: There's a standalone bath toy called the Bubble Love, and I heroically tried it.]
Honorable mention: Acting like you're the first person ever to manufacture body-safe, ergonomic sex toys.
Not at all honorable mention: Products that enable you to never talk to your partner ever again!
---
Manufacturer of the Year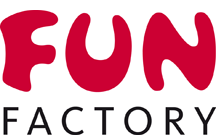 I'm gonna go with Fun Factory. Amid other claims of "revolutionary" new shit, they actually innovated with their Stronic line. I was worried, at first, that these would be better in theory, but they are actually wonderful in execution. Thank you, Fun Factory, for making something that lived up to the hype. It was a breath of fresh air for this jaded vagina.
---
There you have it! My favorites and least favorites of the past year. What about you? What was the best toy you discovered in 2013? The worst? Your favorite ridiculous sex toy trend?