Content note
: this post contains mentions of James Deen. I no longer support
him or his work
.
January 21st, 2012
After a nap with weird dreams, I got up at 10 p.m. and drank a Rockstar. Like you do. I did some work, then jacked off to Belladonna's Buttface. With a name like that, I guess I should've expected a moment like this: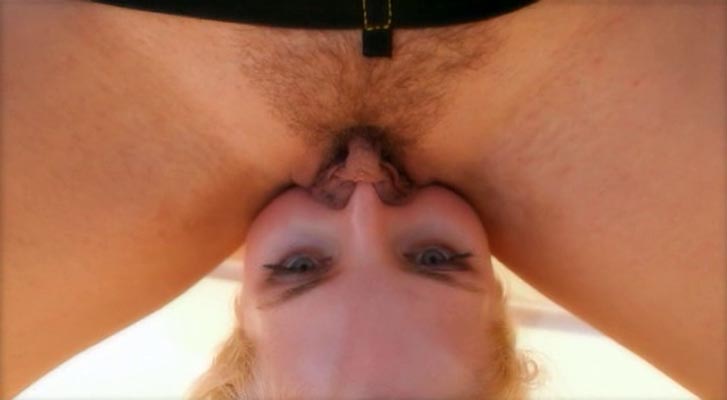 Some people wait a liiiifetime for a moooment like thiiiiis…
Meanwhile, I laughed at the PicoBong Kiki and compared the Pure Wand and Fun Wand vagina-to-vagina. Same vagina; I only have one.
February 1st, 2012
Gathered a gaggle of folks (Scarlett, Navigator, Amie Wee, and The Bedroom Blogger) in a chatroom to watch Melissa "The Face" Monet have sex with James "The Amazing" Deen — in My Daughter's Boyfriend, because of course. 'Twas an irresistible pairing, and one that made us speculate: will he be as into it as ever? Will he respond to her contorted faces? Will we somehow be turned on?
Not only was he into it, he seemed more into it than usual. We were astonished.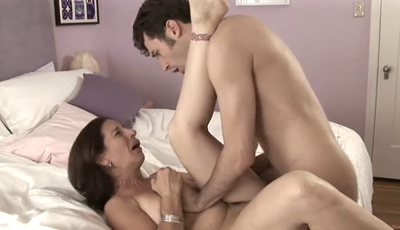 Having five silly and somewhat cruel people together results in a lot of unintentional brainstorming. We all came up with our own interpretations of Melissa Monet's… unique performance.
Navigator summed up the scene in the best possible way: "This is like… a Nutella sandwich on really stale bread. Half of it is delightful and the rest is just… not." (As an aside, I now realize this is the fourth time I've written about Melissa Monet's face on this blog. How, uh, thorough of me.)
We also watched a bit of a porno from 1990 called Stairway to Paradise. Its theme song rivaled (but could not quite beat) "your mouth was made for loving me." There was a fog machine and tan lines and hair flowers and characters named Rainwater and Snowdrift.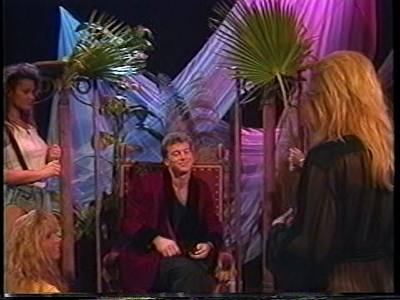 Again, Navigator provided a quote that encapsulated everything: "That shot looks like Dayquil."
I drank a hard cider and did not jack off.
February 14th, 2012
A vibe in one hand, a dildo in the other, and porn for the eyes — I think that is the limit of my multitasking abilities. As I skipped around Tristan Taormino's Expert Guide to Pegging and played with mah toyz, I also attempted to distract one of my cats with a laser pointer so that another cat could eat peacefully in an adjoining room. I concluded that I do not have enough hands for this.
March 6th, 2012
After making a serious effort to prep my masturbation space (spreading the Throw on the bed and hauling in a bunch of toys), I discovered that the right ear of my headphones had died. FUCK YOU, SENNHEISER1. I had to retrieve my workout headphones, which are the clip-on-the-ear kind. Ugh.
Annoyed, I watched Bush, which apparently should actually be called Perfectly Manicured Bush. Yeah, who would ever want to see real bush?! I tried out the Yooo, which I got from a friend. It sucked.
May 4th, 2012
Sometimes people come to our apartment to record music in my boyfriend's studio. Often, that music is terrible because my boyfriend can't say no to taking money from bad singer-songwriters. That's what happened today, so I sequestered myself in the bedroom and started reading some morally questionable fanfic. It was touted as "kinky," but turned out to just be blindfolds and wax. Also, a "rubber butt plug" and "KY lube."
Through the cringing, I still got turned on and had to sneak out to the living room to obtain a toy. My choice was Mia, mostly for its quietness. I used Mia under the covers until it died (it was a long fic!). Then I had to sneak out again, this time for the Leaf Life. It was a satisfying finisher, and I was somehow able to tune out the tone deaf singing in the next room.
May 6th, 2012
Would it scare you to know that this video turned me on?
Yeah, me too.
June 6th, 2012
I've been watching Bobbi Violates San Francisco, and yet I have not really been impressed. Things that ruin the mood: baby talk moaning, stupid hipster glasses, and… am I really supposed to think this predicament looks fun?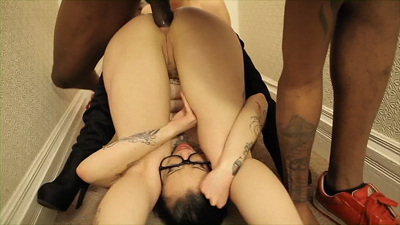 IDEK, guys.
June 14th, 2012
Sometimes in porn there is a sudden, unprompted human centipede.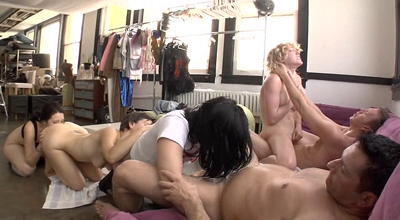 I'm sure this used to happen in porn all the time, but now… well, now there's a creepy-ass name for it.
June 26th, 2012
I laid out a shit ton of glass toys to compare with my latest acquisition, the Crystal Delights Star Delight. Many hadn't seen the light of day in quite some time. Problem, though: I was so turned on that ALL OF THEM FELT GOOD. All of them, even the straight one, seemed to hit my G-spot. I kept almost coming. It was ridiculous. I am ashamed. I need to jack off more. A lot more. I am a jack-off failure.
So, today's pearl of wisdom: sex toy reviewers must not let themselves get too turned on, lest they think every toy hits their G-spot.