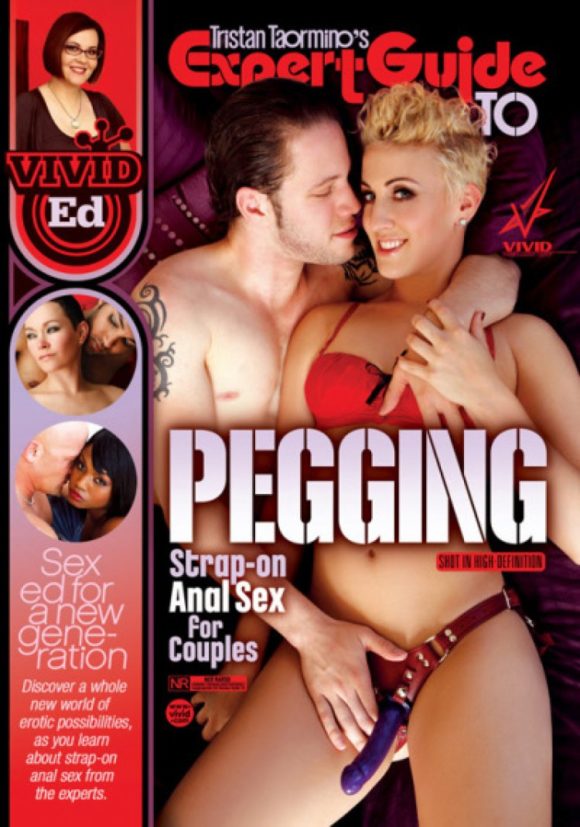 Do you know how many years it's been since Bend Over Boyfriend? I hate to break it to you (and myself), but 1998 was 14 years ago. While you were suffering through "Hooch" and "Gettin' Jiggy Wit It," while Bill Clinton was not having sexual relations with that woman, and while some dumb new search engine was launching, Carol Queen and some couples were making a video that was soon to change the landscape of sexuality.
They didn't know what to call their crazy groundbreaking sex act or how to make a video without neon lights and jug-jug-a-jug guitar noodling in the background, but by golly, they were into it. And ahead of the curve: the term "pegging" wouldn't be coined until three years later.
All of this is to say that we were in dire need of a new instructional pegging video. One that doesn't preface sentences with "as we head into the new millennium" and call rimming a sex act "you may not have heard of before." Progress was definitely made with Tristan Taormino's Expert Guide to Anal Pleasure for Men, but Tristan Taormino's Expert Guide to Pegging is even better.
There are a few similarities between Bend Over Boyfriend and Expert Guide to Pegging: they both mention gender play and power dynamics, they both address the question "what if it makes you all loose down there?!", they both warn against using numbing agents, and they both feature the perfect Vixen Mustang (clearly it has stood the test of time!). But where Bend Over Boyfriend veers down the road of suggesting you FILE DOWN THE ROUGH SPOTS ON YOUR ANAL BEADS WITH A NAIL FILE, Guide to Pegging has much better toys/lube, lighting, camera angles, attractive stars, and up-to-date information. There is no contest… as you can plainly see.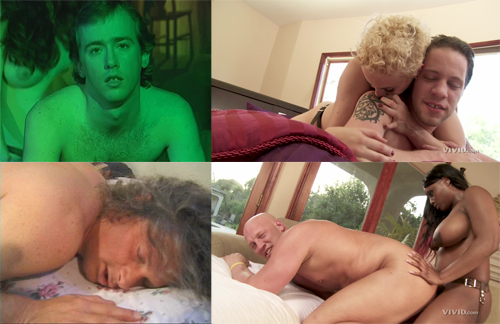 As per usual, Tristan does a bang-up job in her opening lesson in Guide to Pegging, covering anatomy, myths (NO, YOU'RE NOT GAY, GOD), the importance of short nails, types of lube and toys, warm up, and positions (a lot of info on what's good for different people, including those with limited mobility). The bit about harnesses is especially awesome, as it includes footage of harnesses being put on. I also loved the quotes "relatively clean anal penetration" and "having a dick strapped between your legs can give you a brand new outlook on life!"
Throughout the lesson, footage from the three upcoming scenes is shown. I've loved this ever since Tristan implemented it in her Expert Guide to Advanced Fellatio. It definitely whets the appetite.
Wolf Hudson and Dylan Ryan's scene is first. In the talking segment, they both shower praise on each other; Dylan loves Wolf's grunts and Wolf likes that Dylan "speaks very loud with her body." This is very true. You won't find a porn performer more enthusiastic than Dylan Ryan. She is also one of the most orgasmic people ever, I think. She has no trouble getting off while doing Wolf with a strap-on. There is also SO. MUCH. KISSING.
Wolf and Dylan are beautiful people, and the lighting in this scene is just fantastic. However — and I can't believe I'm saying this, but — there is too much talking. It's like Dylan is narrating everything, at least during the warm-up portion. Although they obviously have chemistry, and although this is supposed to be instructional, it's too clinical for me. But it's hot once the sex kicks in. (By the way, all three scenes include penis-in-vagina sex in addition to the pegging and anal play.)
Scene two features Jada Fire and Christian. Of all the dudes in this film, Christian loves anal the most. He doesn't even require much warm-up — just a bit of fingering, a glorious Pure Plug ("I want that fuckin' toy now" — yeah, who doesn't?!), and then he groans, "I'm very ready for the strap-on." Jada and Christian have amazing rapport and sultry eye contact; this scene strikes the best balance between communication and sheer sexiness. Christian curls up like a blissful baby. Jada caresses his back and he is just in the zone. "Oh my god, Jada," he moans, and it is so hot. Definitely my favorite scene.
Jiz Lee and Mickey Mod close out the disc, both wearing eye make-up. Here's where the Joque harness and Vixen Mustang come into play, and boy do they look good. This is the only scene in which the dude sucks off his co-star's dildo. Jiz fucks Mickey on the floor, which looks somewhat uncomfortable, but both are into it. I particularly liked when Jiz jacked off the dildo while it was in Mickey's ass. They move to a shower near the end, and Mickey punches Jiz's vulva, causing Jiz to squirt like a fiend. One can always depend on Jiz Lee to bring an epic squirting conclusion to a film.
Even if Expert Guide to Pegging had competition, it would probably win. It is not flawless — nor is it the hottest thing Tristan has put out — but it is undoubtedly the most thorough, thoughtful, well-shot, modern, and sexy instructional DVD on pegging that exists today. It has a variety of sex acts in addition to the pegging, enthusiastic and adorable stars, a ton of great sex toys (many of them Vixen), and men with different preferences and responses to stimulation. Nobody try to top this, because you'll probably fail… okay, maybe in 14 years or so you can give it a whirl.
Buy Tristan Taormino's Expert Guide to Pegging at
SheVibe, or stream it now!
Browse more Expert Guides here or stream them here.