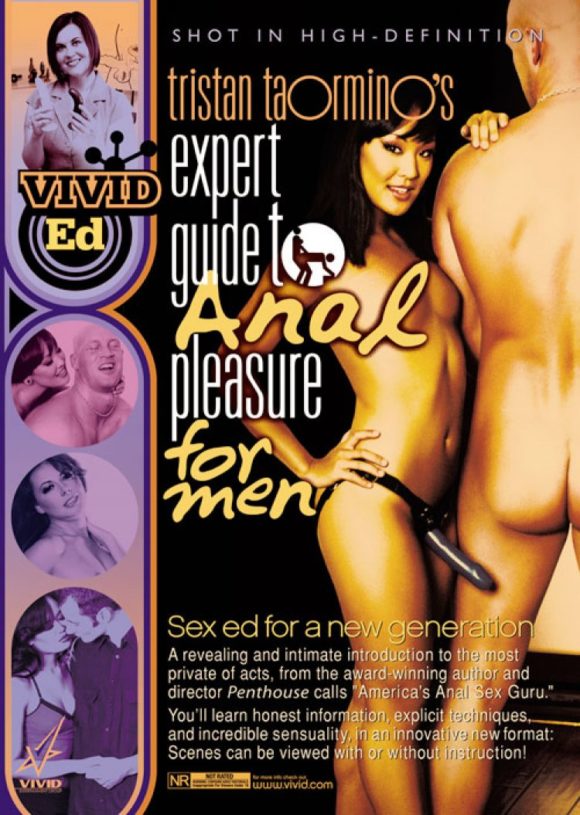 What am I gonna do with you, Tristan Taormino? Really, if you keep making innovative and hot porn like this, people are going to stop believing me when I drool all over your stuff. Oh well — the truth is, Tristan Taormino's Expert Guide to Anal Pleasure for Men is as delicious as it sounds. It's educational; it's fun; it's sexy. It's also a sex toy lover's wet dream.
Running an hour and forty-two minutes long, Anal Pleasure for Men begins with Tristan's 13-minute lesson about anal play. First, straight up, she dismantles myths about male sexuality; although anyone buying this DVD probably doesn't believe such myths, they're still very important to demolish. She makes a few key points right away: one, that taking something up the butt doesn't mean you have to be submissive, and two, penises will have different reactions to anal play, all of which are fine. Then Tristan delves more deeply into different sections of information:
Preparation. Take a trip to the bathroom and/or take a shower, and if fecal matter pops up during play, "wipe it up, shrug it off, and move on" — wonderful advice.
Lube. Tristan rightfully shuns desensitizing lubes, arguing that they "reinforce the myth that anal penetration has to be painful." She discusses oil-based, water-based, and silicone-based lubes, recounting their pros and cons and relating them to toy materials as well. She recommends a lube with the consistency of hair gel for anal play.
Warm-up. Begin with external stimulation to bring awareness to the area. Make sure your fingernails are "butt friendly." Gloves are good.
Toys. My favorite part, of course. Tristan reminds us that a flared base is a must, then shows us some shiny toys that I instantly started naming in my head: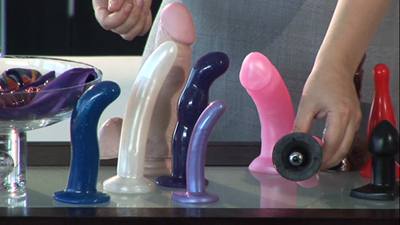 With that, the first scene begins. This scene begins differently from the others, though, with the two stars (Penny Flame and Devin) sitting down with Tristan to chat.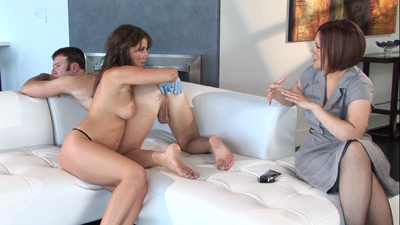 First, Penny's pornstar fingernails have to be dealt with, so Tristan puts tufts of cottonball in each finger of a pair of gloves. Penny starts slowly fingering Devin's ass while Tristan talks to her about relaxation and build up. Tristan suggests the popular "come hither" finger motion rather than an in-and-out one while warming up someone's ass.
Then it's time for Penny and Devin to be alone, and for the sex toys to come out in full force. Penny continues working Devin's ass with a red dildo, then she straps on the Vixen Mistress and the fucking begins. Penny is awesome, as expected, and Devin is totally hot, as I now expect after his fabulous performance in Penny Flame's Expert Guide to Rough Sex. Their chemistry is subtle, but you can see it in their eyes and in the way they communicate — the way they call each other "baby," and Devin tells Penny several times that he wants her to feel good. In fact, when Penny switches to the Vixen Nexus double-ended dildo and mentions it's hitting her G-spot, Devin nearly growls, "that turns me on." As it should be.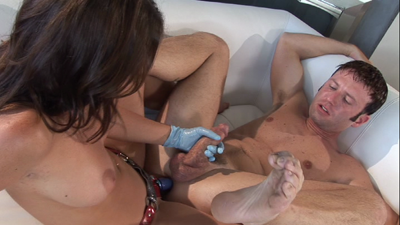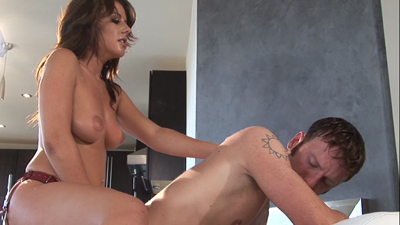 This scene is not too rough, and in fact, has moments of sensuality. But it is still very, very hot. Penny and Devin fuck in a slew of positions, including doggy, sitting missionary, reverse cowboy, and froggy. It is clear that both performers are very in-tune with each other throughout the scene, never wavering in their dedication to please each other.
The second scene features Nomad and Annie Cruz. There is a lot less communication in this scene, and Nomad is nearly silent. I'm sure he's enjoying the action, but he certainly doesn't vocalize it. Annie, on the other hand, tries her best to elicit a reaction from him. She works his ass with her fingers, building up to four. Then she pops some anal beads in his ass, followed by a butt plug. After a bit of pussy licking, Annie puts on a harness with the Vixen Spur in it. They fuck in doggy, spoon, and stallion.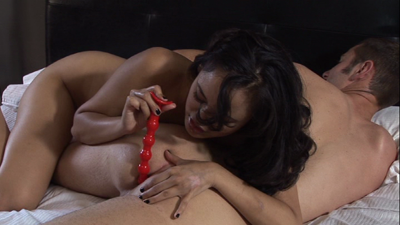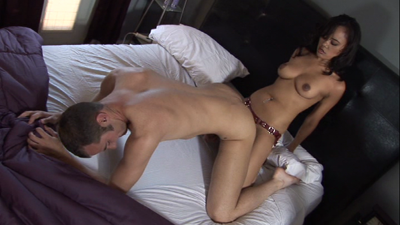 In an unexpected finisher, Nomad fingers Annie's ass, then brings out a clear acrylic dildo and fucks her ass with it. Obviously, she grabs the Hitachi to seal the deal.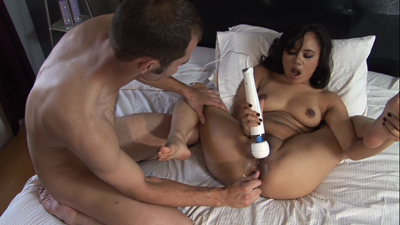 This scene has its moments — such as the anal beads popping out of Nomad's ass, and Annie shaking under the intensity of the Hitachi — but it lacks the easy chemistry and playfulness that characterizes the other two scenes.
So let me tell you about my favorite scene. Yes, the Penny and Devin scene is hot, but this last scene between Christian and Jandi Lin takes the cake. Takes. the. cake. I have always loved Christian, but I have never seen him enjoying anal play, and what a fucking treat it is.
I didn't notice the lack of blowjobs in the first two scenes until I came to this scene, which begins with a blowjob and a finger up Christian's butt. Then, I just about died when Jandi put the Pure Plug in Christian's ass — what could be better than watching a slice of stainless steel resting between Christian's ass cheeks while he fucks Jandi? Turns out, many other things are equally as hot. Such as: Jandi fucking Christian with a Phallix glass dildo while he simultaneously fucks her; Christian saying "holy shit" when he feels the vibrations of the Rude Boy; Christian's THREE ORGASMS. TRES, PEOPLE.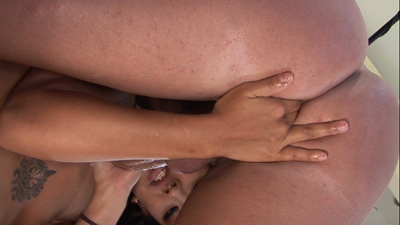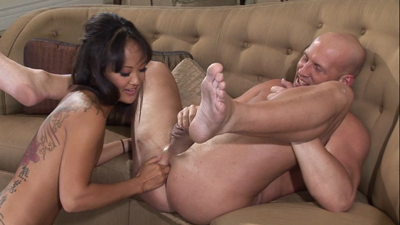 This scene really has it all: blowjobs, fingering, toys, rimming, fucking, all within a playful and extremely hot atmosphere created by Christian and Jandi. Jandi and her tattoos are swoon-worthy, while Christian's lust for having things in his ass is freakishly hot. Also, Christian's attempts at trying to look serious while turning to a pile of jelly are hilarious. When Jandi dares slide the Rude Boy out of his ass for a second, he whines in his low voice, "why are you taking it out? I like it in, meanie."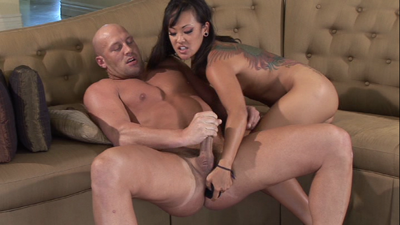 There is a bit of instruction from Tristan throughout the scenes, but nothing annoying, and it can be turned off. She mentions positions (and the benefits of certain ones) quite a bit, which I appreciated. In terms of extra features, there are four 2-6 minute segments: "Safer Sex," "How to Choose and Wear a Strap-On," "Solo Prostate Stimulation," and "Anal Hygiene and Enemas." All of them are well-done and worth watching. There are also trailers for Tristan's other films, which I'll admit I watched just because I wanted to.
It would have been hard for me not to like this film based on the subject matter alone, but yet again, Tristan Taormino has upped the ante and made porn that is incredibly hot and incredibly educational. The number of sex toys also excited me quite a bit, and seeing guys yearn for sex toys and anal play is just so hot. There needs to be more porn like this — there really does.
A few things I would've appreciated more of in this film: more rimming, more roughness, and more information about stimulating the prostate. What I'd really like in the future: for Tristan to make some gay male porn that involves toys. I can dream, right?
Buy Tristan Taormino's Expert Guide to Anal Pleasure for Men at
SheVibe, Come As You Are (Canada), or stream it now!
Browse more Expert Guides here or stream them here.