The Liberator Décor Fascinator Throw is my third Liberator Throw. That tells you a lot, right there. I now have a Throw for every room I could possibly masturbate in, and for every sensation I could ever want to feel under my ass. Microfiber, shag, and now velvish — I've felt and squirted on them all. And all of them have held their glorious promise of keeping moisture from seeping through.
Why did I want a third one? Honestly, I can never have enough Throws. Especially when I go to the closet and find that the cats have made one of them into the nesting material for their secret hide-out. Or when I need to go on a trip and have to find the Throw that is least dotted with the remnants of my squirtscapades.
Okay, those are all lazy reasons. Most people will only require one Throw, maybe two if they have crazy wild sex every day of the week. But I am here to decipher the fairly minuscule differences between the types, so you can choose the perfect one to become your best friend forever.
The Décor Throw and the original microfiber Throws are much more similar than they are different. Both are 5 feet long and 4 feet wide, big enough to just cover a queen-sized bed — with the same inner material of polyester with moisture barrier. Both have a price tag of $89 and a 1-year warranty. Both have a satin side.
But while the original Throws come in bold and comprehensible colors/patterns such as black, blue, red, purple, leopard and zebra print, the Décor Throws come in subdued "designer colors" with silly names: aubergine, black, buckwheat, espresso, grey, and merlot. This is because the Décor Throw is part of Liberator's "Home Collection," which has its own color palette.
Mainly, there's the material difference on the other side. Whereas the original Throws come in two material types — microfiber and polyester shag — the Décor Throw comes in a cute-sounding material called "velvish."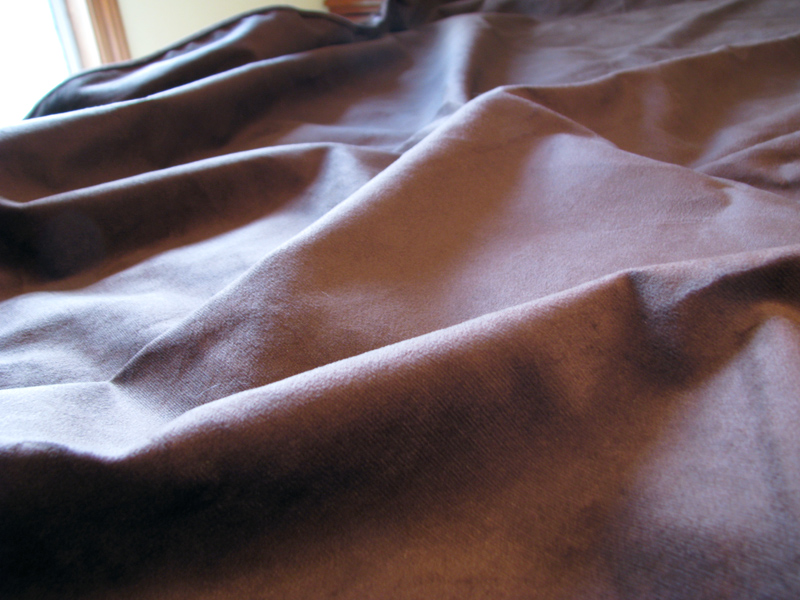 Turns out, velvish feels mostly like suede. Like a nice couch or pillow. By comparison, microfiber feels velvety, like those Christmas dresses for toddlers. And shag is just a short-length, soft fur. All are nice, but microfiber is my least favorite. (Also, microfiber seems to attract the most cat hair, but I'm not about to test that theory any further than I already, inadvertently, have.)
Throws — unsoiled ones, anyway — can easily pass for regular ol' blankets, but you probably won't want to curl up with one, as the inner moisture barrier has a crinkly feel to it.
I put this Décor Throw through its paces. Seconds after removing it from its box, I laid it on my bed and poured 24 ounces of water on it. I also got my period soon after, so I made sure to wipe my goo all over it. At one point, I begged my boyfriend to ejaculate on it solely so we could wash it. He made a beautiful post-modernist pattern. (Machine wash cold, light tumble dry.)
All the stains came out, but not before my friend rendered all my experiments moot by telling me that she has washed cat puke, human puke, and poop out of her Throw in the 5+ years she's had it. Bam.
Unsurprisingly, the Décor Throw rocks just as much as my other two Throws. I wipe my lubey hands on it. I lay my dirty dildos on it. I have sex on it. I tell it all my problems. The satin side is easily the most absorbent, so if you excrete a lot of fluid, you'll want to excrete onto that side. Liquid tends to pool on the non-satin sides of all the Throws, but it absorbs some on the microfiber.
If you have sex or squirt, and especially if you have sex and squirt, you need a Throw. Peace of mind and ease of cleaning are so worth the price. Towels just can't compete.
If you like the colors in the Home Collection or the feeling of suede, you'll want the Décor Throw made of velvish. If you like fur, you'll want the shag Throw (or there's the Faux Fur Throw if you're feeling very luxurious). But the microfiber Throw matches many of the Liberator shapes and is more absorbent on the non-satin side. They all keep liquid out, though, so just get one — I don't care which, jeez.
Get the Throw at SheVibe (best selection), Spectrum Boutique, Smitten Kitten, Good Vibes, Passionfruit (AU/NZ), or Liberator directly.