You might stumble across the Lovehoney Mini Magic Wand while shopping for the legendary Mystic Wand and think to yourself, "oh! It's 30% cheaper than the Mystic Wand and virtually the same! Nailed it!"
But you would not, in fact, have nailed it.
The second time I went to try the Mini Magic Wand, I actually said out loud, "oh, I have to use that fucking piece of shit again." Nobody was in the room. Just a cat snoozing on my desk.
The Mini Magic Wand takes four AAs, the same type and number as the Mystic Wand, yet it uses them for evil. Loud and obnoxious and incredibly buzzy evil. Also, the batteries must be inserted into a stupid plastic contraption that slides out of the base of the toy. Really? Still? Have you people learned nothing?
If held against my nose, the Mini Magic Wand seems strong. But my clit knows the truth. After the initial wave of pleasure that comes from holding any buzzing object against my genitals, something terrible and depressingly recognizable starts to happen: I'll realize I'm not enjoying myself. 20 minutes will go by and I'll be orgasmless.
I am finally going to officially give a name to something I've experienced again and again with some toys, and the factor that tanks the Mini Magic Wand: buried vibration syndrome. It's not always that the vibrations themselves are weak — it's that they don't transmit well at all. I'll know a toy is afflicted if I find myself pressing it into my clit harder than usual, trying to find the stimulation I'm supposed to be feeling. But no, I can't, because the vibrations just seem buried.
So not only is the Mini Magic Wand disgustingly loud (seriously, it's a problem when I can hear a toy through my headphones and the porn), its stimulation does not coincide with such ear punishment. At least the Hitachi follows through on the promise its lawn mower noise makes.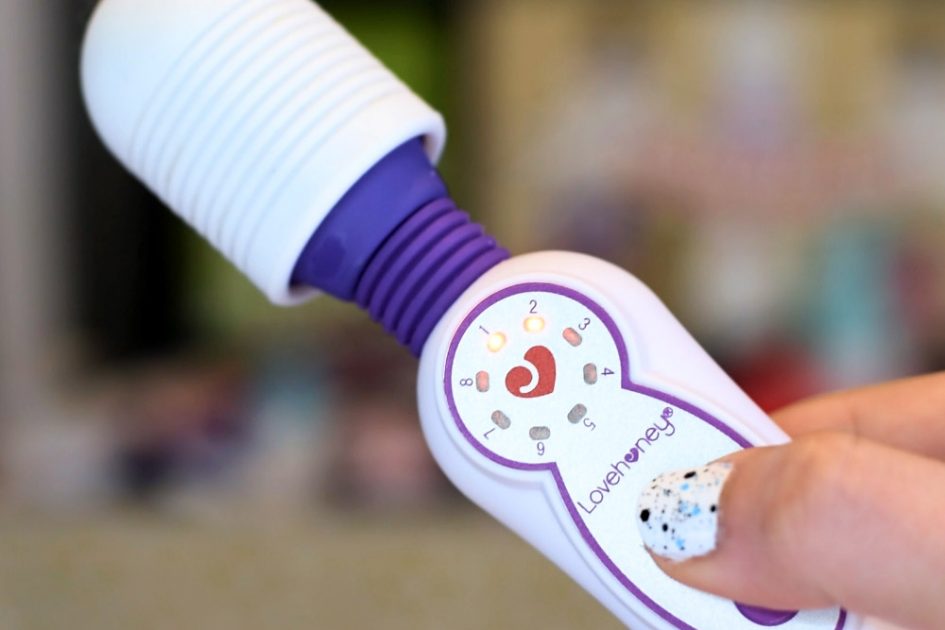 I'm not saying I can't orgasm using the Mini Magic Wand. I definitely can. But I don't want to. For example, the third and final steady setting on the Mini Magic Wand feels nowhere near as stimulating as the second steady setting on the Mystic Wand. I prefer to be enjoying myself before I have an orgasm, I dunno about you.
Now, if you had no point of comparison, you might very well consider the Mini Magic Wand a strong and stimulating vibrator. I believe it. But my tolerance for buzzy vibrations has gone way down over the years, with the discovery of rumbly toys like the Eroscillator, We-Vibe Touch, and LELO Mona 2. And buried vibration syndrome is becoming a major pet peeve.
Lovehoney thoughtfully sent me the Dual Exciter Rabbit Attachment to use with my Mini Magic Wand.1 What a feat this attachment has accomplished, as it manages to rest between my labia without ever touching my clit! I can turn it sideways, so just one of the protrusions rests against my clit, but the neck on the Mini Magic Wand is so flexible that virtually no pressure can be applied.
The attachment does look just like Louise's hat on Bob's Burgers, though, which brings me joy. I think I'll add it to my doodads collection.
Anyway. The Lovehoney Mini Magic Wand is extremely loud; the handle vibrates too much; it's far too buzzy; the vibrations are weirdly buried; it gets hot after 10 minutes; and I find the small grooves on the head abrasive. These issues should not converge. Please, be willing to pay $24 more to get a wand that does not have any of these issues — like my amigo for lyfe, the Mystic Wand.
See all my favorite toys at Lovehoney and get 15% off your order!
There's also the Double Trouble or Triple Tease, neither of which look like they'd succeed at anything.