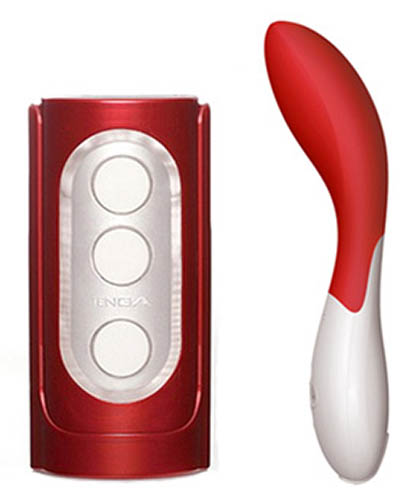 So, I don't really do Valentine's Day. In fact, the Valentine's Day aisle at the store makes me kinda sick with all the pink stuff falling off the shelves.
But Madame Liberty swooped in and asked if I wanted to do a giveaway, and they ship anywhere, so I thought, okay, I'll do something only loosely related to that shitty holiday.
My chosen theme? RED TOYS. Because red is the only Valentine's Day color I can stomach. And because I've been wanting to give away a LELO Mona 2, which I loooove. I also chose the red Tenga Flip Hole as another prize, if perhaps you'd rather stimulate a penis.
Enter for you, enter for a friend, enter for a partner, whatevs. Just choose which toy you'd like to win, follow the instrucciones to get more entries, and I'll announce the two winners at the end of January, with delivery by Valentine's Day since I know not everyone's a scrooge like I am.
This giveaway is open to the WORLD and ends pretty soon, at 9 p.m. Pacific on Sunday, January 27th, so enter now!