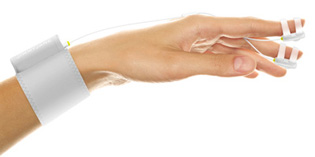 It's always a good day when Jimmyjane comes out with something new. And by "good day," I mean "giggle fest." This is the Hello Touch, a $65, one-speed finger pad contraption that we are supposed to believe is innovative despite many iterations having come before it. Also, it takes AAAAs. That is not a typo. Speaking of Jimmyjane, if you have $35,000 to spare, (you do, don't you?!), they'd like you to spend it on a 4-hour private jet flight.
Mr. Man is back, on a sketchy site, except… now it's made out of smelly (this has been confirmed by a trusted nose) and surely not tasty PVC. Sigh. Why can't we have nice things?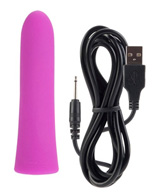 The Jopen Envy line is atrociously pink and the toys are literally named One, Two, and Three. Wow, Jopen. Trying hard I see. Go hang out with Jimmyjane and drink some Pabst together.
ANE and ANME happened, prompting articles about the products displayed at each show. Like a vibrator that gets stronger as it senses warmer temperatures. Um. And another that inspired this terrifying quote: "When you're exploring and you find an angle, the intensity will vary just from moving it." YO, THAT IS NOT WHAT WE WANT OUR VIBRATORS TO DO.
My most favorite thing, though, was this start-up company that sounds like every company to ever email me:
Cucci Condoms offers a light-hearted approach to the luxury concept. Created by three Jersey boys in their 20s, the product grew from a gag. "This guy had jokingly made a Louis Vuitton condom and was selling it for, like, $65 on the internet. It was fake, but we took the idea and made it real," said Evan Bell, the company's COO.
Best of luck to you.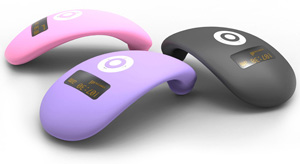 Alarm clocks are the worst. Let's replace them with vibrators. I am getting one of these Wake-Up Vibes soon, and I'm pretty excited to take some hardcore naps in the name of thorough product testing. I do not expect comfort, but I do expect hilarity.
The Crave Duet has a new tip that is not as blunt on the edges. Woo?
And finally, 2013 XBIZ Award winners were announced, some much-deserved (Crystal Delights won Non-Powered Pleasure Product of the Year; Sliquid won Sex Lubricant Company of the Year) and some laughably false (Pipedream won Progressive Pleasure Products Company of the Year — yep, misogyny is now progressive).