GOBBLE GOBBLE, peeps. I'm here to help you get the best Black Friday and Cyber Monday deals on sex toys! If you've been waiting to buy something I raved about, now is probably the time. Discounts like these don't happen on such a grand scale at any other time of the year. The best part? You can stay in your pajamas!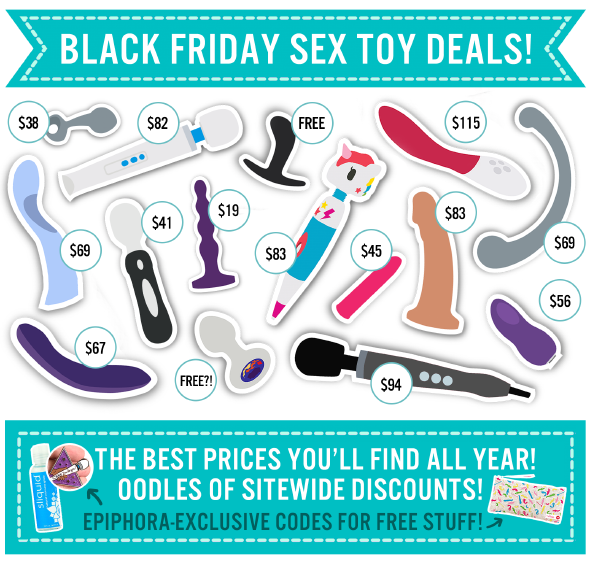 If you've been waiting for a good price on the sex toy of your dreams, now is the time to get it. I watch sales and deals all year long, but this is when retailers tend to pull out all the stops. Plus, I have some exclusive codes you won't find anywhere but here, giving you all kinds of stuff: a free mystery glass toy, free silicone dildo, so very many free vibrators, free sex toy pin, free toybag and tiny dildo (!), free storage pouch, and free lube!
Live outside the US? Get 30% off my top picks at Lovehoney or 20% off everything at Canadian shop Come As You Are. (Also, Americans take note: the exchange rate is VERY MUCH in your favor. To the tune of a $69 Pure Wand and $82 Magic Wand Rechargeable.)
I will be updating this post as more sales pop up, so use that refresh button!
Sex toy sale round-up
My favorite deals of the moment
Toy name links to my review. These are likely to sell out, so don't delay!
Come As You Are — 20% off all sex toys
BEST FOR: Americans wanting to take advantage of the redonk exchange rate, or Canadians, eh. The BEST deal on the njoy Pure Wand (actually all njoy), LELO Mona 2, Magic Wand Rechargeable, Unicorn Wand, Vixen dildos, Joque harness, and Mystic Wand.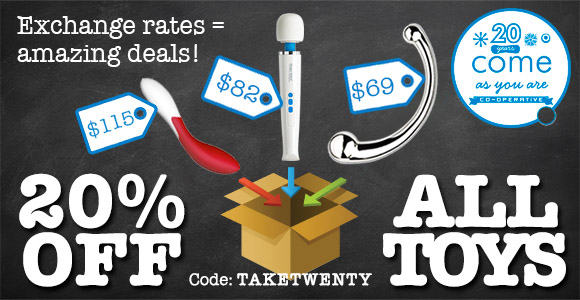 Friday through Monday, get 20% off all sex toys1 at fabulous Canadian indie sex shop Come As You Are, plus a discount card for 15% off a future purchase, with code TAKETWENTY. My favorites are all listed here, and the exchange rate is such that if you're an American, many toys are at their best price anywhere.2 Plus, Canadians automatically get free shipping on orders $50+, and Americans get free shipping on orders $150+.
Due to nutso exchanges rates, Come As You Are actually has the best deal on the njoy Pure Wand ($69, and actually all njoy), LELO Mona 2 ($115), Magic Wand Rechargeable ($82), Vixen dildos, Joque harness ($86), and Mystic Wand ($41).
SheVibe — up to 20% off everything
BEST FOR: orders over $125, especially for the LELO Mona 2, Doxy Wand, and more unique lines such as NobEssence, New York Toy Collective, Leaf, BS Atelier, Funkit Toys, and Hole Punch.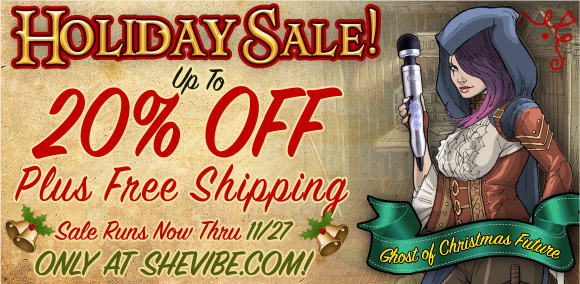 SheVibe is my favorite online shop. Not only is it run by amazing people who care, their selection is also super comprehensive and pretty unparalleled. Now through Monday EST, it's an escalating sale at SheVibe: the more you buy, the more you save! Plus free U.S. shipping with orders over $75.
10% off orders $75+ at SheVibe with code PAST
15% off orders $100+ plus free US shipping at SheVibe with code PRESENT
20% off orders $125+ plus free US shipping at SheVibe with code FUTURE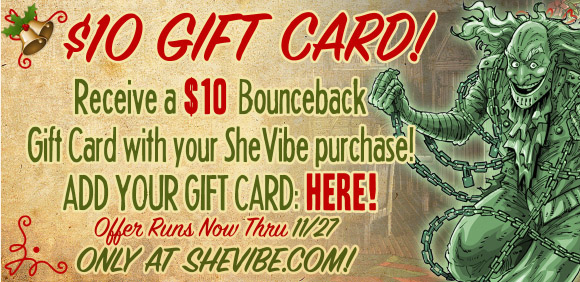 BUT WAIT! THERE'S MORE! Click this link before you order and you'll get a $10 gift card for use in a later purchase.3
Check out my favorites for what you should buy! To get the best discount, it's best to spend over $125, so now's the time for you to get a spendy but wonderful toy like the LELO Mona 2, Doxy Wand, L'Amourose Rosa, Magic Wand Rechargeable, or NobEssence Seduction.
Of course, if you get just a couple of my favorite things, you'll probably enter the $125+ threshold. Like the Pure Wand + Throw for squirting times, We-Vibe Tango + Dusk for HANDS FREE ORGASMS, or Joque harness + Mustang for epic strap on play! Of all the shops on this page, SheVibe has the most comprehensive selection of Vixen Creations dildos, and Liberator.
Lovehoney — 30% off Epiphora's Picks
BEST FOR: international (and not!) purchases of toys I adore, especially the We-Vibe Touch, Rave, and Tango, OhMiBod Lovelife Cuddle, Vibratex Mystic Wand, and Vixen Mustang.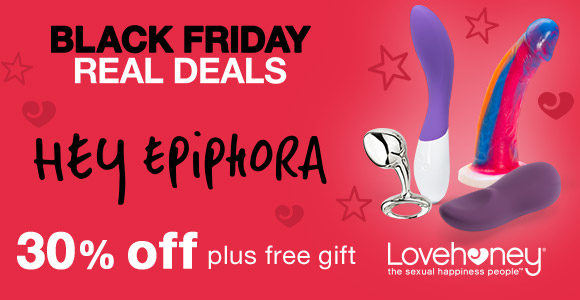 My favorite worldwide sex toy shop, Lovehoney, is offering a steep 30% off my favorite toys, in addition to their other amazing sales and special offers, now through Saturday, December 2nd. You'll also get a free satin drawstring storage bag with your order, great for gift-giving!
This deal gives you the best price on the We-Vibe Touch, Rave, and Tango, OhMiBod Lovelife Cuddle, Vibratex Mystic Wand, and Vixen Mustang. Lovehoney also stocks the best inexpensive kegel balls, the Tracey Cox Supersex Toner Balls.
Those links should take you to the Lovehoney that corresponds to your location. If not, try these:
Tantus — free dildo with orders $70+
BEST FOR: really really cheap silicone butt plugs and dildos, specific Tantus toys.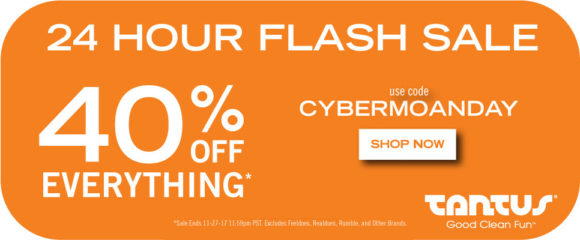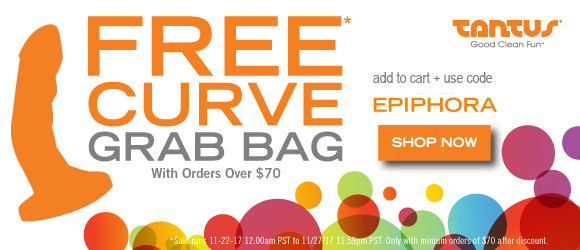 Blink and you might miss this 24-hour sale: get 40% off sitewide at Tantus Cyber Monday only with code CYBERMOANDAY.4 Or, get a FREE grab bag Curve dildo ($50 value!) with purchases over $70 now through Monday with code EPIPHORA. You must add the dildo to your cart.
Tantus makes many things I love. My favorite anal toys are the Ryder (my review) and Neo and Juice (all about $21), and some excellent dildos are the Cush (my review), Echo (my review), Goddess (my review), Duke, Slow Drive, Sport, and Max ($22-54). The Super Soft C Ring ($5.44, yo) is also rad.
Peepshow Toys — up to 25% off + free vibe
BEST FOR: orders over $125 of my all-time faves, such as the Magic Wand Rechargeable, Stronic Eins, Womanizer Pro, Doxy, and Zumio.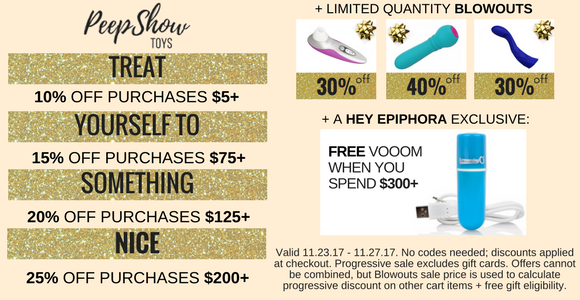 There's a tiered sale going on at Peepshow Toys now through Monday — up to 25% off your entire purchase, no codes necessary! PLUS get a free rechargeable Vooom bullet with orders over $300, and a few great toys are discounted 30-60%.
Blowout items include the Femmefun Ultra Bullet ($29! For a rechargeable!), L'Amourose Prism V ($69), We-Vibe Gala ($90), Womanizer Pro40 ($90), L'Amourose Rosa for ($111), and Swan Squeeze ($28), all which count toward the tiered discount total.
I'm really into Peepshow's curated selection; they stock a lot of my favorite things including my two favorite Hitachi attachments, the LELO Ella, Leaf Life, and the NobEssence Seduction.
Crystal Delights — 30% off + free mystery box toy
BEST FOR: gorgeous glass dildos and anal toys — plus mystery toy worth $60!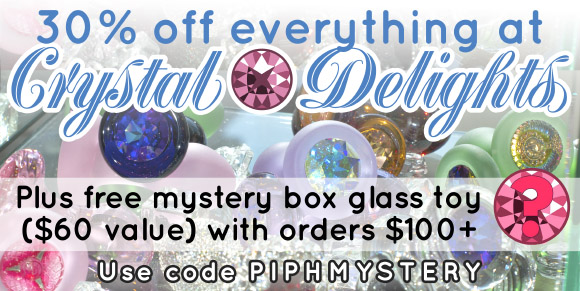 So this is amazing. Get 30% off everything at Crystal Delights now through Monday with code BFCM2017, plus get a free mystery box glass toy ($60 value!) with any order $100+ with additional code PIPHMYSTERY. How can you resist that?!
Everything Crystal Delights creates is a work of art. They make both of my all-time favorite glass dildos, the beautimous Crystal Twist (my review) and bumpy Star Delight (my review), as well as beautiful butt plugs, some with fluffy animal tails, others with fantastically-colored tails.
LELO — up to 55% off select toys
BEST FOR: Mona 2 and international purchases of other LELO products.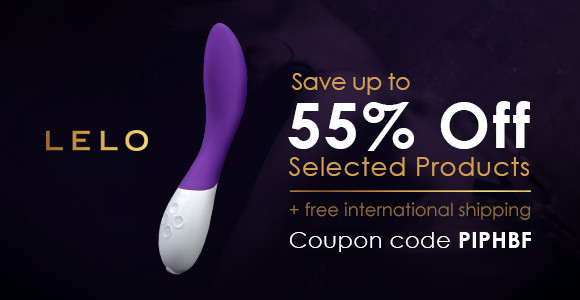 LELO's offering deep discounts on many of their toys through Wednesday, November 29th or while supplies last. Get an additional 5% off already discounted products with code PIPHBF — this makes my great love the Mona 30% off! Everyone gets free shipping, even international orders!
I've compiled my favorite products of theirs on this page so you can just shop from there, because my opinion is the only one that matters, obviously. Do you have a clitoris? You need the Mona 2 (here's why, and here's another reason why). I also love the G-spot-centric battery-operated Moka (only $29 with my code!), the Luna Beads kegel balls (review here), compact yet surprisingly powerful Nea 2, and travel-friendly Mia 2 (review here).
Fun Factory US — free butt plug + other swag
BEST FOR: swag up the wazoo: free butt plug, toybag, tiny dildo, and bottle opener!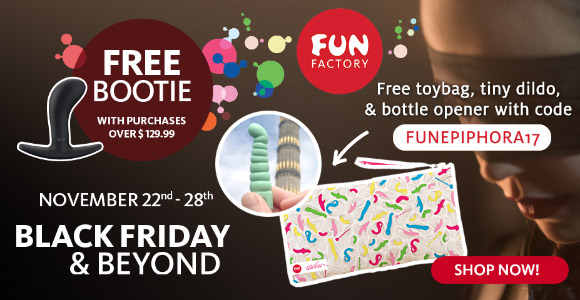 Get a free Bootie small, which just happens to be my favorite silicone butt plug of all time, with orders over $129.99 at Fun Factory now through Tuesday 11/28! Best of all? If you use code FUNEPIPHORA17 you'll also get a swag pack including a free Karim Rashid Toybag (must add to cart first!), tiny Patchy Paul dildo like the one I have, and Fun Factory bottle opener. Noice!
What should you get? I mean, the Stronic G and the Stronic Eins stroke my G-spot with incredible ease, and you know I am ALL ABOUT that lazy masturbation. I enjoy the odd sensations of the Bouncer and B Ball Uno, and the Tiger G5 and Big Boss G5 are impressively powerful vibrators for your money. Fun Factory also make rad menstrual cups now, which I reviewed here.
Want to feel good about treating yourself? On Tuesday, November 28th, for every Fun Cup, Battery+, or Stronic G sold, Fun Factory will donate a Fun Cup Explore Kit to the Dominican Women's Development Center.
Early to Bed — 15% off Epiphora's Picks + free toy pin
BEST FOR: purchases of less expensive items and rare items from my favorites list, such as the blowjob dildo, L'Amourose Prism V, Magic Wand Original, cute butt plugs, and Vixen Creations single-density dildos, plus a free sex toy pin!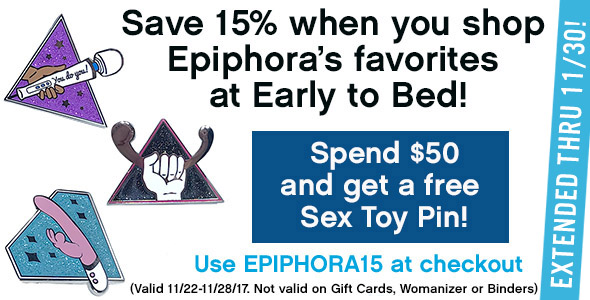 Do you understand how madly in love I am with Early to Bed? Especially because they worked with me on a special deal just for my readers again this year. Now through Thursday (yup, we extended it!), buy at least one product from my favorites page and get 15% off your total order with coupon code EPIPHORA15. Plus, if you spend over $50 (before discount!) you'll get a free sex toy pin! Specify in the order notes which one you'd like.
Early to Bed is especially great for non-dual-density dildos from Vixen that I love: Woody, Leo, Randy, and Large Real Bent (Claire). Here, you can also get a good deal on the L'Amourose Prism V, Hitachi, blowjob dildo, and Cuddle.
Although this may not be the steepest discount you can get, Early to Bed is one of the greatest little indie sex shops around. They're not afraid to call out sexism in the industry and they work their butts off to provide accurate sex ed day after day, so you should support them!
Smitten Kitten — 30% off everything + free lube
BEST FOR: good-hearted folks wanting to support one of the most progressive indie sex shops around, especially for purchases of the Pure Wand, Stronic Eins, Hole Punch Toys, Vixen Creations, Pure Plugs, Liberator Throw.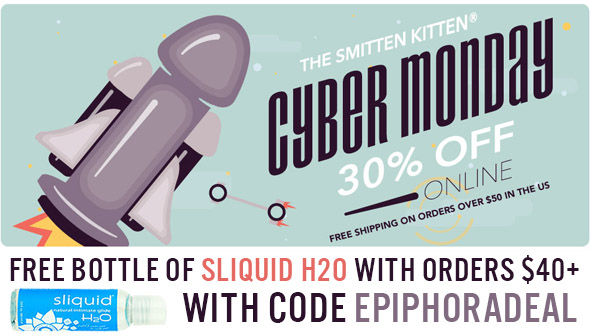 I heart Smitten Kitten in unnatural ways. Cyber Monday only, get 30% off everything on their site (!!!) plus a free 2 oz bottle of my favorite lube, Sliquid H2O, with orders over $40 using code EPIPHORADEAL. My picks are chronicled here. but the best deals are on the We-Vibe Touch ($70), Pure Wand ($95), Vixen dildos, Liberator Wedge ($67), Liberator Throw ($84), Mystic Wand ($56), Pure Plugs ($63+),
Feminist to the core, Smitten Kitten also carries small manufacturers such as Hole Punch Toys and Fuze, and unique items such as acrylic dildos and pronoun buttons.
GoodVibes
BEST FOR: 10-20% off everything!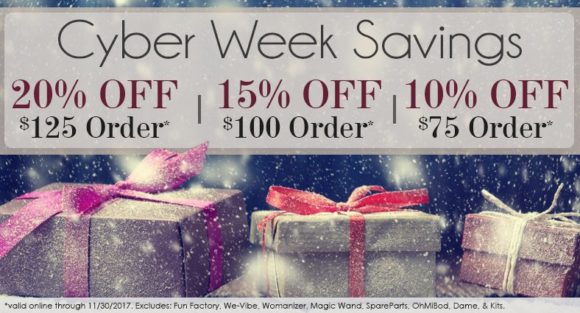 Through Thursday, get up to 20% off sitewide5 at GoodVibes, plus free Pirouette vibe! with orders over $125.
I suggest you get something from my favorites page, like the njoy Pure Wand, anything from Vixen (I love Mustang and Buck), Comet II Wand, njoy Pure Plug, Vibratex Mystic Wand, and/or Liberator Throw. Don't like my suggestions? They have a bunch o' gift guides.
Babeland — 15% off everything
BEST FOR: 15% off everything!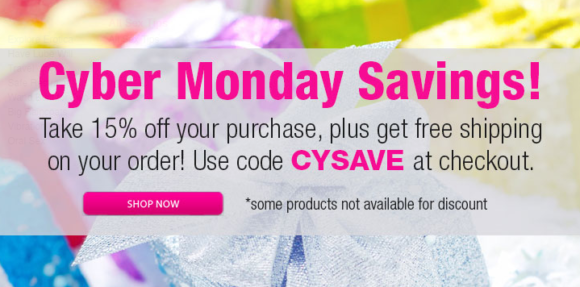 Oh look! It's 15% off everything at Babeland, through Wednesday with code CYSAVE.
Visit my favorites page for ideas on what to get. Perhaps the LELO Mona 2, Lovelife Cuddle, Picobong Ako, or Vibratex Mystic Wand? When it comes to dildos, you can't go wrong with anything from Vixen Creations. They also have the Babeland-exclusive colors of the Mustang (black!) and Leo (gold swirl!).
We-Vibe — 20% off everything
BEST FOR: a great deal on We-Vibe toys.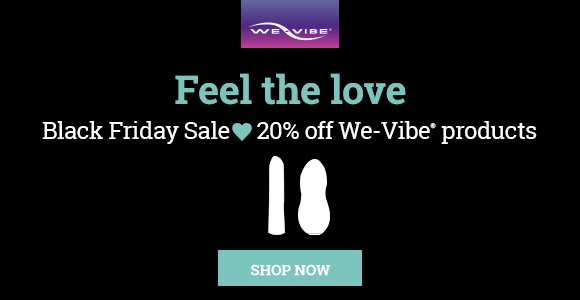 Been wanting something from We-Vibe? Get 20% off and free shipping now through Monday.
We-Vibe makes so many exceptional toys! The Tango (my review) and Touch (my review) are some of the best small rechargeable vibes out there, and the Rave (my review) is a wonderfully versatile G-spottin' vibe. There's also the ergonomic rabbit Nova (my thoughts) and the Pleasure Mates Collection, which I fashioned into a hands-free clitoral orgasm device.
Be a Sex Blogger — 20% off independent study
BEST FOR: aspiring sex bloggers!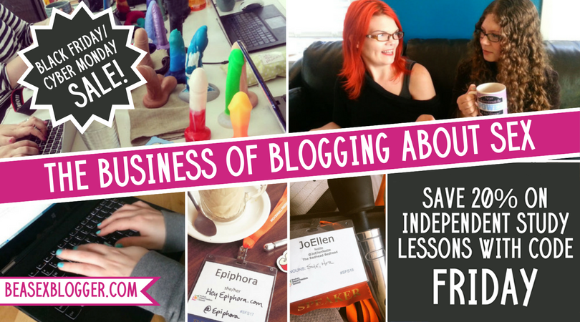 Do you dream of becoming a sex blogger? Use code FRIDAY to save 20% on all my Business of Blogging About Sex Independent Study coursework now through the end of November! This course that I teach with JoEllen Notte offers all the wisdom of our combined 15 years blogging PLUS the input of over 30 industry experts!
Want to learn it all? From site building to content creation to social media mastery and making actual money with your blog — it's all there. Check out the full Independent Study!
Want to select only the lessons you need? Need help setting up? Or sharpening those writing skills? Perhaps you're most interested in monetizing your site? Or taking your brand to the next level? Our Individual Lessons let you pick what you want! Regularly $75, now only $60!
Stockroom — up to 70% off select products
BEST FOR: kinky toys, electrostim toys like the Neon Wand, and other bondage gear.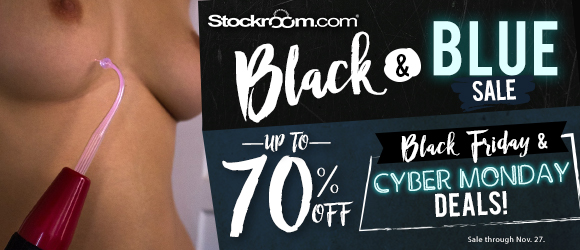 Friday through Monday, get up to 70% off select products at Stockroom, plus a free gift of Cotton Bondage Rope with orders over $99. The awesome estim Neon Wand is only $98, and various attachments/electrodes are also on sale including the Power Tripper and Electro Whip.
Want something not included in the sale? Save 20% on your order with code BLACK20.
Fleshlight — 25% off Fleshlight products + freebies!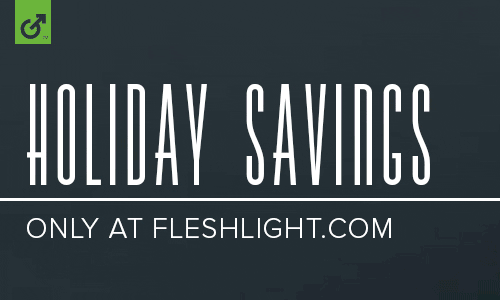 40% off combo packs, 25% off Fleshlight brand products, and 15% off sitewide at Fleshlight and and their gay site, Fleshjack! Plus, the more you spend, the more cool shit you get with your order:
Spend $100, get free shipping and gift
Spend $150, get free shipping, gift, and Holiday Quickshot
Spend $200, get free shipping, gift, Holiday Quickshot, and Mystery Sleeve
Spend $250, get free shipping, gift, Holiday Quickshot, Mystery Sleeve, and Interactive Device (Fleshlight) or Surprise Toy (Fleshjack)
Sliquid — 35% off everything
BEST FOR: stocking up on super discounted lube and body products!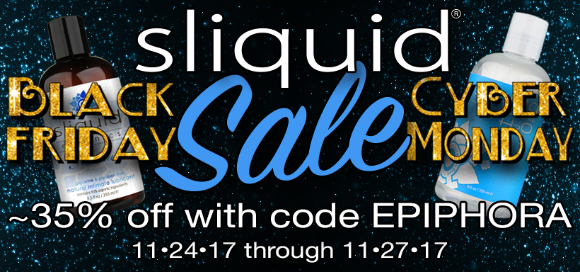 Sliquid is my favorite lube ever. Black Friday through Cyber Monday central time, get an amazing ~35% off all orders at Sliquid with code EPIPHORA. (Their sale is 25% off storewide, then my code takes off an additional 10%.) That means 2 oz bottles of my water-based faves H2O and Sassy are less than $5 each, or get a sample pack to test different formulas.
I love Sliquid because they make products with ingredients you can trust, including water-based, oil-based, silicone-based, hybrid, and flavored lube, and other stuff such as massage oil, intimate wash, shaving cream, and toy cleaner.
Pleasure Chest — 15% off everything + free vibe
BEST FOR: smaller orders, plus a free silver bullet!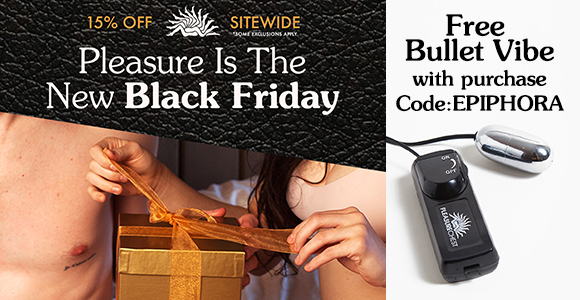 Ho ho ho! Get 15% off everything6 at Pleasure Chest, plus a free silver bullet, with code EPIPHORA now through Monday. No order minimum, free shipping on orders over $75.
New York Toy Collective — $10 gift card with purchase
BEST FOR: handcrafted, colorful, squishy dildos!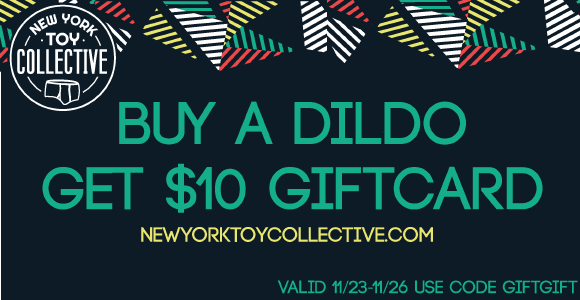 Buy any dildo at New York Toy Collective and get a $10 gift card with code GIFTGIFT now through Sunday. NYTC are the premiere makers of bendable silicone dildos such as the pack-and-play Shilo and the thicker, squirt-enducing Carter. Their site includes the widest selection of unique color choices, so if you want a colorful squishy-as-fuck dildo, this is the place to go.
Porn, porn, porn!
BEST FOR: porn mongers!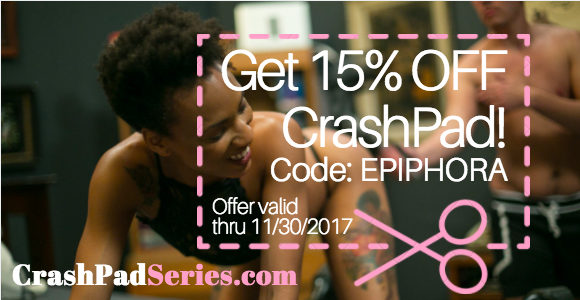 Get 15% off any membership to queer porn empire CrashPadSeries.com (the best deal they ever offer!) with code EPIPHORA now through the end of November! Arguably one of the greatest queer porn sites on the internet, Crash Pad documents hotties of all flavors sexing it up in beautifully-shot harmony. It will affirm your identity AND make you wanna masturbate. Worth it solely to see this hot scene between Nikki Darling and James Darling. Ungf.
Or join PinkLabel.tv for a discounted price of $9.99/month. It's like the Netflix of queer porn, with indie porn from all different studios for you to stream whenever you want!
Twisted Monk — $10 off orders $75+
BEST FOR: ethically-produced bondage rope!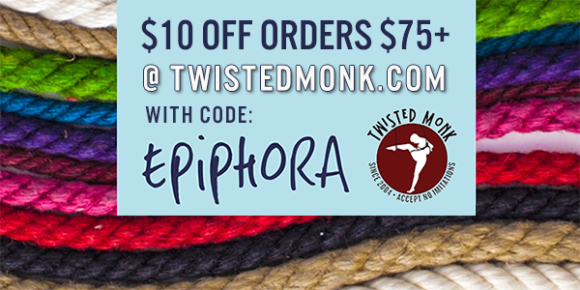 Twisted Monk is the most trusted name in bondage rope, and you can get $10 off orders over $75 with code EPIPHORA. Their Holiday Sweets pack would make a lovely gift, and their Curiosity Candles are a perfect introduction to wax play. They make classic hemp rope, as well as exotic ropes such as bamboo, silk, cotton, SPARKLE, and electro-conductive.
Amazon
BEST FOR: your non-sex toy purchases, because you love me.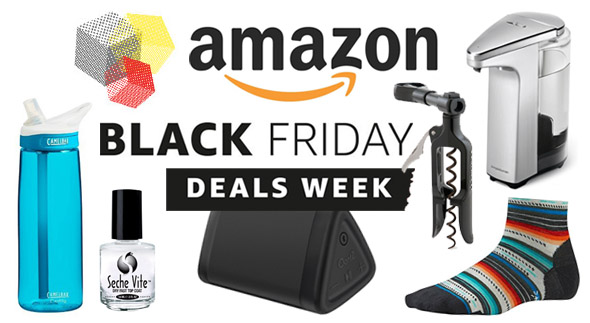 If you're shopping for non-sex-toys at Amazon, might I gently cajole you into clearing your browser cookies and using my affiliate link?
Be the coolest sex toy fanatic on the block with your very own lube dispenser (my review), over-the-door sex toy organizer, USB charging station, or plastic storage cart, and masturbate like royalty this winter with a space heater. (Life changing, I tell you.)
Or, other products I love that you should get (for yourself or as gifts): an Oontz bluetooth speaker, a sturdy-ass Camelbak water bottle, THE BEST EVER WINE OPENER, my favorite game, a Kindle, a sadly very useful cat litter dash button, socks that somehow never stink (?! it's a MYSTERY), a handy spice rack, and my fave nail polish top coat. If you're looking for a gift for a hard-to-buy-for dad, might I suggest this boring yet incredibly useful car battery that has managed to saved my ass on several occasions? Also, one time I got my republican grandpa this toilet paper with $100 bills on it and it was a riot.