I should start with an apology, because when this line of sex toys came out, I mocked it. "Hahahahaha Doc Johnson acting like they invented silicone," I tweeted derisively. But what I didn't realize is that these aren't garden-variety silicone toys — they're made of squishy dual-density silicone, and I am so on board with more affordable dual-density dildos. ("TruSkyn," though? Still ludicrous. Good lord, when will misspelling words become uncool again?)
So, I must eat my hat. I'm sorry for preemptively ridiculing TruSkyn. While I do think it's amusing to watch bigwig sex toy manufacturers "discover" body-safe materials 500 years behind everybody else, it can only be a good thing for consumers. Dual-density silicone has been the domain of indie sex toy manufacturers for some time, but if you want a softer sex toy without spending a wad of benjamins, TruSkyn is a worthy option.
Not only are these toys actually made of silicone, they are actually good, and I'm… a little bit giddy about it? Saving money excites me, okay?! I love a good deal almost as much as I love a good G-spot orgasm. I can't say I'm head-over-heels for every TruSkyn toy I tested; after all, personal preference comes into play much more with non-vibrating toys. But they're all solidly-made, and one of them — the Tru Curve — makes me squirt all over my rug. Yep.
Sex toys in the TruSkyn line are unfortunately-named but very reasonably priced. I decided to try the purple Tru Curve ($50), blue Tru Feel ($45), realistic Tru Ride Slim 7″ ($69), and the Tru Butt Plug ($27). There are a few more designs in the line, including beaded and tapered anal plugs and a handful of other dildos.
These toys come powdered with corn starch — not necessary, but it makes them feel silkier. Each box also contains a small bottle of shitty1 water-based lube,2 packet of corn starch, and a Doc Johnson branded fabric storage bag. Storage! Not something I expected at these price points.
The dual-density silicone formula here is quite good: each toy has a firm core and spongy outer layer, not quite as soft as Vixen's VixSkin but squishier than Tantus' O2. My favorite part is the mostly-matte finish, which glides well while retaining a life-like feel. As far as quality goes, the only imperfection I found was jagged edges on the base of the butt plug. The rest of the toys look perfect.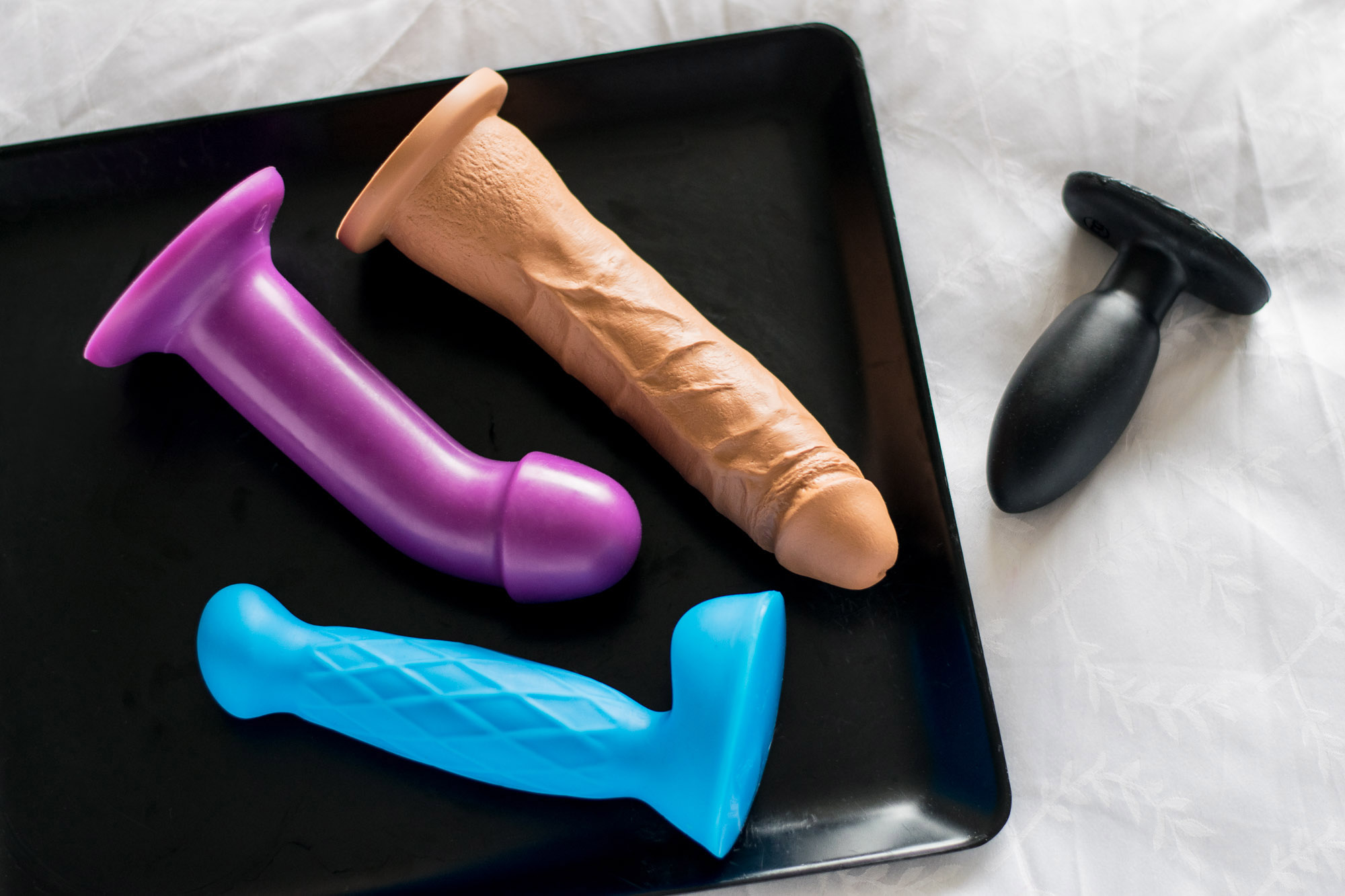 The Tru Feel is smaller than I pictured, at 1.5″ in diameter and 5.25″ insertable. Not sure where they were going with the design of this one; I wrote in my notes "inexplicably, the baroque dick has balls." I chose this toy because I'm a fiend for texture, but sadly, the material is too cushy for the pattern to be felt at all. The Tru Feel is kind of a recipe for "meh" for my vagina: too small, not G-spotty enough, unhelpful balls (sorry, not a ball fan…), and the shaft curves downward just enough to make insertion 5% more annoying.
It's all little stuff, but little stuff is what deters me from using any dildo when there are better ones lying around.
The realistic Tru Ride is better, but for my tastes, also falls short of ideal. This dildo's level of detail is impressive — skin lines, veins, balls that are… congealed at the base like a withering fruit? Don't ask me. I love the length, though: it gives me 6″ to insert while leaving enough space for me to press a vibe against my clit no problem.
But the softness of the dildo dulls the texture, so I can't feel much of the lovely detail in use — only a little bit of veinage near the tip. Plus, the dildo's straightish shape and undersized head neglect my G-spot, which obviously is a federal crime. I prefer my insertables to pummel my G-spot, stimulate my vaginal walls, or both. The Tru Ride doesn't do either.
There's also something about the shape of the Tru Ride's shaft…it always wants to slide out of my vag, and I always have to push it back in. I don't know which aspect of the toy is causing this, but it is A Thing That Happens and it makes me less likely to want to use it. When it comes to realistic dildos, Mustang, Buck, and Maverick are still superior.
What the other TruSkyn dildos failed to do for my G-spot, though, the Tru Curve pays back in spades. This thing is not cute, not even remotely — it's an atrocious puke-purple rod that I almost didn't even ask to review because it's that unappetizing. But its hooked tip? Yoooooo. Whoever designed this dildo deserves a high-five. The kind that makes your hand sting afterward.
Here, the extra squish is welcome. Cast in a firmer silicone, this shape would've caused some awkward popping sensations going in and out. In this dual-density silicone, the curve has just enough drama to make a serious impact without any discomfort.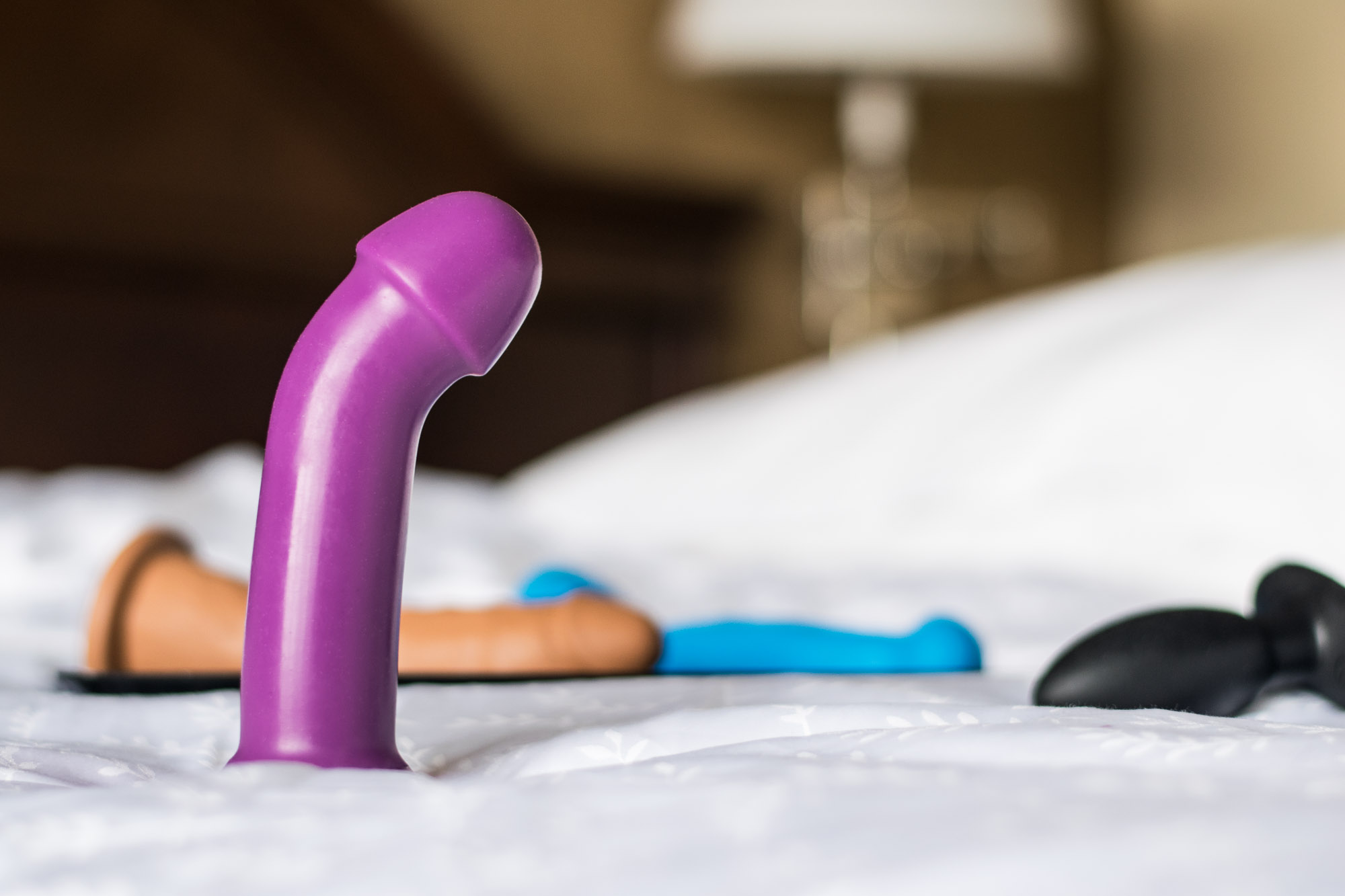 This dildo has one aim and one aim only: to target my G-spot like a boss. And the stimulation is fucking immense. My masturbation notes include several stories of gushing like a geyser, spraying onto the floor, once so copiously I went to get paper towels afterward to dab it out of my rug for fear of leaving stains. I need a Throw on my desk chair and a Throw on the ground, apparently, to catch all my jizz.
It's the magic combination of an acute curve and a pronounced head. The smooth shaft is of no consequence; all I feel is the broad, supple tip enveloping my G-spot. Squeezing this dildo with my vag is enough to get that G-spot goodness, or I can launch into short, swift thrusts for intense eyes-rolling-back sensations. The cherry on top is the Doc Johnson logo stamped on the base, which serves as a convenient "this side up" for my thumb in use. (Not that I could ever forget which side is up. It's pretty apparent.)
But the award for "Best Usage of Dual-Density Silicone" has to go to the Tru Butt Plug. While not revolutionary in shape, it is super comfortable to wear… kind of like having a stress ball in your ass. It's a kinder, gentler butt plug, less obtrusive than other anal toys, and its cushion makes it feel smaller than similarly-sized plugs. For a mere $25, it's a good basic filler-upper, and Doc Johnson even makes a tapered version that I wish I could personally gift to anyone wanting to explore anal play. Throw out your creepy jelly butt plugs, peeps! No more excuses!
Who knew it would be Doc Johnson, giant and aggressively American sex toy company, taking the plunge into the dual-density silicone realm? To me, the TruSkyn toys represent more than epic G-spot stimulation and comfy butt plugging. They're symbols of progress — look, you really can create soft body-safe toys that don't cost a fortune, and this is a worthwhile thing to do! The country may be going to shit, but for bargain-hunting masturbators, it's a good time to be alive.
Check out the TruSkyn line at SheVibe.