Sadly, Downunder Toys closed down in 2018. For 100% silicone toys, check out 
Vixen
,
Tantus
,
NYTC
, 
Fuze
, 
Hole Punch Toys
, 
Funkit
, 
BS Atelier
, 
Split Peaches
, or 
Godemiche
(
ugh
).
Contrary to popular belief, I can be sweet-talked.
Start by sending me a nice, gracious email. Acknowledge the work I do in the world ("your honest approach to this field makes my heart sing," "I'm still laughing over your LELO Hula Beads review"). Introduce yourself without condescending to me (hint: if you're a sex toy company, I probably already know that you exist). Then… the cherry on top… the pià¨ce de résistance… drop a sentence like this:
I really think I'd like to challenge your love of VixSkin — I know, a bold claim, but hey, if you don't set a challenge, where's the fun in life?
So, full disclosure: I was already loving Downunder Toys before the founder, JD, sent me a box of stuff. Then I saw the generosity in the box, and I was even more wowed. Plus, I love Aussies. One of my best friends is Australian.
Downunder Toys has been designing and manufacturing 100% silicone sex toys in Australia for a mind-boggling 20 years. They make whimsical designs like the Koala Kiss and Pretty Kitty, as well as colorful Hitachi replacement heads and their own dual-density dildos. In years past, their toys were more readily available in the U.S., but the wholesale cost became too great.1
The company strikes me as a humble one: although they are not very well-known outside of Australia, they keep churning out unique, body-safe, handmade products. Customers are their bread and butter vegemite, and they care more about how something feels than how they could market it. They'd rather hear a fair dinkum "I hated the shape of that" than a half-hearted "it was fine."
Downunder Toys are imperfect — they have air bubbles, indents, and slightly off-kilter bases. Some are named Girl and Boy, which is just weird. Swarms of nubs make me uncomfortable, so I have no desire to try the Joyberry or Rollerball Ring. And I don't like the way the Honey Bunny looks at me.
But dual-density dildos? SIGN ME UP. Downunder's dual-density toys are called Hot Rods. They're squishier than Tantus' O2 toys and feel similar to Vixen's VixSkin toys except for one thing: you know how VixSkin is tacky and tries to adhere to your hand when you touch it? None of the Hot Rods have that "feature." Ace.
I tried three dual-density dildos (Mr. H Rod, Hot Banana Rod, and Classic Hot Rod), one single-density dildo (Mr. H Rod), and one koala-shaped sex toy. Because #australia.
Mr. H Rod
(Aussie sky dual-density, purple single-density)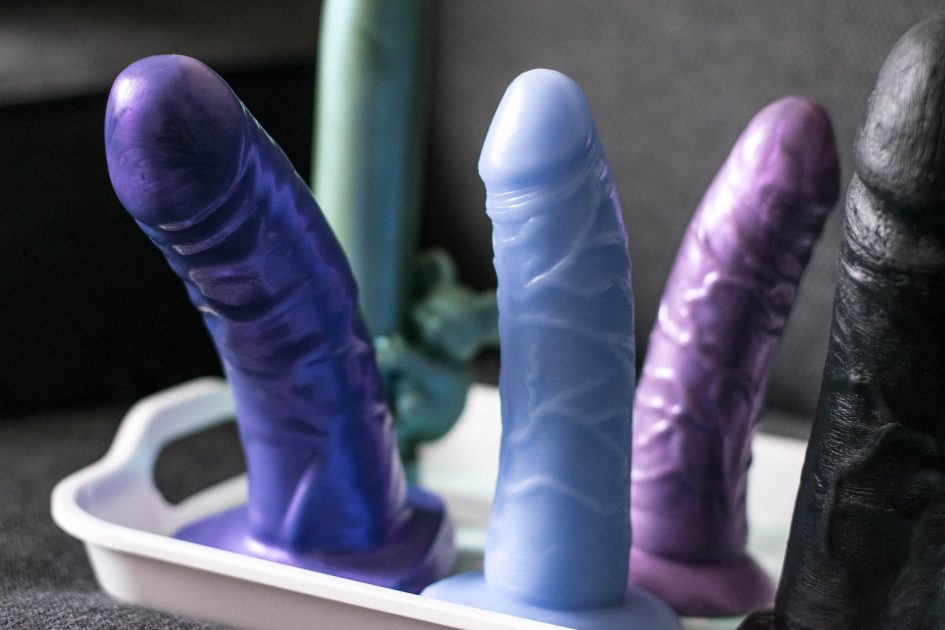 Never before have I been given the opportunity to try the same toy in both single- and dual-density, so I can now confirm a longstanding conviction: dual-density is bonza. The abundant veinage (yes, I'm making that a word) on the single-density Mr. H Rod verges on abrasive; while in the dual-density version, there's enough cushion to subdue the veins, but not so much that they vanish in use.
The smallest of the group at 1.4″ in diameter and 5.5″ insertable, my vag might normally scoff at a dildo like this, but the veins save it from ridicule. It's rare to find a silicone dildo with heaps of raised texture, and I'm into it. What I'm not into is the teeny weeny head. My G-spot feels neglected when I use this toy, even if my vaginal walls enjoy it.
Hot Banana Rod
(Blue violet)
I don't know how they did it,2 but this toy has the most lovely, glossy surface I have potentially ever felt on a dildo. For months I've labored over how to convey it and keep coming back to half-cooked descriptors like "shiny latex balloon" and "slimy… in a good way." It's like Tantus' glossy finish, but with even less resistance, and it's fucking beaut.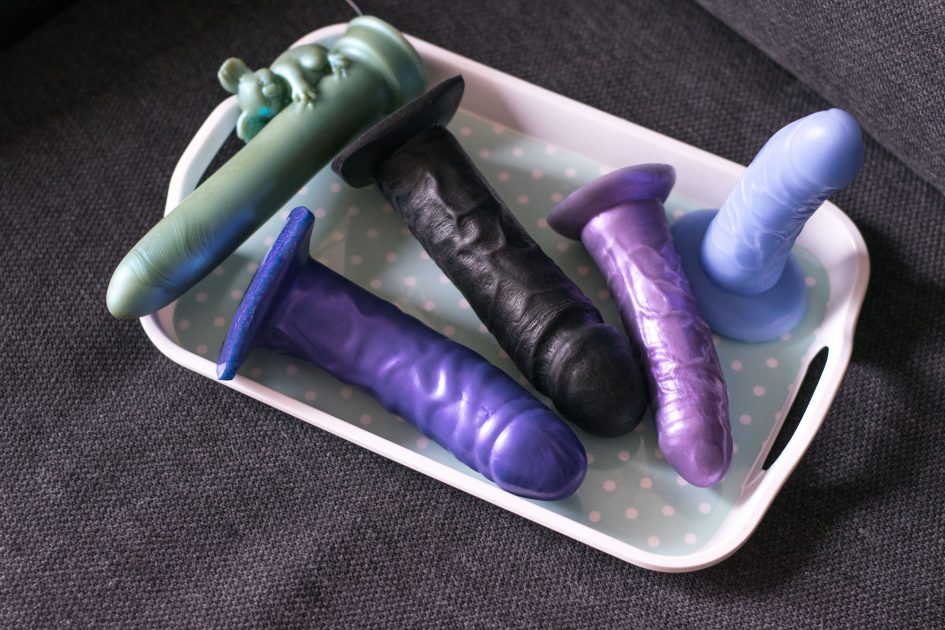 In use, this translates to a luscious glide against my vaginal walls — it almost feels like it has silicone lube on it. Switching to the Hot Banana Rod after using toys with more drag (which is basically every other toy) is like sliding into a bed with pristine satin sheets: a refreshing effortlessness.
But a few minutes into using this dildo, its lack of definition becomes an issue. There's no perceptible texture and no pronounced head — nothing to stimulate my nerve endings, to grab my G-spot, to sweeten the deal. If it had a big ol' head and a few popping veins, oh man, we'd be in business.
But alas, I become bored.
Classic Hot Rod
(Black)
Of all the dildos, this one looks the most like a donger. 1.75″ in diameter and meticulously decorated with veins and tiny skin-like etches, it's like a less intimidating version of Outlaw — but still satisfyingly meaty. I clench around it and feel full as a goog.
Also, I love the triangular base on both this one and the Hot Banana Rod. It quickly orients me to the dildo's position with just a glance.
But the Classic Hot Rod is too straight, its matte finish eats lube, and it has a divot under the head that doesn't agree with my body. I had the same problem with the Tantus Vamp: the divot catches and pops clumsily over my pubic bone. I'm not gonna spit the dummy or anything, but it does sour the experience a little. To avoid that distracting sensation, I stick to short thrusts or static clenching.

Koala Kiss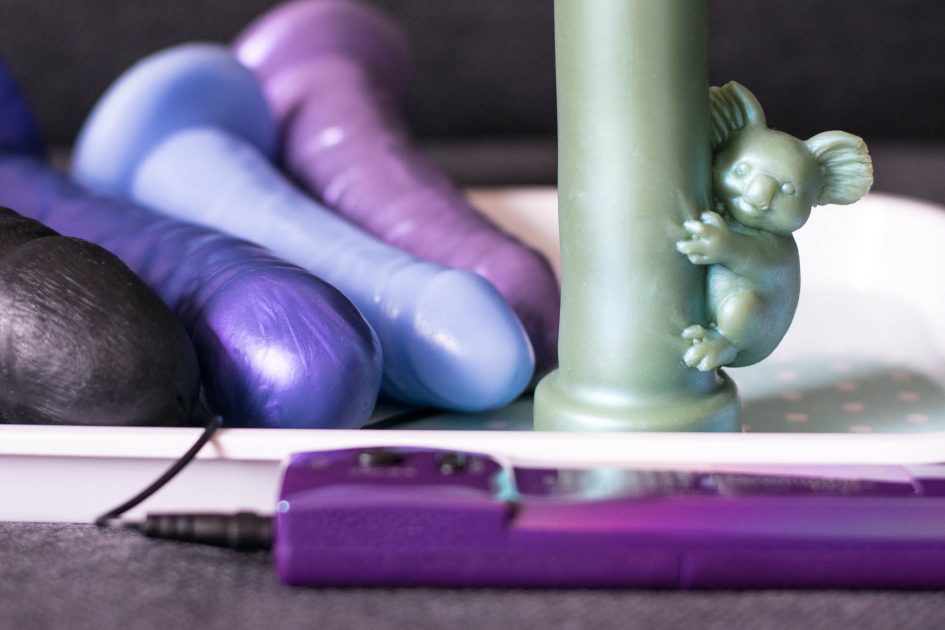 File this under sentences I never thought I'd say: "That koala-shaped sex toy actually isn't too bad." I spend a lot of time side-eyeing dual vibes, but this one… somehow… kinda works. The koala's head is so big it extends far enough to reach my clit, especially if I bend the shaft. As a pinpoint stimulation lover, I like the way I can wedge the koala's ear into the side of my clit.
That is a sentence that should maybe never be taken out of context.
The Koala Kiss is powered by a re-branded Impulse Ultra 7 Bullet lodged in the base. The bulllet is no slouch — its vibrations transmit into the koala nicely. I can get off with it, which is more than I thought I'd be able to say, but a steadfast lack of G-spot stimulation from the torpedo-shaped shaft makes the Koala Kiss something I'd never use past the review period.
However, if you look closely you can see claw marks where the koala is grasping at the "tree." I honestly can't get over that.
---
All in all, this is an admirable selection of dildos. I 100% do not regret having orgasms with any of them inside me. I'm a little devo I didn't love love any of them, but that's a common phenomenon with me and insertable toys. Each dildo has something I enjoy about it… and something missing.
If you see a Downunder Toys design that appeals to you, by all means, give it a go. These are not shonky products. They are well-made and solid, from a company built on the premise that people deserve non-toxic sex toys.3 Although the toys seem spendy, remember that Australian dollars have a significantly lower value than U.S. dollars (seriously, my friend told me the small size of Sliquid is ~$30 there). Their products are also handmade by folks who are paid a living wage.
As for JD challenging my love of VixSkin, here's the problem: although the dual-density squish is comparable, none of the shapes combine all my favorite dong elements the way toys like the Buck and Mustang do. What I really need here is an amalgam dildo. Can I just cobble together the texture from the Mr. H Rod, the finish and curve of the Hot Banana Rod, and the girth and pronounced head of the Classic Hot Rod into one disturbingly-perfect dildo?
Also… can I tack a koala on the end of it?
Sadly, Downunder Toys closed down in 2018. For 100% silicone toys, check out 
Vixen
,
Tantus
,
NYTC
, 
Fuze
, 
Hole Punch Toys
, 
Funkit
, 
BS Atelier
, 
Split Peaches
, or 
Godemiche
(
ugh
).
On the horizon is mechanized production, with the hope of cutting production costs enough to distribute the product at a competitive price in the U.S. market.
Well, JD told me that the finish comes from the original model, chosen depending on what they think will work per product. "Hot Banana Rod is a stylised product and we wanted it to be slick during use, especially with lube," she said. "Slide factor is good."
Are you thinking what I'm thinking? They're like the Tantus of Australia.