These are dildos. Due to the graphic nature of this blog I would normally not need to specify that, but this could more easily pass as a basket of artificial fruits and vegetables. The sex toy world has given us glass versions of produce before — eggplants, corn, bananas — but a huge selection of body-safe silicone ones? Not until now! THERE'S A FUCKING ASPARAGUS, YOU GUYS.
I found out about this company on a HOT TIP from a reader, who wrote:
I'm in Europe right now and I discovered a lovely indie shop in Berlin that carries this brand of dildos: SelfDelve. They're handmade here in Germany. The silicone is really nice, a bit soft. I got a very realistic (though unripe looking) curved banana. The surface texture is similar to Tantus's glossy silicone, but this silicone is a little softer. The pigment is thermochromic, meaning the colors change with temperature! My banana looks more ripe at body temperature.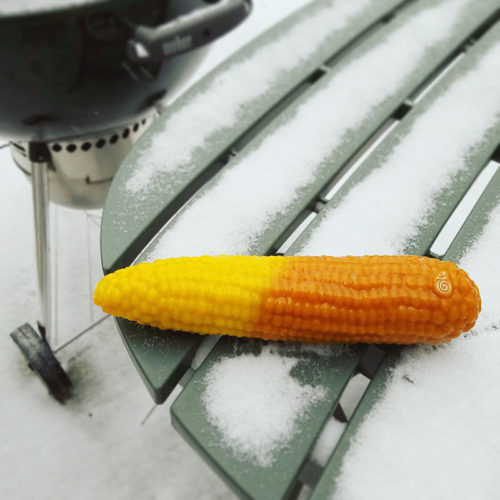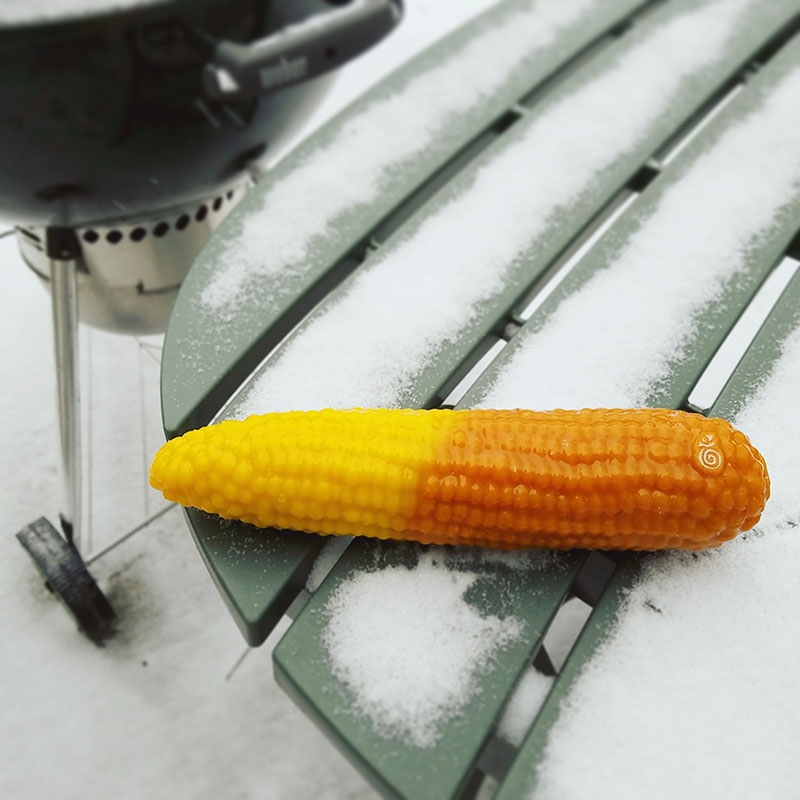 What. Yes. This is so cool and so awesomely '90s. Color-changing produce-shaped dildos! SelfDelve also makes a strawberry ball gag, a pickle-shaped pelvic floor trainer (gherkin, says the translation), an ergonomically curved cucumber, dildos shaped like corn, bananas, carrots, and eggplants, and a sleeve that turns your penis into a piece of corn (why NOT).
They make non-produce shapes, too: dildos inspired by elements, dildos inspired by candy, ball gags, and many other fantastical offerings.
Even if you're not a fan of vegetables, these creations are worth viewing for the incredible colors alone. My favorite part of their site is the "Your Design" section, the spot for requesting a completely custom piece. The page has photos of items they've done, such as rainbow-marbled vegetables (!!!!), a ball gag patterned like a strawberry, CAMO CORN, and a silicone version of a Prosecco bottle.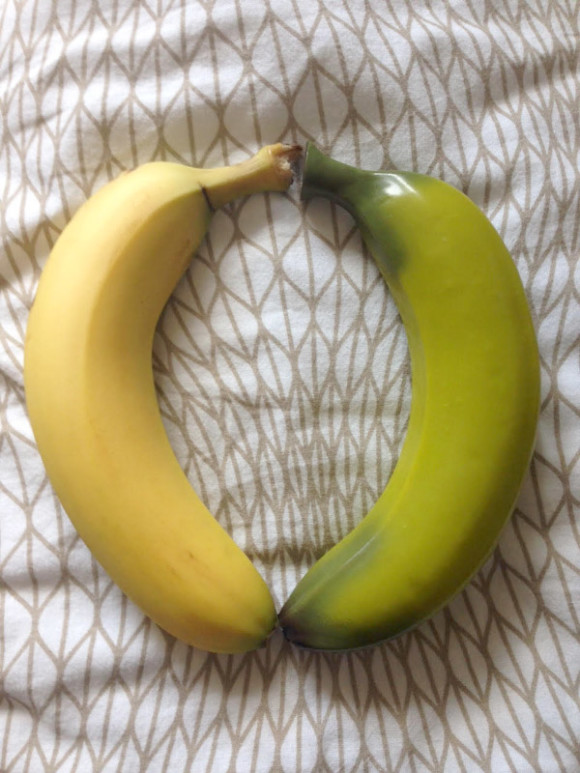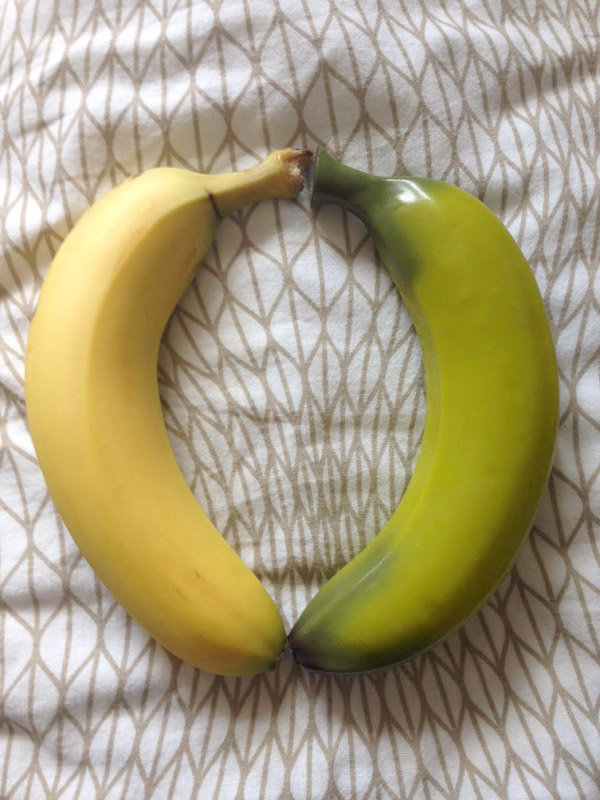 (The banana photo is from my reader, featuring a real banana vs. their banana
dildo at room temperature. This is no half-assed Magic Banana, people.)
I always love translated English, but it's especially delightful when sex toys are involved. Here's how SelfDelve explains why they make produce-shaped sex toys:
Nature gives us many fruits wonderful game templates. Unfortunately, the woody ends of the real bananas are scratchy, corncobs sprayed stiff and cucumber peel and therefore tend not compatible mucosa. The result was the "Garden of Eden" – any fruit now comes without the inherent drawbacks in your bedroom. Moreover: where else do you get corn in February?
Ahhhh, someone please transport me to Germany so I can see and feel these beautiful treasures in person. A custom rainbow dildo sounds PRETTY appealing right now… I wonder if they could make me an ear of corn with a G-spot curve?
Find SelfDelve toys at SheVibe, Spectrum Boutique, or get 5% off your order directly at SelfDelve with code EPIPHORA.