October 24, 2015
My secret shame: I am terrible at remembering to pack lube when I travel. And porn. On this #dildoholiday, I had to borrow my friend's Good Clean Love, and I had to stream my porn because my laptop has nada. Luckily, I'd been given access to Fat Girl Fantasies, but I still had to suffer with small-town buffering.
I watched two scenes: April Flores and Isiah Maxwell and James Darling and Cinnamon Maxxine. Both pretty scorching hot, but James and Cinnamon's took the cake for two reasons: 1) James' INTENSE, DEEPLY FOCUSED face as he makes Cinnamon squirt, and 2) the whimsical cat painting in the background.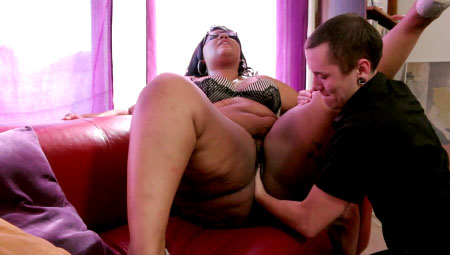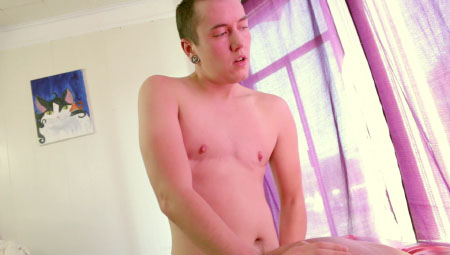 Mostly I used the Womanizer and dildos from Downunder Toys. Lost count of my orgasms: 4, maybe 5? I had to keep investigating that friggin' Womanizer, slowly coming to terms with the fact that I like a toy named after horrible men.
November 7, 2015
How discerning is my vagina, really? I found out on this day, when I was asked by the owner of Crystal Delights to compare my old version of the Star Delight glass dildo to a new version with more defined, disparate bumps. I WAS BORN FOR THIS CHALLENGE.
Armed with a subscription to Burning Angel, I delved into their archives to find a scene starring some of my favorite stars: Joanna Angel, Kimberly Kane, and Mr. Pete. The whole time watching it I kept thinking, "these people are goddamn professionals." It's a wonder to see people give everything to a performance, to not skip a beat before leaning down to suck on someone's clit while they're getting pounded.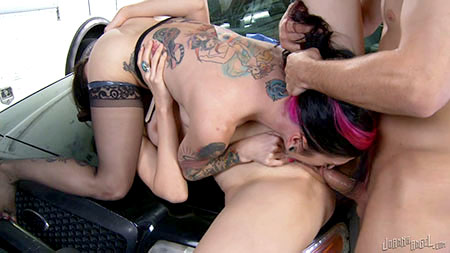 The Star Delight is, still, a marvel of modern dildo design. I adore both versions of it, but the newer one satisfies my love of texture even more. I came several times, squirting on the pajama pants around my ankles.
January 22, 2016
Mid-day at AVN in Las Vegas, I had a bit of downtime, so I decided to jack off in the fancy oversized chair in my hotel room.
It's not exactly true that my laptop has zero porn on it. It has a single stray file: a scene from Anal Acrobats 7.
I know. I am a failure of a sex blogger and a trash human. But the hotel-provided internet was dismal and would've been a buffering nightmare. Desperate times call for… anal acrobats.
The one bright spot: I had the We-Vibe Rave to get off with.
February 8, 2016
I try, try, try, try to like Erika Lust's porn. I swear I do. And there are times I genuinely enjoy it, like today using the Doxy Don and watching "An Appointment with My Master." This scene was poised to be hot, starring the always handsome Mickey Mod and a woman who resembles Kristen Stewart. Hnnng, this part where he slaps the dried wax off her body really did it for me: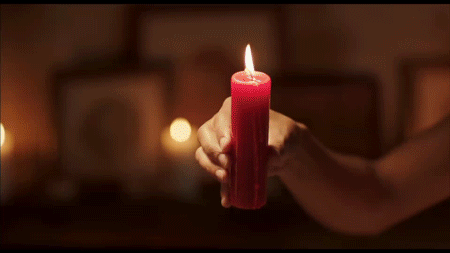 As did this great moment in the scene with Poppy Cox and the Dean Van Damme, because YES vulva rubbing and simultaneous cock-jerking: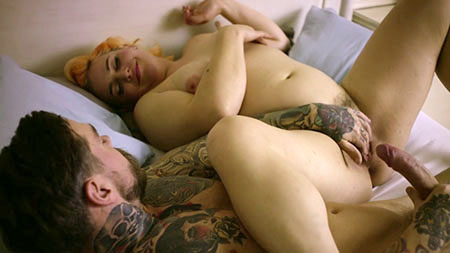 But these were just moments, brief blips. Unlike mainstream porn that'll show one sex act for approximately 5 hours, Erika edits with a very heavy hand — no one thing, no matter how hot, continues for very long.
Also, I think my tastes are too filthy for Erika Lust.

March 5, 2016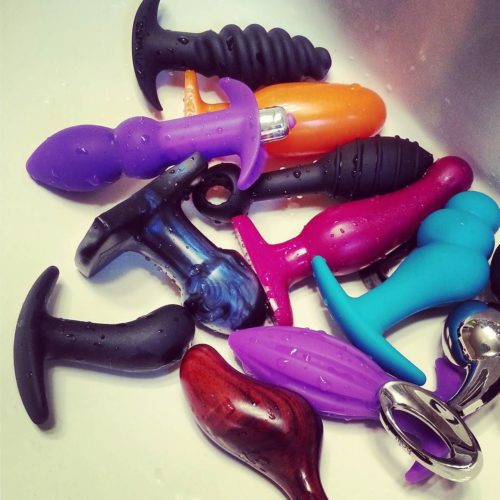 Greetings from the person who tried 12 butt plugs in her ass in one afternoon! It was not a record I intended to set, but that's what happens when I feel the need to compare a butt plug to everything on earth before finishing a review of it.
Opinions obtained: the Tristan's base is too chunky, the Sidekick is a smidge too long, mild vibration can be kinda cool, and my favorite butt plugs still outshine everything.
The world's response to this sink of butt plugs was split between:
People making unfunny jokes insinuating I put all of them in my ass at the same time
People thoroughly impressed by my anal abilities (THANK you)
People angry at having seen a pile of butt plugs on their Facebook feed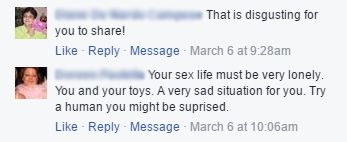 "Try a human you might be surprised," made even better by the lack of punctuation, ranks as one of the best insults anyone's ever thrown at me, up there with "I think you hate sex" and the person who called me, non-sarcastically, "Hatemaster Epiphora."
March 16, 2016
Oh, it sounded like harmless fun when I had the idea to masturbate with my teeny tiny dildos in order to "review" them for April Fool's Day. It was not so fun when I started inserting them one by one, counting them verbally as I did so I could make sure not to MISS ANY when I removed them later. My cervix was displeased.
I watched this scene, but all I could think was "holy shit, her nails are painted Tantus Purple Haze!" Dildo-colored nail polish. That's where my brain goes.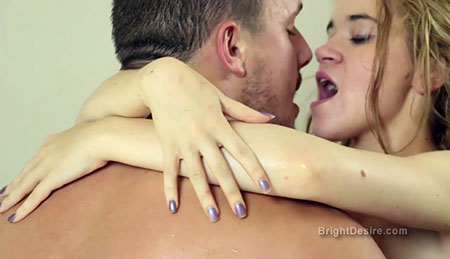 I was appalled at how quickly my vagina filled to the brim with those little suckers. Might as well try to come while they're in there, I thought. So I did, but it was weird. It was strange to be full but not full, not squeezing anything substantial, my left hand not occupied with a dildo's base.
April 4, 2016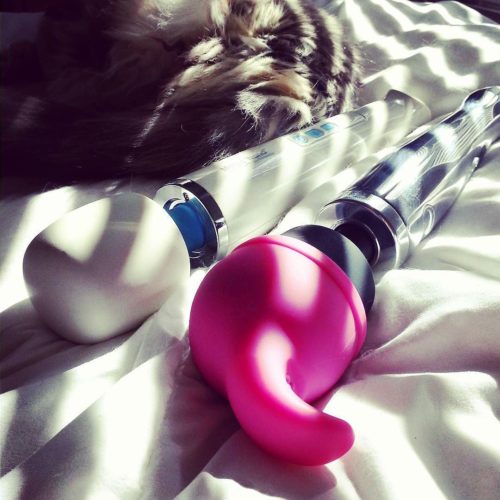 Totally wiped out after all the April Fool's Day tiny dildo hullabaloo, I allowed myself one ridiculously lazy day in bed with the cats, TV, and these two vibrators. The important things in life.
That Nuzzle Tip attachment is everything, you guys. Funneling the intensity of a wand down to a point? Yesss. Give it to me.
Lez be real, though. Having wand vibrators in my vicinity makes masturbation too damn easy. It's a wonder I manage to test anything else at all with these mofos lying around.
April 14, 2016
HOLD THE PHONE, PEOPLE. I ACTUALLY REMEMBERED TO BRING MY OWN PORN ON A TRIP.
Not wanting a repeat of the Anal Acrobats situation, I'd packed a jumpdrive full of the good shit for this #dildoholiday: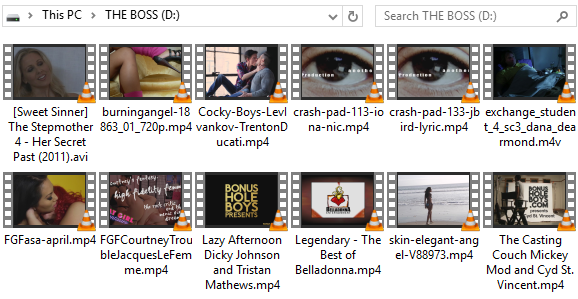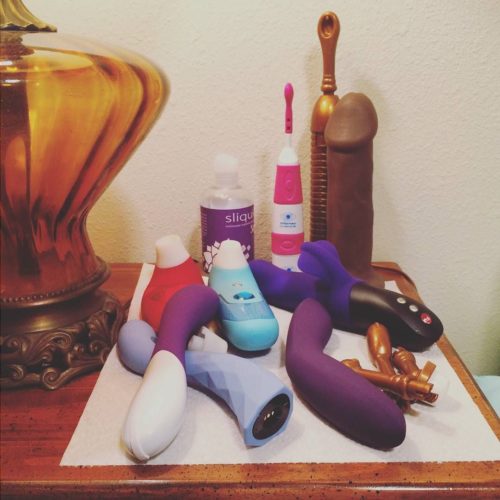 Which was smart, because knowing I had actual good porn to watch persuaded me to masturbate. I set the room up all romantical, composing a pillow throne on the bed and laying down a towel just in case. Then I realized: fuck, I forgot the fucking lube again. So I borrowed some Sliquid Silk from my partner.
Having appropriately informed the internet of my plans, I snuggled in with some Bonus Hole Boys and went to town with the Rave and Prism V, squirting a bit at the end.
Moral of the story: you probably shouldn't invite me to stay in your family's cabin. I'm apt to squirt on your parents' towels.
April 23, 2016
I got my hand-delivered Tantus Rumble today and promptly got off with it by shoving it through the raggedy crotch hole in my pajama pants. It was… alright. Not super impressive, but passable.

May 12, 2016
Just another day, recruiting a Twitter follower to control my vibrators over the internet. Royce was happy to oblige, but it was slow going: we could not get the OhMiBod app to behave for use with the blueMotion NEX 2, so we switched to the We-Vibe app and the Rave. It worked! A relative stranger 2,000 miles away brought me to orgasm using an app-responsive vibrator. Amazing.
After wrapping up the app testing, I decided to keep masturbating. I came with the girthy Carter in my vag, and squirted unexpectedly.
Ejaculate (barely) wiped off my legs, I moved to the porch to relax with a glass of wine. The neighbor kid was playing basketball in the street with his dad, which lead me to tweet Innocently Drinking Wine on my Porch and My Neighbors Don't Know I Just Squirted: the Epiphora Story. A follower replied, "wow was the remote controlled vibrator really that good?" I clarified, no, this was after the app. At which point he tweeted:

So Lifetime, when you're ready to turn my life into a made-for-TV drama, get at me. I have ideas.
Also, I hereby declare that any orgasm achieved purely for pleasure (and not for reviewing/work purposes) is now called a "recreational orgasm."
May 13, 2016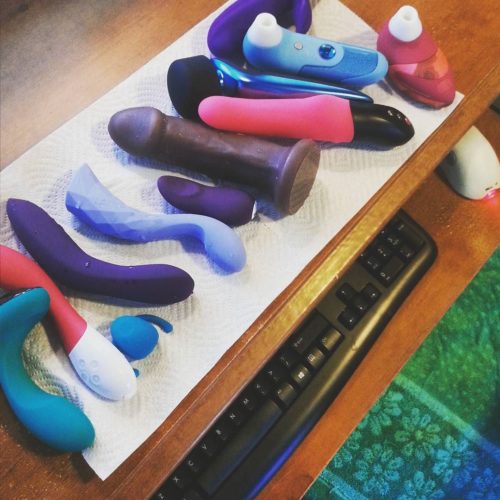 It was hot so I took off my shirt, which is not a thing I ever do when I masturbate. Mostly I compared stuff: Rave vs. Touch, Rave vs. Prism V, Rave. vs Mona… my notes got messy and I became discombobulated. Which one is really stronger? Rumblier? What if I switch hands? What's even real?
But I did discover something genius. Wanting to jack off to Tegan & Sara's new song — which is blatantly and unabashedly about sex — I decided to listen to it while watching my porn.
As Bobbi Starr rubbed her fingers over Dylan Ryan's glazed over face, Tegan sang "right where I want you, back against the wall"…and I came so hard.
Fine music paired with fine porn. I'm like some kind of masturbation prodigy.