Content note: incest, menstrual blood, consensual non-consent.
April 2014
Sit down, friends. I would like to talk to you about incest. I've slyly alluded to it before, but this month marks the discovery of something glorious: New Sensations' "Tabu Tales" series. Directed most of the time by the fantastic and nuanced Jacky St. James, this series is everything I never knew I wanted, and I LOVE IT.
My obsession began with Incestuous, in a scene featuring cheerleader Riley Reid and her "stepfather" Alec Knight. Riley is a boss at playing down her age (she even moans "oh gosh"), and Alec, well… he's the ultimate creep. I seem to be developing a thing for creepers. Don't tell any dudes on the internet. Please.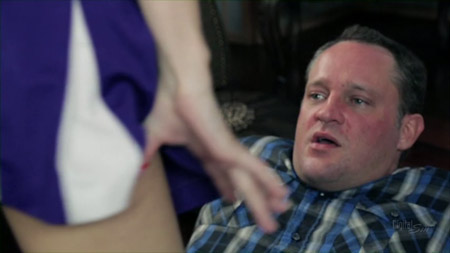 I may or may not have quickly consumed as many films in the Tabu Tales catalog as I could. I may or may not know that the best father/daughter scenes are Steven St. Croix and Katie St. Ives in All In The Family, Evan Stone and Kacy Lane in Daddy Issues 2, and Steven St. Croix and Penelope Stone in Family Business. When shot well, with people who can act — holy shit.
My jack-off fodder is quite varied, as previous installments of this journal can attest. I like the straight, the queer, the mainstream, the taboo — the romantic candlelit bullshit all the way through people acting like dogs and consensual rape scenarios. So I didn't think these incest and creeper fantasies were that weird, until one night when I drunkenly confessed them to some friends, and all I got in return was "I sometimes jack off to two photos side by side."
Oops.
May 12th, 2014
When my "resident gay" Lucas sent me a link to a British guy talking dirty, I scoffed a bit, imagining that unfortunate time I listened to erotic hypnosis. But then, literally a minute into this recording, I had to grab my Hitachi and fucking go for it.
For the next several days, this will be how I masturbate.
July 9th, 2014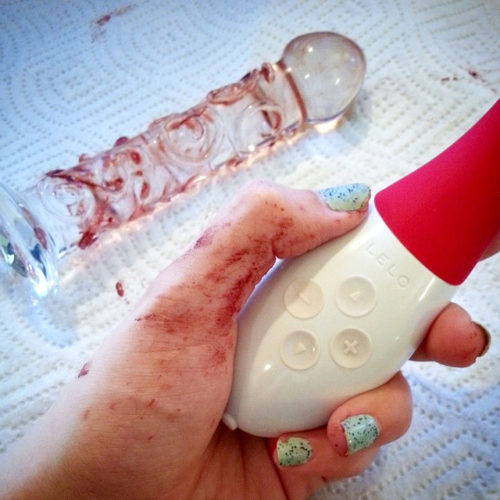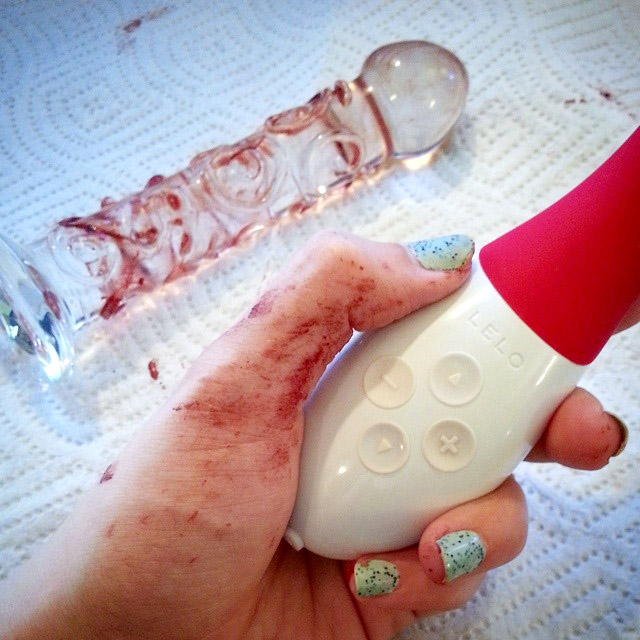 Multi-tasking: watching Power and Control while making chicken tortilla casserole. I waltzed into the kitchen and left the video file playing on my computer. As I layered the tortillas, beans, and corn, I became increasingly aware of how the girl sounded like a dying seal gasping for breath. I vowed to look her up: Jessie Andrews. Never again. She's cute, but no.
As the casserole cooked, I made a huge mess comparing the Ash Girl to the Star Delight and powering through two Monas. By the end of it, everything was so caked in dried menstrual blood that my perverse desire to photograph the scene overtook any understanding of social boundaries.
August 2014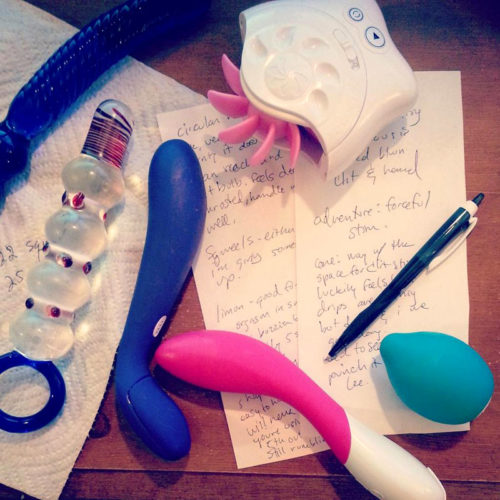 So much bonding time with my Hitachi while in the throes of house-hunting, money-offering, house-inspecting, and world-moving. Out of nowhere, in a blur of stress, I'd come to the realization that I was in dire need of an orgasm.
When I had time for a drawn-out masturbation session, I produced a pile of notes which said things like "forceful stim," "good for the first orgasm," and "either way I'm giving something up."
I bid a defiant goodbye to my previous jack-off locale, the ever-glamorous living room.
September 17th, 2014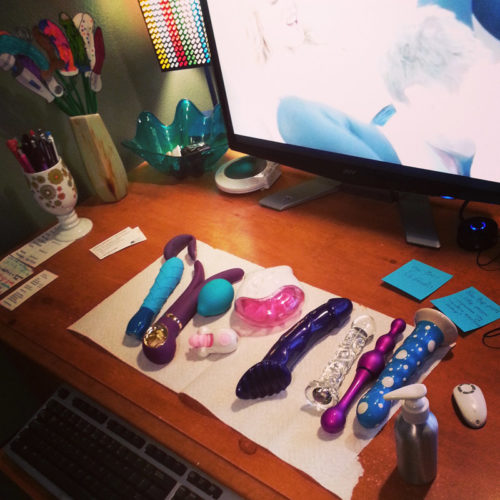 The monumental christening of my new office. Hours before this I hadn't even wanted to exert the effort of holding a toy, opting for the We-Vibe 4, but that just made me hornier. So I laid out the toys of the evening, LOCKED MY DOOR (!), and got down to motherfucking business.
I wanted to stop after my second orgasm, but I made the frigthening realization I had not yet squirted on my office floor. So obviously, I whipped out the Pure Wand and Mona. Soon, I was gushing heavily and I could feel my ejaculate spurting upward, like a fountain.
This created a 16-inch puddle on my towel and a surge of pride in my soul.
Fall 2014
Several memorable things happened during this time period:
December 15th, 2014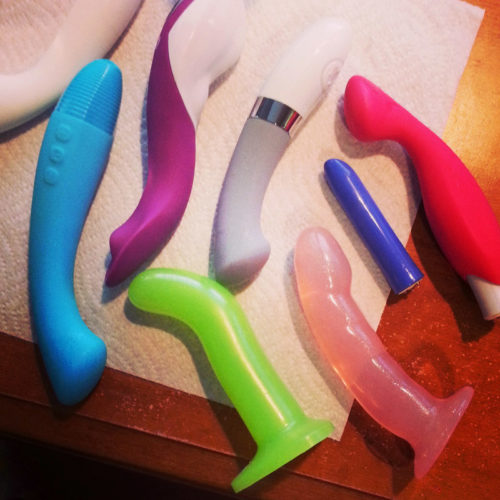 I love that when I post a photo like this one, my eagle-eyed followers start yelling things like "SPARKLY ACUTE?" and "WHAT IS THAT WEIRD PURPLE ONE?"
Yes, that is a pale pink sparkly Tantus Acute from back in the day, and well, that weird purple one is the Oblivion Purple Cherry, and it is so buzzy and terrible I probably only used it for 2 minutes. Too bad, because the shape is cool.
January 24th, 2015
The world could not wait much longer for my LELO Mona Wave review. Therefore:
Plus I had my new subscription to Indie Porn Revolution and QueerPorn.TV, which I am most definitely going to write off on my taxes. First I watched Genderflux (with Jiz Lee and Nikki Hearts), but that was a disappointment. So I switched to Daddy's Little Princess, starring Mickey Mod, Tori Lux, and the incomparable Aiden Starr.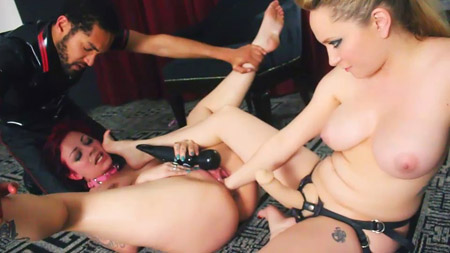 Mickey talking dirty? Close-ups of Tori's vulva? Aiden wielding Buck? That's what I'm talkin' about.
January 27th, 2015
I thought I was such a genius when I stuffed the We-Vibe Dusk in my vagina right before hopping on my elliptical. Sadly, it only made me want to pause my movements so I could focus on the vibration against my clit. Also, Food Network Star is maybe not the kind of thing I want to have an orgasm to. It's no Incestuous, OKAY?
February 10th, 2014
My hunch about the Crave Vesper was 90% correct. It's lackluster as a vibrator — tiny and not very strong — but it's a gorgeous necklace and I will wear it to any and all black-tie functions. Weddings, absolutely.
Watching this fabulous scene between Q-Tip and April Flores, I was struck by how far Courtney Trouble's aesthetic has come since I wrote about their DVDs back in 2010. Now their stuff is so nicely lit, with great angles, fluid editing, and thoughtful music.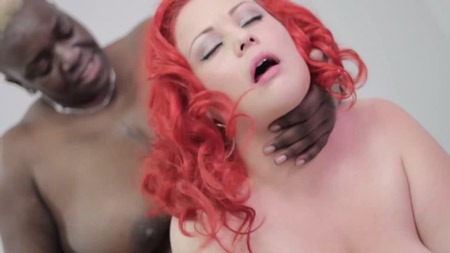 I finished things off with Ban This Sick Filth, queer porn's response to the recent list of banned sex acts in UK porn. I'm not one for solo scenes, usually, but Courtney Trouble killed it in the finale: a menstruation masturbation scene.
See, if Courtney Trouble can do it, so can I.