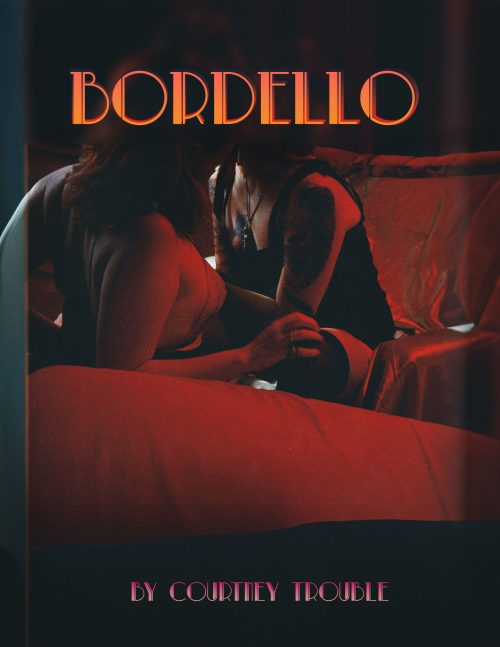 This shall excite you: Bordello is basically Clue porn. There is a murder, a selection of murder weapons, and a dramatic reveal at the end. It's only 58 minutes long, but its composition and scope make it feel much more epic than any other Courtney Trouble film of the past. And everything — from the costumes to the set to the lighting — is done with a more exacting eye than ever before.
Bordello is hot as hell, really and truly, but it's also deliciously subversive: its performers play with the theme of sexualized violence, using that violence and its objects (a gun, a knife) to embody queer experience. I was surprised at first, to see these objects used so overtly — then I was turned on. Very turned on.
Unlike Speakeasy, which had so little of a plot that I didn't even mention it in my review, Bordello has a comprehensible plot that does not overshadow the action. And the breaks between the sex are not drawn out or boring. Some of them are even amusing!
The scenes are laid out quite smartly, in a way that separates them just enough — but not enough that they are disparate. The sections are as follows: "Intro: Madame and Servant," "Part One: The Tricks and the Whores," "Part Two: The Clues" (featuring four scenes: "The Gun," "The Dagger," "The Candlestick," and "The Rope"), and "Part Three: The Mystery Revealed."
From this you may assume that there are seven or eight scenes, but you would be mistaken — there are actually around ten. "The Tricks and the Whores" section is a montage, a conglomeration of three scenes, which works surprisingly well — especially since all the scenes are meant to be happening at the same time in the bordello. So Sophia St. James finger-fucks Carson on a dresser, Jolene Parton and Akira mess around on a chair near some windows, and Tina Horn bosses Vid Tuesday and James Darling around under some entrancing golden light.
But rewind, because it would be blasphemy to overlook the stunning first scene ("Madame and Servant"), which features April Flores and Billy Castro. They fuck on a green vintage couch that I need to own, all the while talking dirty to each other. Everything in this scene is perfect: April's red hair splayed against the couch, Billy's amazing cock, the intensity between them.
The scenes under "Part Two: The Clues" are all pretty great, too. My favorites were "The Gun" (Carson/James) and "The Candlestick" (Vid/Sophia). I never knew that I would think fellatio on a gun was hot, but holy crap, it is. I also never knew I wanted to see a candlestick up someone's ass (yep, with the other end lit!), but apparently, I did. And I loved it.
"The Dagger" is a solo scene featuring Akira; she actually inserts the blunt knife into her pussy a little. "The Rope" features Tina and Jolene on some stairs, engaging in some rope play. The last scene, in "Part Three: The Mystery Revealed," is short, but passionate. Billy and Sarah Lee Sinful fuck on a bed. Squirting ensues. I am happy.
On the DVD, there's a Behind the Scenes featurette, which is fabulous content-wise, not so fabulous production-wise (very, very quiet at parts, with very loud swear-word beeps). And for the first time in Courtney Trouble's porn history, there is a full scene included as an extra feature (Billy and Sarah Lee's scene). THANK YOU, UNIVERSE! You read my mind!
I loved Bordello. It's ambitious, original, hot, and subversive — the handiwork of a director who is really beginning to refine and perfect her craft. Courtney has come a long way since Roulette, and I'm excited to see what she does next. If Bordello is any indication, queer porn has a very bright future. Maybe even as bright as April Flores' hair.
Stream Bordello now!
Watch more of Courtney's work at PinkLabel.tv.