Genre: Lesbian
Director: Mike Quasar
Length: 2 hours, 7 minutes
Cast: Jana Jordan, Sophia Santi, Erin Avery, Georgia Jones, Sochee Mala, Kimberly Kane, Lexi Belle, Annabelle Lee, Alexis Texas, Nautica Thorn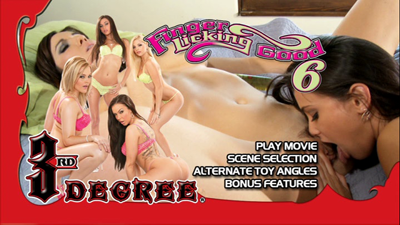 Special Features: Alternate Toy Angles, Behind the Scenes (15 minutes that convinced me of the playful and non-creeper environment fostered by the director), Photo Gallery, Trailers.
Audio/Video Quality: Finger Licking Good 6's widescreen HD video looks beautiful. The lighting is pretty fantastic, particularly in Jana Jordan and Sophia Santi's scene. All the ladies have beautiful skin, which is accented well by the lighting. There is some white noise that can be heard when moans are minimal, but otherwise the audio is clear.
Scene 1: Kimberly Kane + Sochee Mala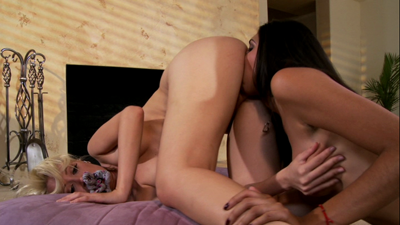 It's Kimberly's birthday, so Sochee brings her a cake… then a massage candle. They play with the wax, then eat each other out, scissor, and take breaks to suck on each others' nipples. Although the chemistry and communication between these two is decent, the action is not very exciting. There are no orgasms, and nothing out of the ordinary except Kimberly's underwear shoved in her mouth at one point. With Kimberly Kane, I expected kink, roughness, and/or feverishness, but none of that came to fruition in this scene.
Scene 2: Lexi Belle + Annabelle Lee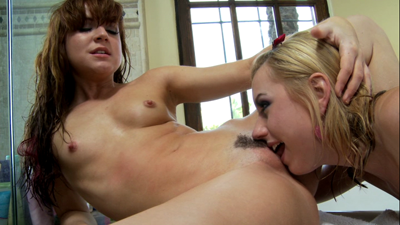 Lexi and Annabelle share a bath, which leads to a bunch of kissing and pussy-licking. I'm not big on foreplay, but the kissing is pretty hot here. During the pussy-licking, Annabelle steals the show, shoving her face in Lexi's vulva and really dedicating herself to the cause. Lexi's technique isn't bad, either, and there are some fabulous shots of Lexi's adorable face as she lodges herself between Annabelle's labia. This was one of my favorite scenes on the disc.
Scene 3: Georgia Jones + Erin Avery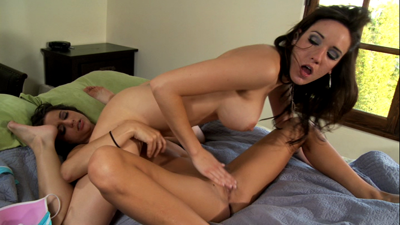 As beautiful as these ladies are, I could not get into this scene. It begins with massage oil, then progresses to kissing and generic action. I got the sense that these two were just going through the girl-girl motions — though, to be fair, I've seen autopilot much worse than this. It's just a little irritating hearing Georgia moan before she's even touched.
Scene 4: Jana Jordan + Sophia Santi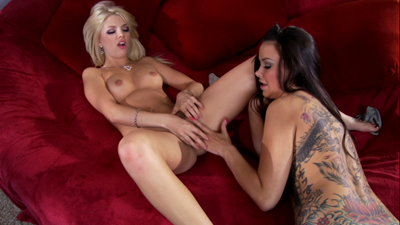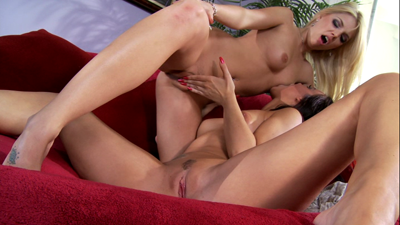 Jana and Sophia are girlfriends meeting up again after some sort of absence, and they play their parts very well. They engage in some good dirty talk, getting right down to business and not letting up. They please each other separately with fingers and tongues, then 69 it up on the sexy red chair. Their chemistry is solid throughout the scene, making it one of my favorites. There may even be a few genuine orgasms here.
Scene 5: Alexis Texas + Nautica Thorn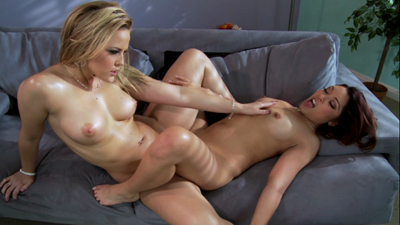 The scene begins with Nautica rubbing oil onto Alexis's ass outside. They eventually move indoors and begin the slow process of fucking each other. Actual down-and-dirty pussy licking is minimal and doesn't last long enough at all. This is disappointing because the camera angles really showcase Alexis and Nautica's beautiful vulvas. Nautica seems more concerned with putting on a show (licking her lips excessively, biting her finger) than anything else, which is off-putting.
Summary: For the most part, the action in Finger Licking Good 6 is solid, albeit predictable. To my dismay, kink is minimal, and dirty talk is sporadic. Each scene begins with too much foreplay fluff for my taste. The Annabelle/Lexi and Jana/Sophia scenes were the standouts, while the others struck me as a bit too generic and lacking in oomph.
I'm hard to please, though, and I'm sure nobody would deem any of these scenes bad (especially judging by the experienced cast of stars). My experience was made more enjoyable by the excellent camera work and lighting, and some awesome close-up vulva shots. Recommended.
Stream Finger Licking Good 6 here.