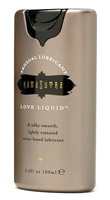 Kama Sutra Love Liquid is water-based, but the untrained eye and vagina might think it silicone-based. It is insanely thin. So thin that it can ooze off the side of a toy if not quickly put to use. So thin that, on my clit, it doesn't feel like lube at all — just like a nice slipperiness. The best word to describe the texture is "silky," a word often used to describe silicone-based lube.
Love Liquid is really quite impressive, although I'll be the first to admit that my experience with lube is limited. It has a very, very, extremely faint citrus smell, and a somewhat synthetic but inoffensive taste. The aftertaste isn't good, but it isn't strong either. It doesn't get sticky, and doesn't seem to dry up. It is long-lasting, and most of all, it feels very light. It keeps me lubricated without ever feeling gooey.
The bottle, however, is my worst enemy. It may be sexy and free of big bubble letters proclaiming "SEXUAL LUBRICANT!," but it's still a horrible, horrible piece of plastic. Every time I use this lube — every time — the lube drizzles down the front of the bottle. There is no stopping it. The middle of the front of the bottle is, of course, where my thumb would normally rest if I wasn't trying to avoid wet lubey gunk. Basically, it's a perpetual battle of me against the bottle, and the bottle always wins.
Love Liquid's ingredients are as follows: Water, Glycerin, Propylene Glycol, Hydroxyethylcellulose, Tetrasodium EDTA, Citric Acid, Sodium Benzoate. This is a pretty average list, with nothing very out of the ordinary in it. However, I was struck by the bottle's claim that the lube is "formulated without yeast-promoting sugars," especially since glycern (a sugar alcohol, but not technically a sugar) is ingredient #2. Anecdotal evidence suggests that glycerin can promote yeast infections in people who are prone to them, so this seems like a bit of a sneaky trick on Kama Sutra's part.
Despite the blasphemous bottle and inclusion of glycerin, Love Liquid is a decent thin water-based lube. At $12 for 3.4 ounces, it is also very reasonably priced. Use another couple of bucks to buy a pump bottle for it.
Good news
: I've now found a lube line that I love dearly:
Sliquid
. Everything else is dead to me.