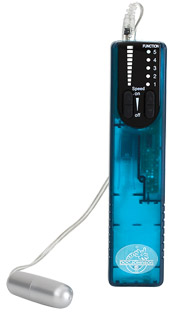 Sure, bullet/egg vibes rule. They're tiny and portable and made for the clit. In a way, they're all bound to be winners, as long as they have decent power. But at some point, I have start asking hard questions. Such as: does the Doc Johnson iVibe Egg provide 50-dollar sensations? And: is there such a thing as too compact?
The answers are not good. It doesn't provide 50-dollar sensations, and it is just too damn tiny (2″ long, 1/2″ wide). Tucking it against my clit inside my underwear is one thing — it works perfectly for that. Sticking it in the base of a silicone dildo works swimmingly, too. But as a handheld bullet, it's just bothersome. Its smallness means several things: first, I will get lube on my fingers. And second, the egg does not have enough surface area to adequately stimulate my clit. No matter how I position it, it does not provide the pressure I require, and thus, the vibrations don't feel especially strong.
But there's another reason the vibrations don't feel strong; they have nowhere to concentrate. I verified this fact by plugging my Xtreme Pack G-spot Bullet into the iVibe Egg's battery pack. At first, it seemed like the iVibe Egg's 3 AAs provided an impressive amount of power (and noise) — more power (and noise) than the Xtreme Pack's usual 2 AAs. But when I actually put the bullet to use, I realized the power was too evenly-distributed to feel good. And that is why the iVibe Egg fails to feel strong: there is no focus to its vibrations (and how could there be? It's too freaking tiny.).
In case that's not enough, a few more of the iVibe Egg's negatives: there's no "off" button, the battery pack is unnecessarily long and awkward to hold, and the vibrations are higher pitched than most. In conclusion: this thing is quite overpriced, and the egg is worthless unless tucked in underwear or in the butt of a dildo.