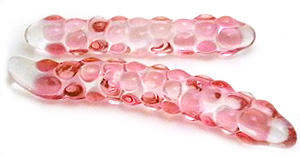 In celebration of my graduation and my leap back into reviewing and blogging, I am excited to announce a bumpy giveaway. The wonderful Domina Doll and SexToy helped procure a prize for me: a set of two glass dildos made by RubyGlass21! This is called the Pure Package; it includes a straight four-inch dildo for kegels, and a seven-inch curved dildo for G-spot action.
Although I have never tried these dildos (they are actually brand new), my favorite glass dildo looks creepily similar. Bumpy dildos are definitely their own breed, and some people are overwhelmed by the sensation of the bumps — but I think it's the best thing since sliced bread.
I have been wanting to do a giveaway via Twitter for a while now, and so that is going to be my medium this time. If you somehow don't have a Twitter account by now… um, you're weird. Get one. We can be friends.
How to Enter

Tweet this text: RT @Epiphora: I'm giving away a set of two bumpy glass dildos! Retweet to enter. Rules + picture: http://is.gd/Cldd. (I will only count it if you include "@Epiphora," and I'd prefer if you keep the link to this entry intact. Otherwise, go wild with the text — then it won't be a retweet, but that's fine.)
You may tweet up to once a day. Each tweet counts as one entry. It's up to you to decide how much you want to annoy your followers.
You must be following me on Twitter, so I can DM you if you win.
I'll give you an extra entry if you write a post on your blog about this contest. Be sure to send me the link, or reply to this post and let me know.
The deadline is June 12th, 2009 at 11:59 p.m. PST.
I will keep a list detailing each entry, and will be picking the winner using the List Randomizer.
Also…
You must be willing to give me your address.
RubyGlass21 ships internationally, so you don't have to live in the U.S. to enter! Hurrah!
If you are thinking to yourself, "this giveaway sounds like something of a ploy for Epiphora to amass more fans," well, you're half right. I would like to gain more readers, and more interesting people to interact with on Twitter. But I also really enjoy giving away sex toys. So there?