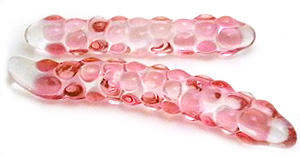 My Twitter contest for a set of two bumpy glass dildos has come to a close, and I must say, it was a resounding success. In all, my followers tweeted about the contest (or wrote a blog post about it) 562 times over 22 days, so about 25.5 times per day. You guys definitely kept me on my toes with my list of entries!
I threw the very long list of entries into the List Randomizer (man, I love the internet), and the winner is… Kenzie20! I can't say I'm surprised — she has been fervently retweeting the contest almost every day since she learned about it. The odds were in her favor. Congratulations, Kenzie, and I expect at least a DM about your thoughts on the dildos.
To everyone who entered, and especially those who just started following me due to this contest: I'm looking forward to conversing with you! I've already had some laughs with andshespins, 12ToneRow, ready4teasing, and many others. Thanks for being so cool.
And a big thank you to RubyGlass21 and SexToy for furnishing the goods for this contest.
Keep your eyes peeled for another contest very soon!