I think I've finally found a method for storing sex toys that works.
In March of last year, I wrote about organizing all my sex toys into a bunch of For Your Nymphomation cases. But I was not happy with the haphazard nature of storing my toys in those cases, and quickly went looking for something else. In August, I bought a plastic cart. Then, more recently, I bought five stackable plastic drawers.
The bulk of my sex toy collection now resides in these plastic drawers, and I much prefer this method to cases/bags that are specifically made for holding sex toys.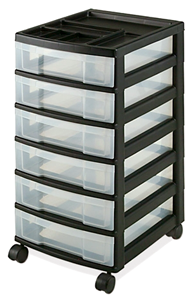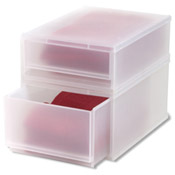 The Iris 6-drawer cart is awesome. It came already assembled; it has wheels; and it has an organizer tray on top that's clearly made for lube and batteries. The drawers are made of fairly sturdy plastic, and they're nearly perfect in both depth (3″) and length (almost 14″) — this makes for about one layer of toys in each drawer, sometimes two, so everything is very accessible. I enjoy that I can roll the cart away into a closet if I want to hide it.
Then I have five shallow translucent stack drawers from The Container Store. These, I am not nearly as happy with. I bought them online and they came to me lacking basic drawer functionality: the drawers don't stop on their own when you pull them out. Imagining sex toys toppling on me whenever I went to get one out, my boyfriend and I eventually devised an elaborate velcro and metal system for stopping the drawers. That's better than the idiots at Home Depot could do1, so we are quite proud.
One more sucky thing about these drawers is that the top drawer can't ever hold anything remotely heavy, or it will tip forward when I open it. But other than that, with my modifications, these drawers work well. They are slightly deeper than the other drawers, so they can hold toys with chunky bases like Maverick and (barely) Randy. These drawers will also be easier to pack into boxes whenever I move.
The more I use these plastic drawers for sex toy storage, the more I dislike the idea of using sex-toy-specific storage. Not only are those options far too small for my collection, but they're also overpriced. Sometimes, those storage methods can even stain toys. So, as of now, my Tunti case and my FYN cases hold toys that I don't use often and/or want to get rid of.
This type of plastic storage is obviously not the most useful to those with kids or other prying eyes; it's translucent and it doesn't lock. And it's gratuitous if your collection is not insanely huge like mine. But plastic is easy to clean, won't react with toys, and shows off all the awesome colors of sex toys that I have acquired. Having drawers is fucking amazing, and beats digging through a bag or case any day. I think I will stick with this method for a long time to come.
[To see photos of the innards of my drawers, go to this post.]