My sex toy collection has been slowly creeping out of the two For Your Nymphomation cases it was in. Many silicone toys were being kept in their plastic dildo-shaped packaging. It became more and more apparent to me that I needed more storage space, so I finally bit the bullet and ordered some more cases. Yes, cases. Three of them. (Queue maniacal laughter…)
This forced me to actually consider organizing my toys in a coherent manner. A way that could help me find toys faster, even. But, having never done this before, I didn't really know how to go about it. I decided the glass toys would do best laid side by side in an Adult Toybox, and went from there… the result was this: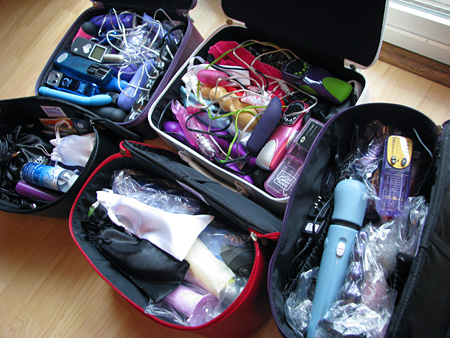 On the far left, in the black Big Foot, I have odds and ends such as toy cleaner, lube samples, watch battery bullets, chargers, my Luna Beads, my Delight in its case because it wouldn't fit anywhere else, and all the locks for the FYN cases (I am lucky to have no need for them).
On the top left, in the purple Adult Toybox (my first FYN case, aww), I have plastic toys and/or toys I don't use very much. Sometimes I suddenly have a craving for one of these toys (for instance, the other night I wanted girth, so I whipped out the Gyrating Massager), but usually not. Plastic doesn't do it for me the way silicone and aluminum can.
Speaking of silicone, the red Big Foot in the middle is filled to the brim with silicone dildos. Unfortunately, most of them are encased in plastic bags. Having to put my beautiful silicone dildos into plastic bags made me realize how much I need satin drawstring bags. Like, ten of them, in various sizes.
The purple Big Foot on the far right is also laden with plastic bags. It has, mostly, cock rings and butt toys in it; Bo fits very nicely in the pouch in the side. I threw my Acuvibe Mini on top because, uh, it fit.
The white Adult Toybox in the middle is where the action's at. All my glass dildos are lined up in the bottom of it, along with my Alumina Motion and Revolve. Then my important bullets are thrown on top, so they are easy to grab at a moment's notice. This is the case that will be flipped open during every masturbation session, no doubt.
I'm sure I'll rearrange my toys again at some point, but this seems like a good system for now. I threw out a ton of old boxes/packaging, and I no longer feel like my toys are a chaotic mess. Now the question is, how suspicious are five FYN cases sitting out in the living room…?