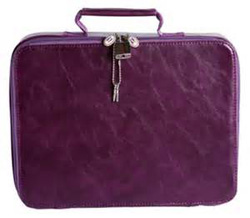 I confess, I used to store my toys in a cardboard box.
This was back when I only had a few toys and hadn't explored the wonderful (but expensive) possibilities of silicone and glass. I wasn't harming my plastic toys, really, by just throwing them into the box and shoving it under my desk. But I wasn't treating them nicely either.
When I was sent this For Your Nymphomation Adult Toybox as a Christmas present, I was very excited. Finally, something that could be properly closed and stored! They sent me the purple one, which just happens to be my favorite of all the available colors (unfortunately, it doesn't come in neon green or orange yet).
On the outside, this case seems to be quite aware that it is made for adult toys. The case is well-constructed and very unassuming; the subtle material doesn't even hint at anything naughty (unless, of course, you buy the leopard-print version of this case and are not normally an avid collector of all things leopard-print). The dangling tokens attached to the zippers have the For Your Nymphomation logo on them, but someone would have to be very familiar with the logo to make the connection. The tokens are glow-in-the-dark and easy to grab, and unzipping is quick.
For extra security, the case comes with a mini padlock and two keys. I've never used the lock because I don't want to draw attention to the case. It does work, but the key shape is very elementary and I doubt picking the lock would be difficult.
Inside the case, however, there is very little that makes storing toys easier, especially if you have more than a few toys. The top flap has four different sizes of elastic strap that are for strapping toys in. The two smallest straps make the least sense; I can just barely squeeze my 2 oz. bottle of O'My lube into one, but that's it. I don't use the other straps because I very quickly realized that if I did, I wouldn't be able to close the case without rearranging all the toys in it.
So I've opted to put all of my toys in the main part of the case, which is lined with an elasticized pocket. Like the elastic straps, the pocket sounds good in theory, but doesn't really help with the storage of toys. At first I stuck a row of toys inside the pocket, but I eventually found it too cumbersome to retrieve them from there (especially with other toys sitting on top of them!). Also, the pocket seems to be made for long items; my bullets and butt plugs just get lost.
Sad but true: the current state of my case is one of chaos. I simply pile all the toys in, with the silicone toys in store-bought plastic bags and the glass toys in their fabric pouches. Does this mean that I'm too lazy to keep my toys organized? Possibly, but it also means that I found the built-in system of organization inadequate.
Don't get me wrong — I certainly appreciate owning this case, and I plan to use it for as long as I can. I've just come to the conclusion that my ideal sex toy case would be quite different from this. It would have compartments, like a sewing box or bead box, and they would come in a great variety of sizes and shapes. And, like the XL version of this case, it would come with heavy-duty plastic bags or pouches. Cute ones.
(It would also be free and materialize on my doorstep in the near future.)
But I've had this case for nine months now, and it has held up wonderfully. I usually leave it sitting upright under my desk. I have unzipped it, thrown it onto the bed, and watched my cats walk over it many, many, many times. I can also attest to how easy it is to clean the exterior. One of my cats barfed on it once, and I had no trouble restoring the case to its previous state.