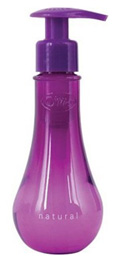 I have only owned one bottle of lube in my life (although I have tested quite a few at sex toy workshops), but I do know this: my dream lube would melt with my body's lubrication so well that I would forget I was using anything artificial.
My first and current lube, Maximus, is too thick and sticky for my tastes, and I often find myself adding water to it. Because of this, Maximus always makes me aware that I'm lubed up. Even worse, the smell of Maximus reminds me of Nickelodeon Gak. Very synthetic.
O'My lube is thin, almost perfectly so, and has absolutely no smell. It is water-based. And, as with any decent lube, you only need a small blob of it to jumpstart the fun.
My first encounter with O'My didn't wow me, but I didn't expect it to; I was already fairly wet when I applied a drop of lube. That drop, no bigger than a Tic-Tac, was all I needed in addition to my own juices. It enabled the vibrator to slip inside me easily.
Later I used O'My while playing with my boyfriend. Neither of us had any qualms about the taste of O'My, which is a faint sweetness with very little aftertaste. I requested that my boyfriend "test" the lube further by jacking off with it. He said he preferred O'My over Maximus, mostly because of its consistency.
After lying in bed for a while basking in the afterglow, I nearly forgot about the fact that I was still lubed up. Success! A quick swipe of a damp towel and off it came.
The 8 oz. version of O'My comes in a gorgeous, shapely purple bottle with a pump for easy dispersal. Very attractive and unassuming, with no enormous bubble letters announcing some advertising statement or slogan. I was sent the 2 oz. version of this lube, which doesn't come in that bottle, but rather an oval-shaped squeezable tube with a plastic cap on it. The tube does state "natural lubricant," but in a classy font that doesn't try to convince you of its greatness.
It is also very refreshing to find a product that openly lists its ingredients. The only ingredient in O'My that raised any eyebrows for me was sodium benzoate. It appears to now contain glycerin, which can promote yeast infections. It contains many natural extracts: guarana, Siberian ginseng, grapefruit seed, and damiana. I can't pronounce the names of any of the ingredients in Maximus except "water."
In terms of staining, O'My is tolerable. When I first opened it by pulling on the cap instead of twisting it, a few drops of lube flew onto my desk chair and left light stains. But my boyfriend put a large dollop on a white shirt of his and sent it through the wash, and we couldn't find the spot afterward.
O'My really distinguishes itself from other lubes in its presentation, consistency, and ingredient list, though I suggest you buy the 8 oz. bottle because of the dispenser and, of course, so that you will have more of this amazing lube. Now my only hope is that I can try the flavored O'My ASAP. Strawberry cheesecake?!