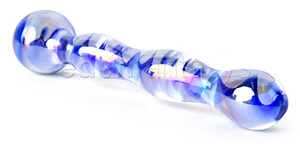 The story of the Icicles No. 8 begins with my Gold Ribbed Love Wand — or, as I fondly call it, my bumpy dildo. My first made-of-glass love, my first truly textured toy, the toy I'm most scared of accidentally dropping.
Yes, I have progressively fallen deeper and deeper in love with it — or, at least, the first four inches of it. My vagina has not yet grown accustomed to thick objects, but I still appreciate its delicious texture.
So when I saw the price and appearance of the Icicles No. 8, I easily talked myself into buying it. It was pretty, cheap, made of glass, and thinner than my bumpy dildo. I was up for a new glass texture, and I wanted to see if price would have an impact on quality.
Being so inexpensive, the Icicles No. 8 came in a hard plastic package and without a storage bag. The packaging labeled the toy a "hand blown glass massager," which made me laugh. Do they really think they can pass this off as a massager? I guess you could use it on someone's back. Maybe I'll be able to talk my boyfriend into "massaging" me with it…
When I pulled the dildo out of its package, the first thing I noticed was how lightweight it was. My bumpy dildo is fairly heavy, and this one is noticeably lighter. The Icicles No. 8 also seems a bit more cheaply-made; it has some whitish lines inside it that I don't think are part of the overall design. The swirled blue ribbon suspended in the dildo is lovely, but the iridescent finish on the surface of the glass prevents it from being completely transparent (a negative in my book).
There is not a lot to report when it comes to the sensation of using this dildo, but that isn't really a bad thing. It is smooth, making for effortless entry and thrusting. The curves are subtle, but perceptible. I found the length to be perfect, and I was happy to have a bulbous handle to grasp while maneuvering the dildo. I particularly enjoyed fully inserting it, then jiggling the handle.
You heard me right; I was able to fully insert it. That means that a good number of people would consider this dildo too thin. For comparison, I have the 1″ version of the Gold Ribbed Love Wand, but it really measures about 1 1/3″ in girth. The Icicles No. 8 is 1″ in girth along the shaft, and especially because it's smooth, it feels quite a bit smaller than my bumpy dildo.
Therefore, I have determined the target audience for the Icicles No. 8 would be people who want a smooth, fairly thin, inexpensive glass toy. Paired with a clit vibe, it would be a great first dildo. If you need serious girth or texture, however, then this dildo would adhere to its name and only tease you. (Also, watch out if you set this dildo on a flat surface, because it will roll away from you!)
I am very pleased with the Icicles No. 8, even if it doesn't have a fancy texture or crazy price tag (perhaps because it doesn't have a crazy price tag). Now that I've conquered smooth glass, I'm in the mood for something swirled…
Get the Icicles No. 8 at SheVibe, Enby, or Lovehoney (US + International).
Browse the whole Icicles line at SheVibe, Enby, or Lovehoney (US + International).