I already told you about my awesome plastic storage drawers, but y'all are creepers, so I figured you'd want to snoop inside the actual drawers.
When I attempted to organize my toys into these drawers, I wasn't sure how to go about it. I didn't want to organize things by type, since I have about 5,000 dildos, so I figured I'd organize them by My Feelings. The problem? With a lot of toys, My Feelings are amorphous and indifferent. I know which toys I absolutely adore, and I know which ones I loathe, but that leaves a large chunk of my collection in the middle. As such, there are several drawers of these "middle ground" toys.
First up: the rolling storage cart with shallow drawers.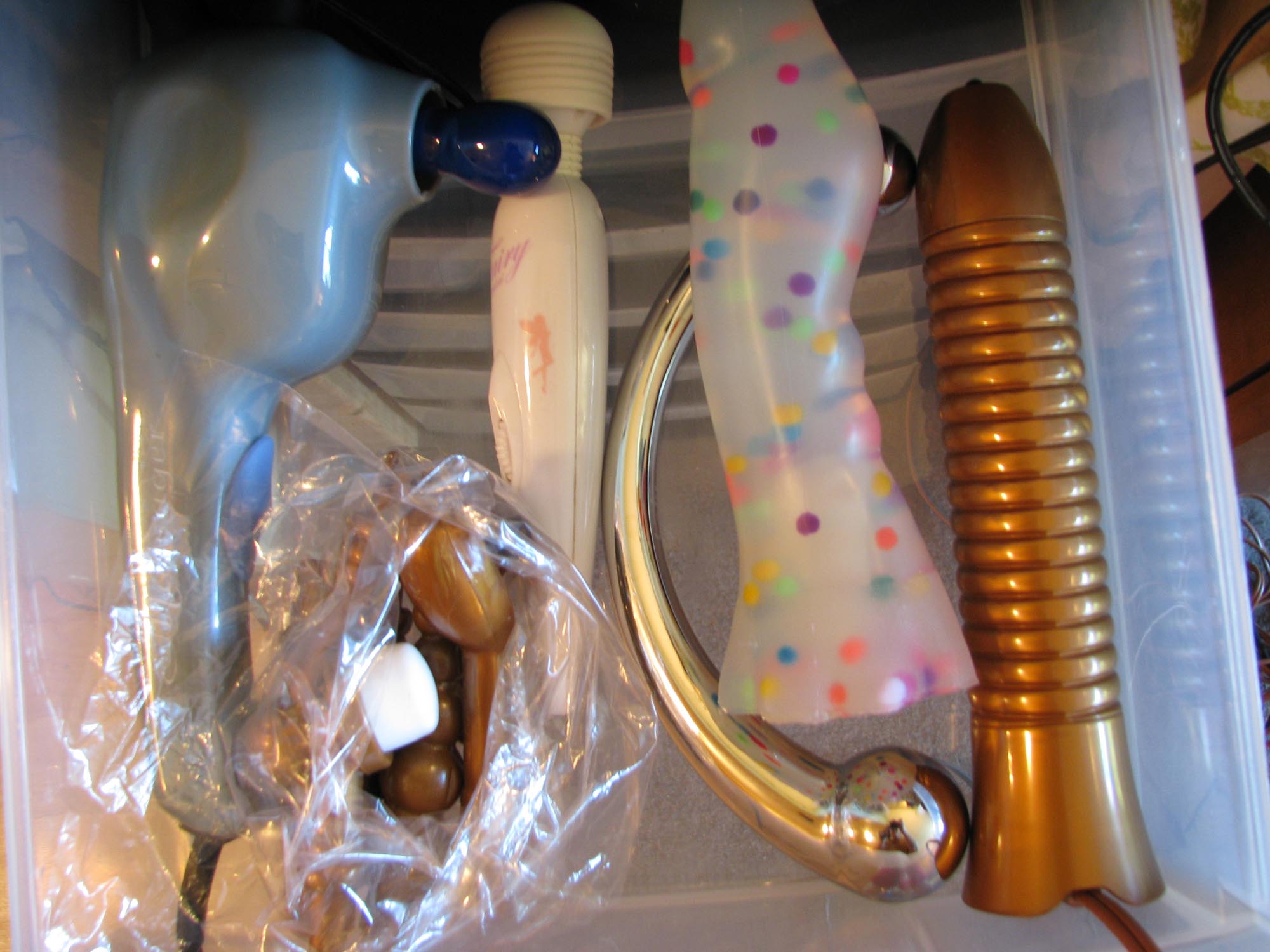 DRAWER OF OMFG.
Yeah, this is some of my favorite stuff. Wahl with Spot Tip attachment, bag of Eroscillator attachments, Fairy Mini Mini, Njoy Pure Wand, Jollies Jollet, Eroscillator. Hiding in the back are the Ophoria Beyond 3 and my favorite glass dildo, the Phallix Gold-Ribbed Love Wand (WHICH PRACTICALLY NO STORE CARRIES, AND I DON'T KNOW WHY). Recently added to this drawer: the LELO Siri and Vibratex Mystic Wand.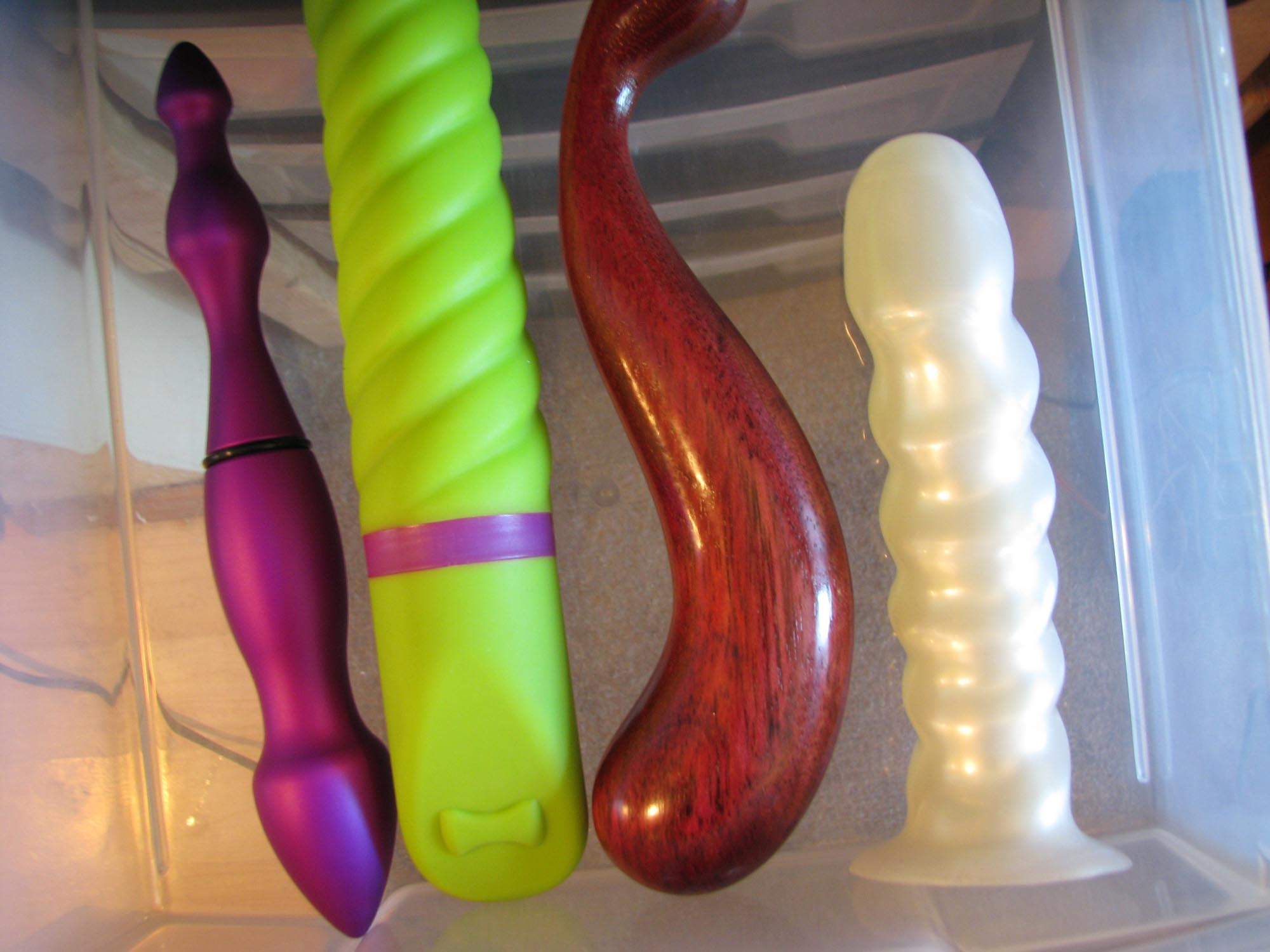 DRAWER OF SPARSE YET AWESOME THINGS.
Why have I not filled this drawer? I guess I am waiting for particularly awesome things. Tantus Alumina Motion, Papaya Toys Candy Stick, NobEssence Seduction, Tantus Echo.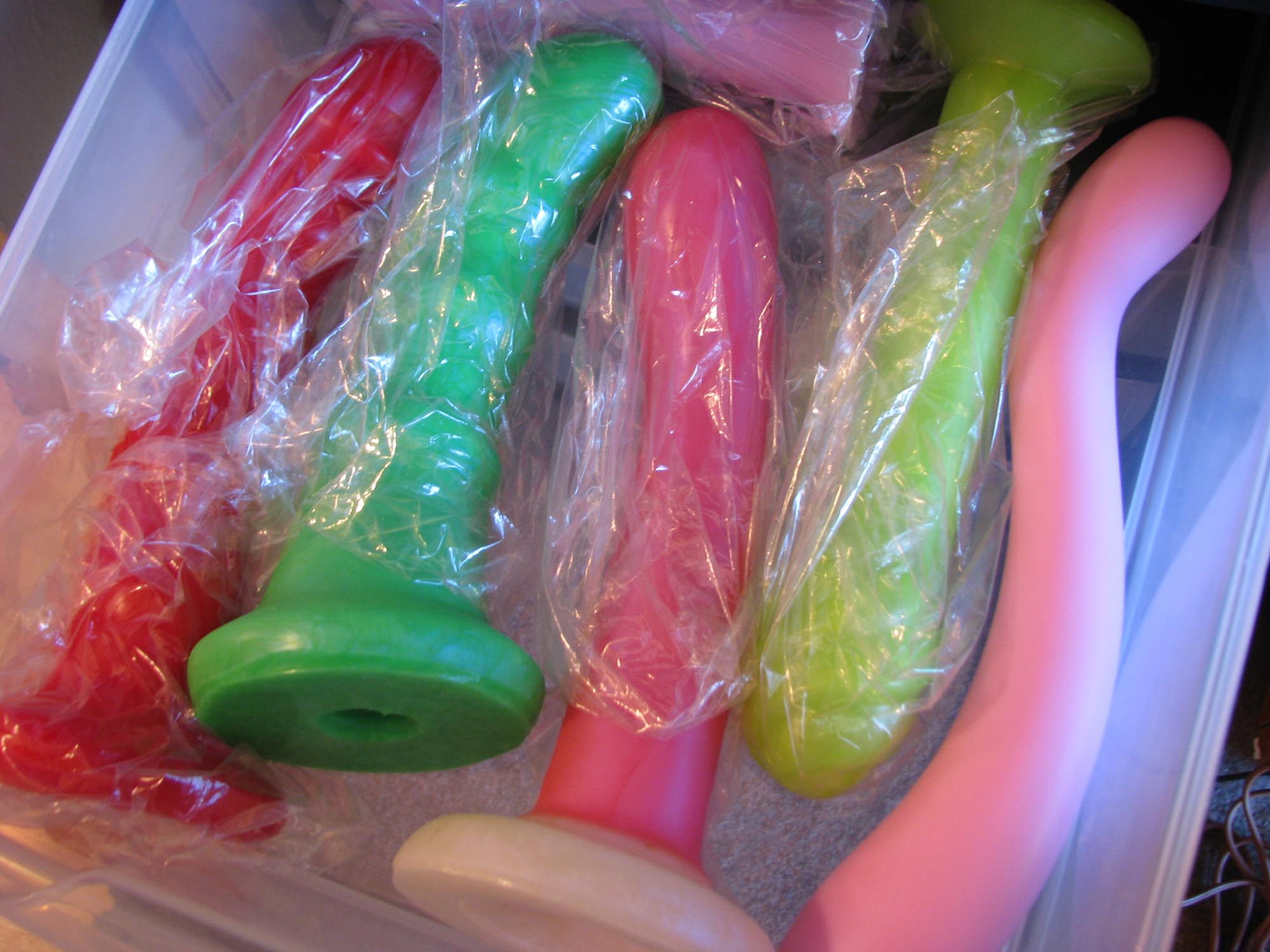 DRAWER OF DECENT DILDOS.
I pull one of these out every once in a while, when I'm wanting something different. The cat then proceeds to lick the accompanying plastic bag. Fun Factory Tiger, Vixen Astrovibe, Vixen Raquel, Tantus Sherbet, Luxotiq Isis, Ophoria Pleasure No. 6.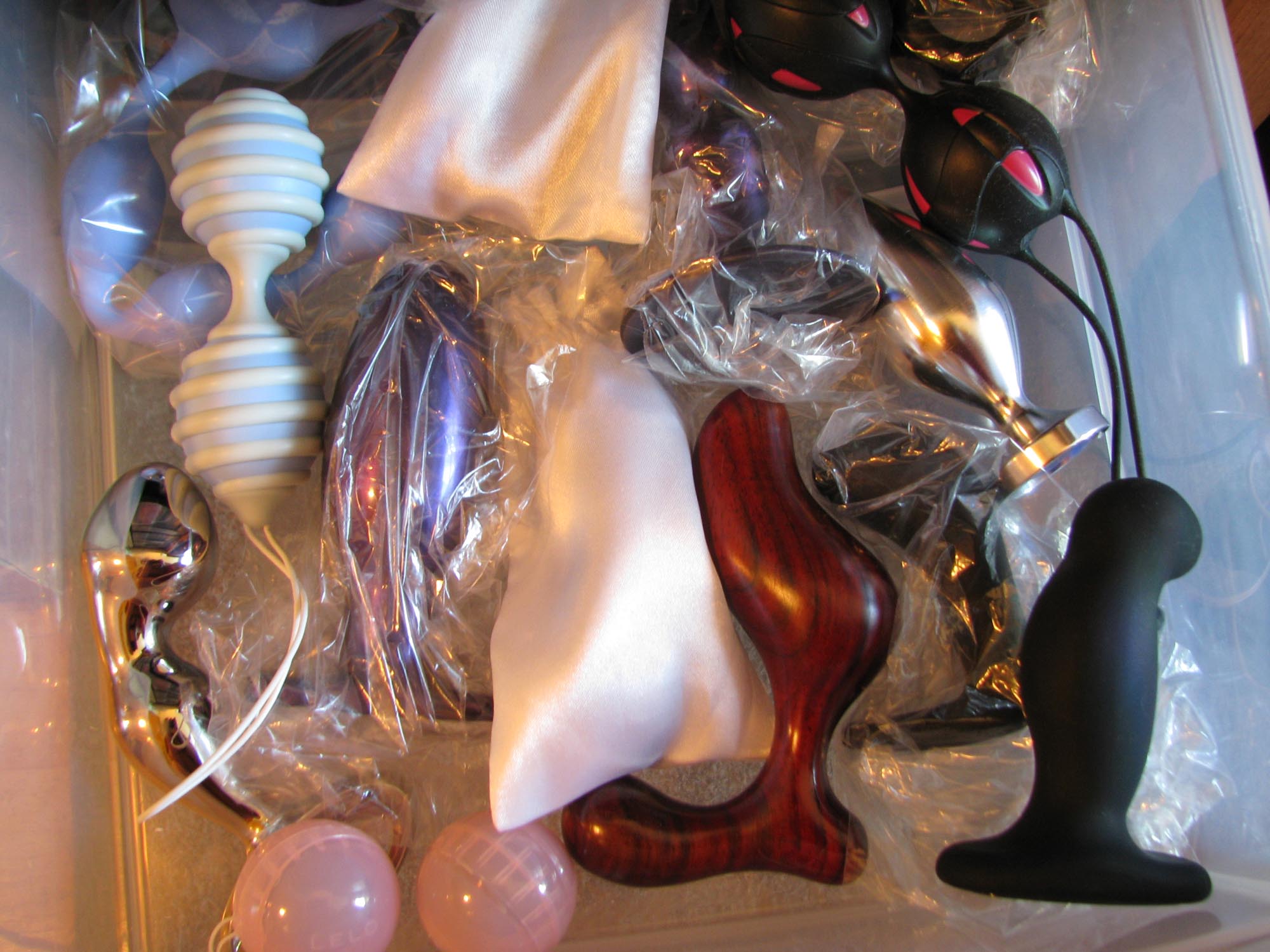 DRAWER OF BUTT TOYS AND VAG BALLS.
What a mess! But these toys are smaller, so they swim around more. All of my butt toys and vag balls are here. Of course, Romp is the prettiest.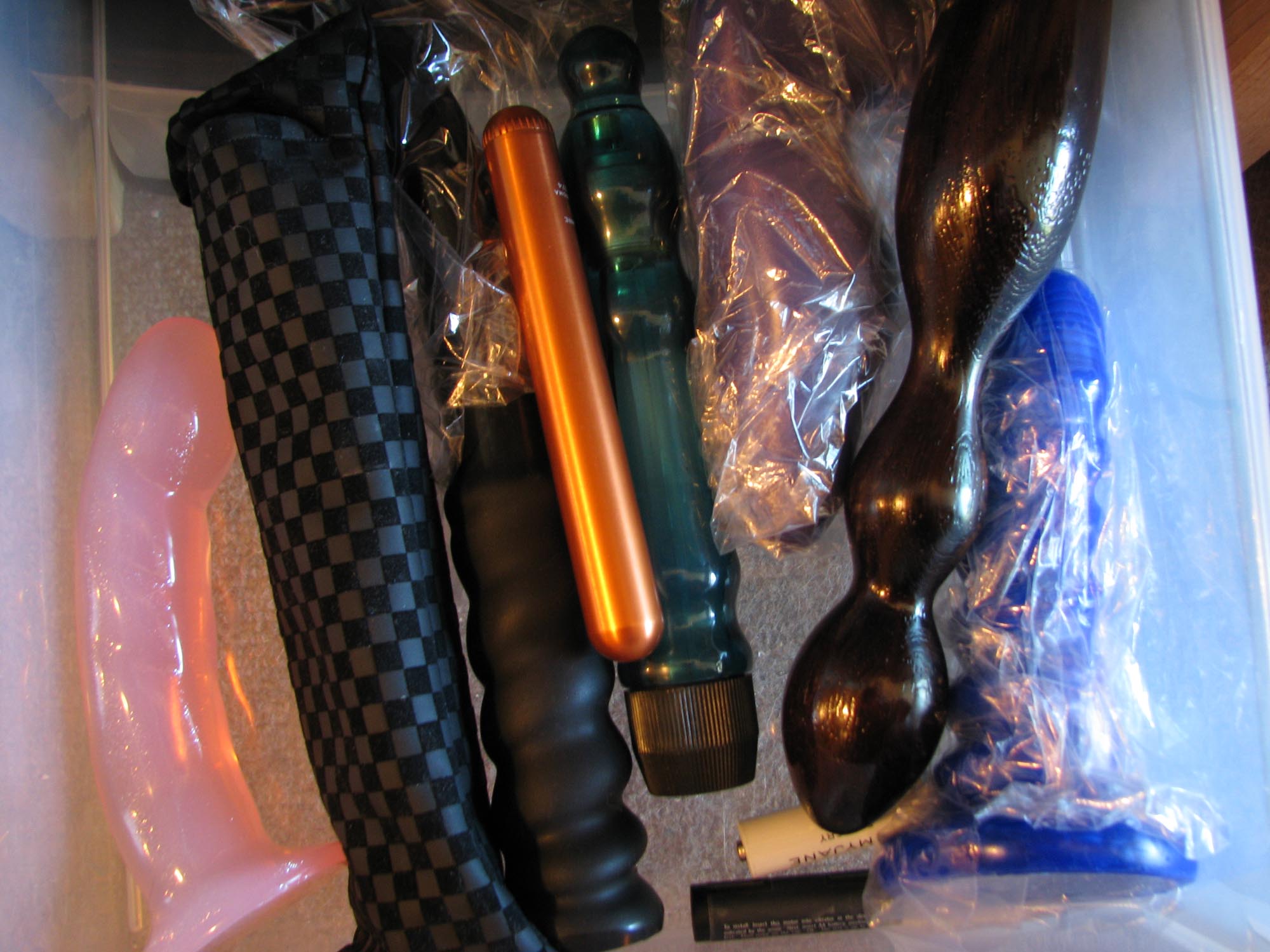 DRAWER OF CONFLICTION.
With the exception of the Turbo Glider, these are things I'm iffy on, don't use much, and/or need to try again. Tantus Acute, Duncan Charles Signature, Tantus G-Force, Jimmyjane Little Chroma, Jollies Jollie, NobEssence Delve, Vixen Soft Serve.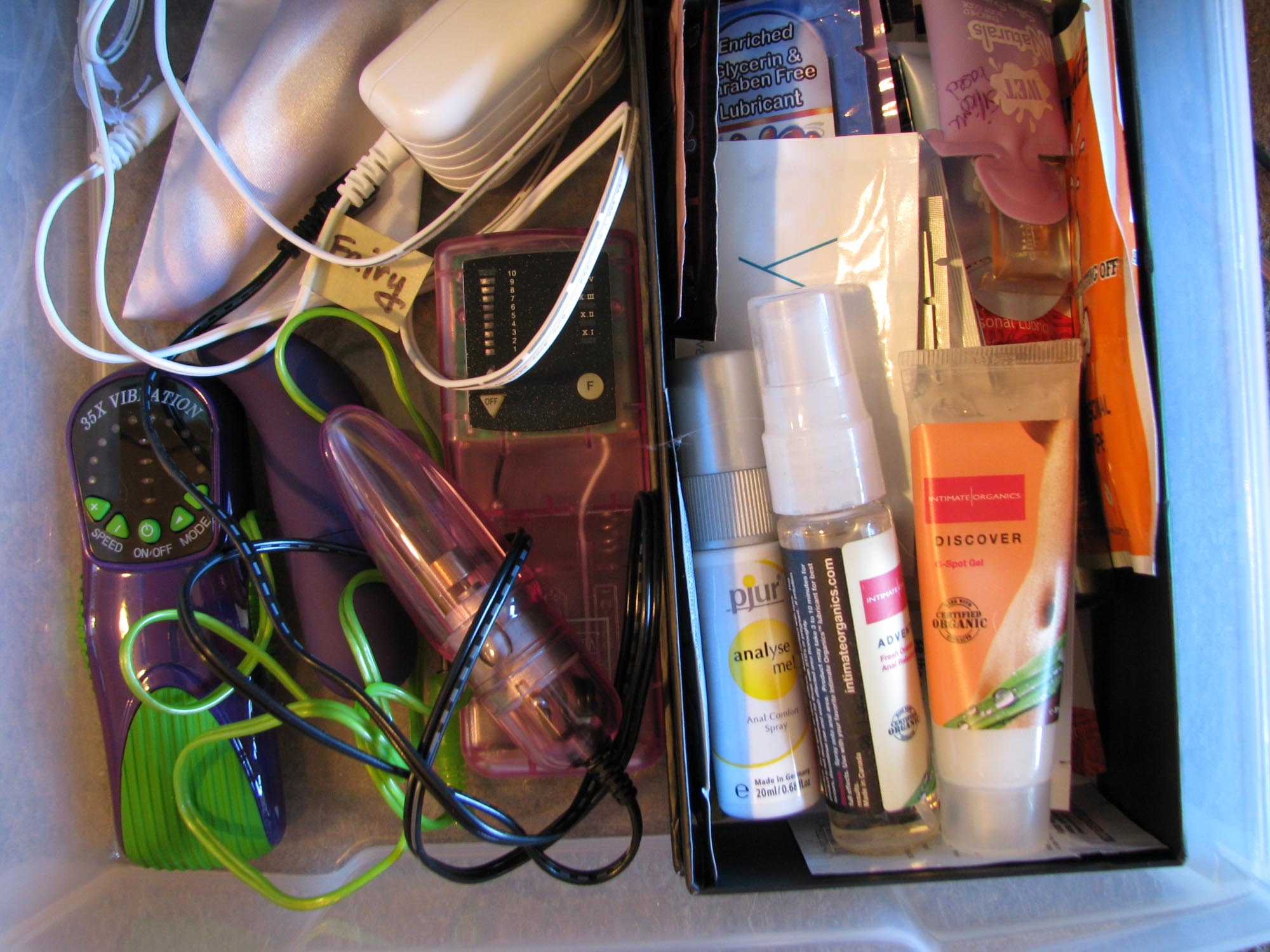 DRAWER OF BULLETS, CORDS, AND LUBE.
This is the bottom drawer of my rolling cart, which holds bullets like the Xtreme Pack G-spot Bullet, Impulse Kit Bunny Arouser, and LELO Mia. Then there's a LELO box re-purposed as a lube-and-things container.
That concludes my cart. Here's what's in my deeper, stacking drawers: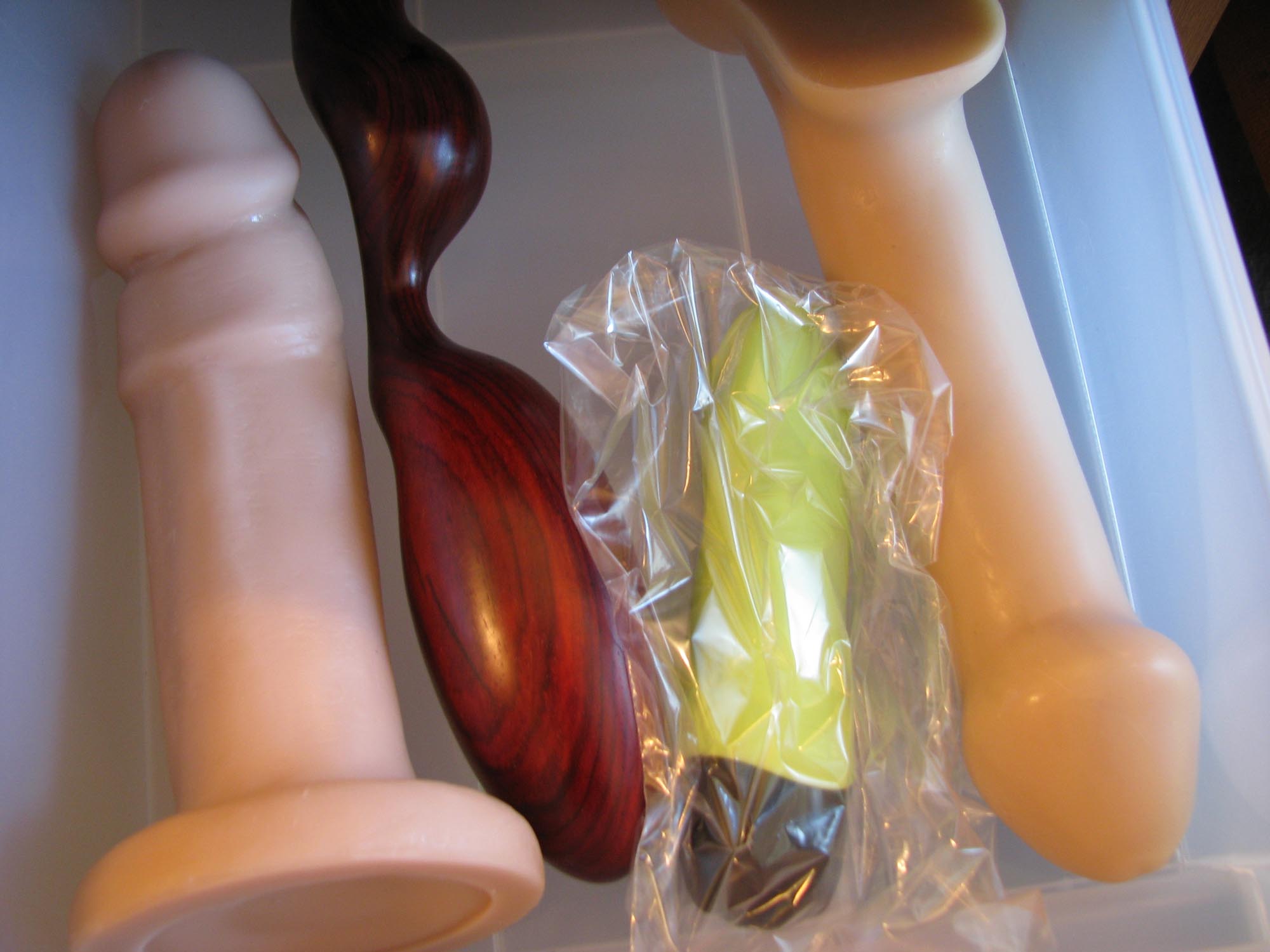 DRAWER OF STUFF TO TEST.
Well, except Maverick — that's there because it's fuckin' amazing but doesn't fit in my other top drawer. Otherwise, the NobEssence Intrigue, Fun Factory Spring, and Vamp Talula were all new toys that I needed to test when I took this photo (you caught me — these pictures are were not exactly taken yesterday. Hey, adding tons of links is hard!).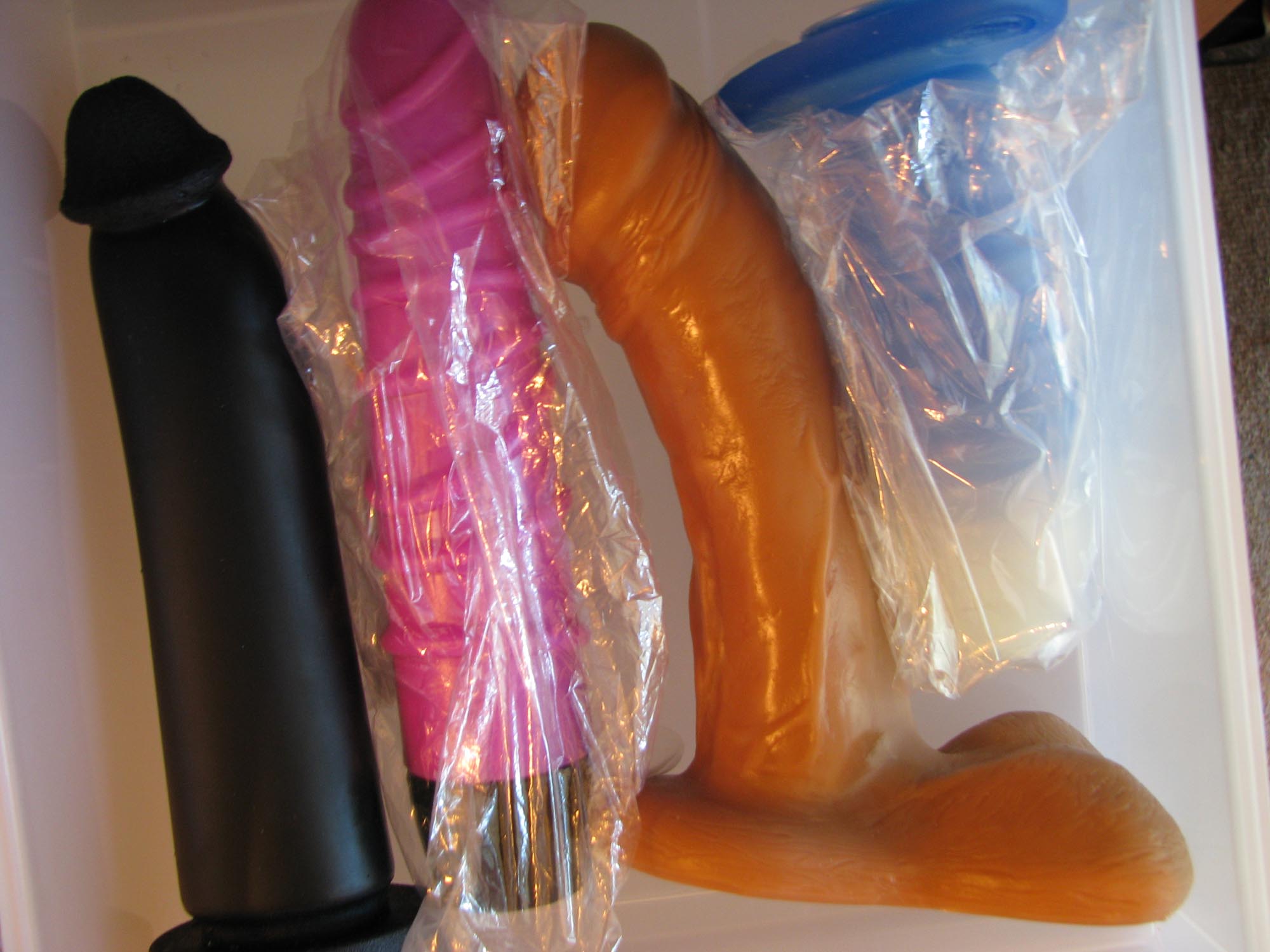 DRAWER OF SWEET TOYS.
This drawer serves a similar function as the second one on my rolling cart — great toys that should probably get more action. Jollies Jack, Ophoria Bliss No. 8 (try at your own risk — this is an intense mofo), Vixen Johnny, Tantus O2 Rascal
.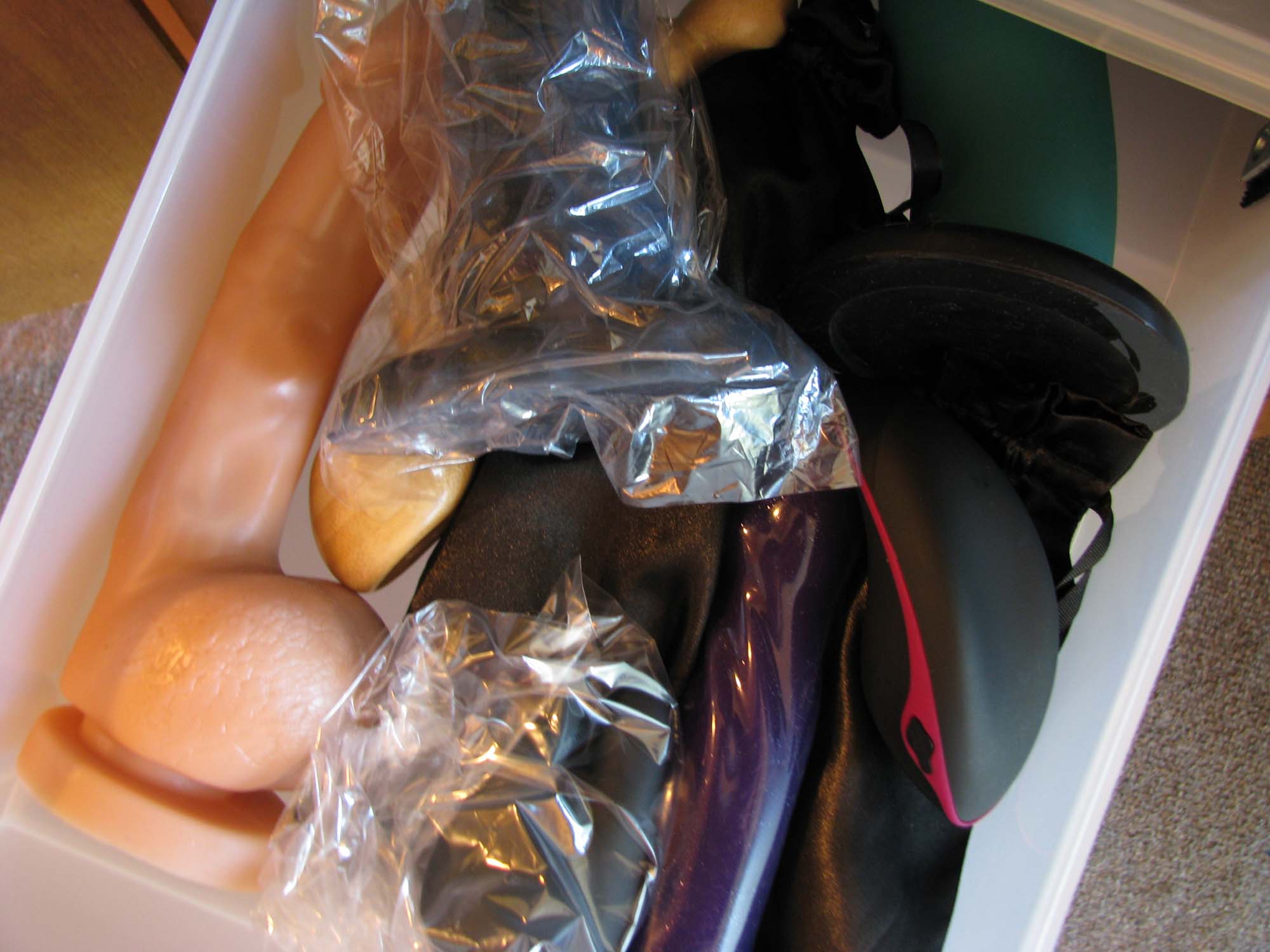 DRAWER OF RANDY… AND OTHER STUFF.
I don't even know what's going on with this drawer. It needs help. And is not aesthetically appealing. Randy, Mr. Man, NobEssence Linger, Whipspider Rubberworks Mantoy, LELO Ella, Jimmyjane Form 2, Jimmyjane Form 3, Tantus Goddess, Bswish Bcurious, and LELO Ina.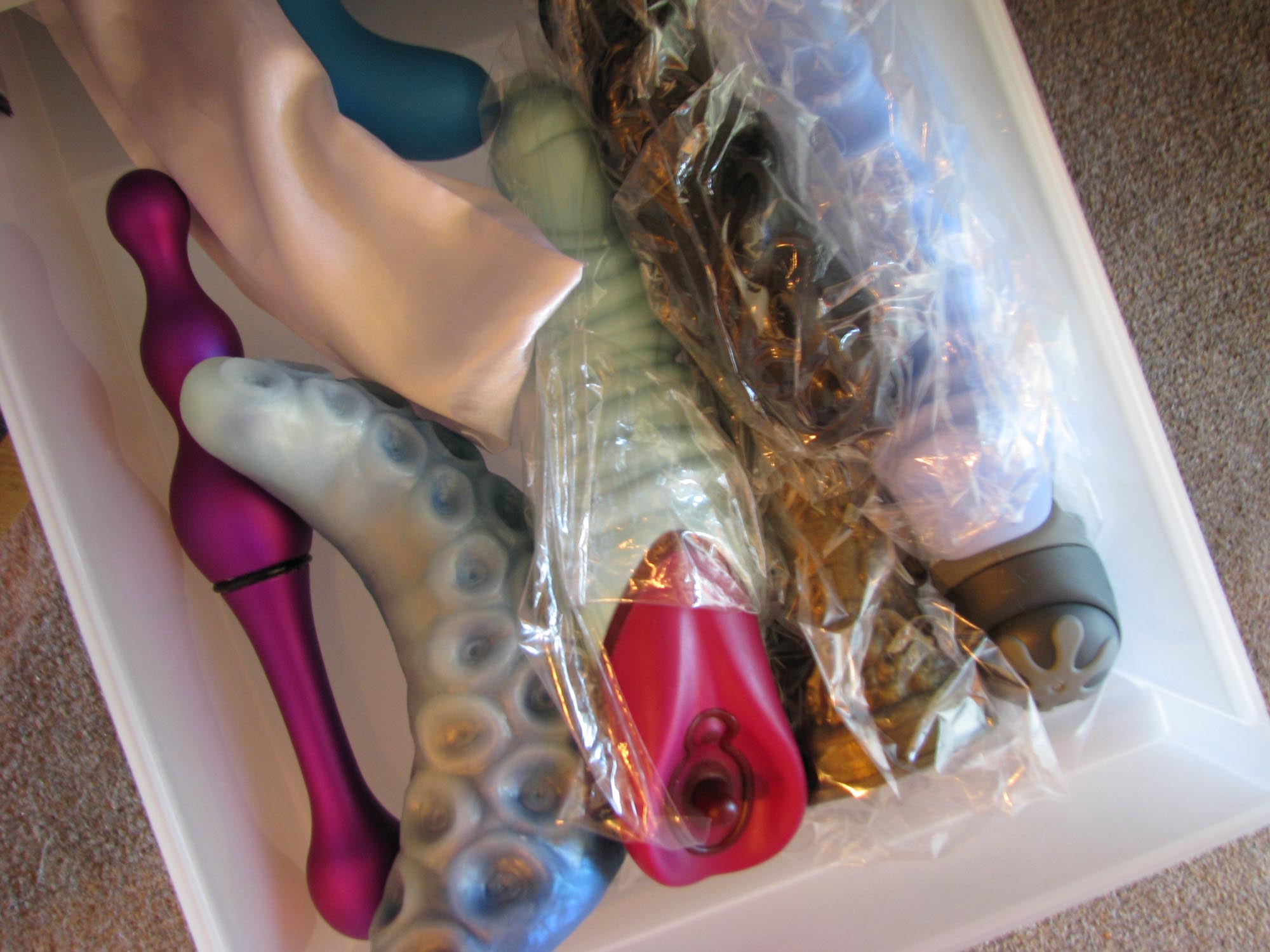 DRAWER OF "TRY AGAIN."
This is, roughly, a collection of toys that deserve a second (or third…) chance. Tantus Alumina Revolve, Whipspider Rubberworks Tentacle, LELO Gigi, Fun Factory Delight, Fun Factory Benjamin Bond, Tantus Twist, Eros & Isis Chunkee Munkey, Fun Factory G-Twist.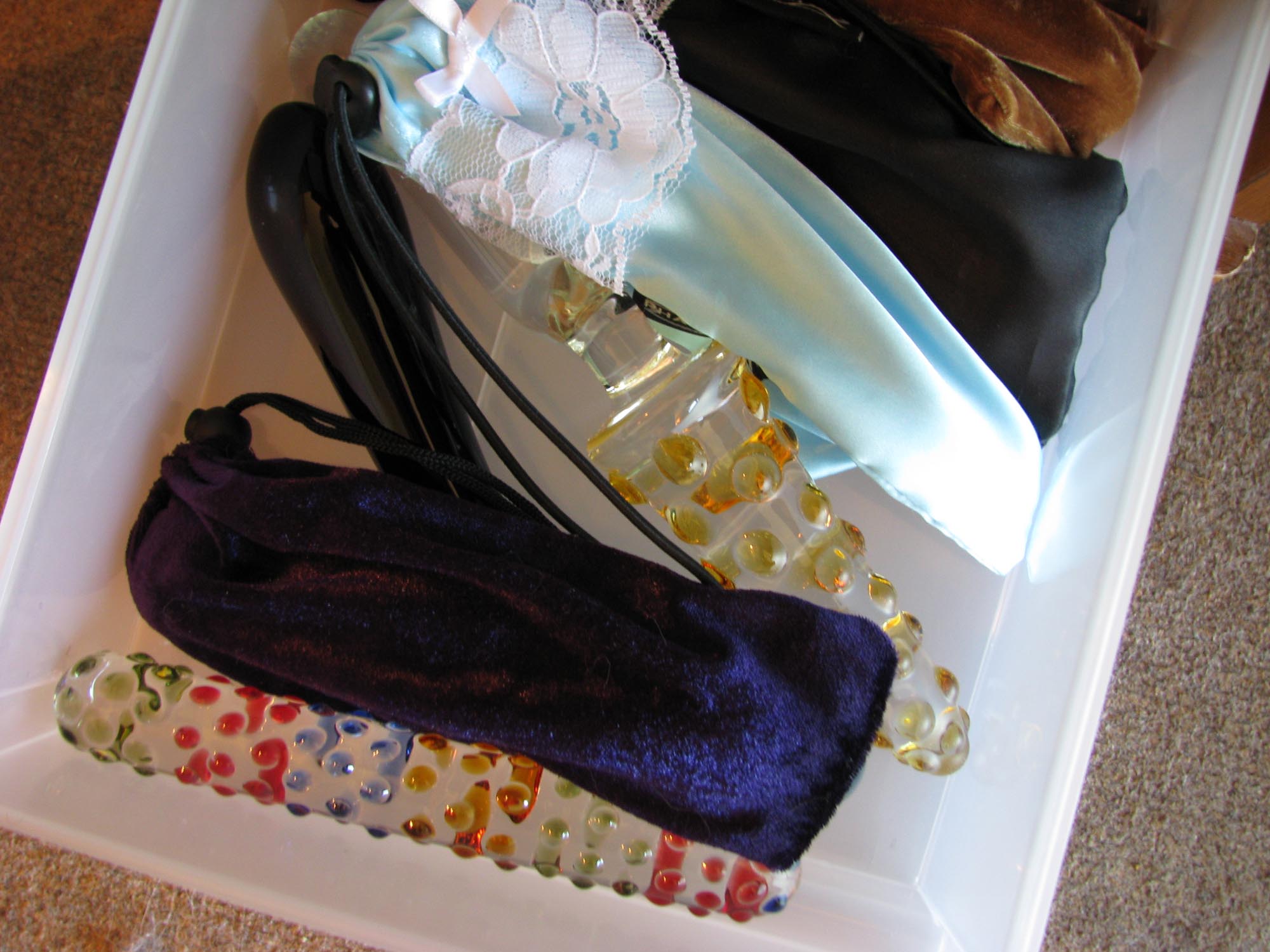 DRAWER OF GLASS.
This drawer houses all my good glass toys, in their respective satin drawstring bags. They're in the bottom drawer for logistical reasons: in case I happen to accidentally drop a glass toy while I get it out, it won't fall very far. This drawer is so boring that I'm not even gonna include a picture. But here's a list of the toys: Allegro/Twisted Rose, DreamToys Lemon Drops, Don Wands Rainbow Mega Nubby, Luxotiq Athena, Phallix Cobalt Twister, Phallix Inside Out Spiral Rib Double Dong, Topco Snake of Paradise, RubyGlass21 Pleasure Wand, DreamToys Raspberry Chunk.
But, because my collection is insane, not everything can fit into the plastic drawers. What happens to toys that I deem unworthy of the plastic drawers? They go either in my Tunti toybox (this is an old picture, and a lot of these toys have relocated now) —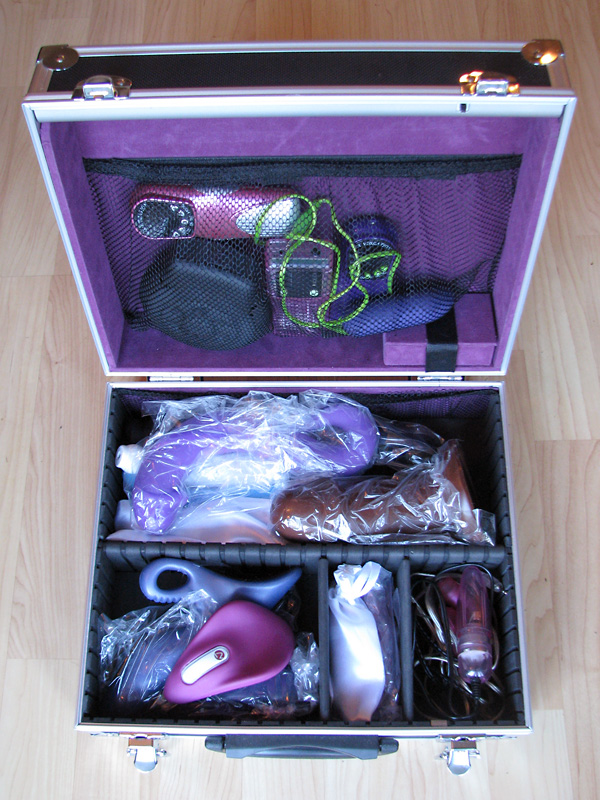 or here, in a cabinet that I rarely open.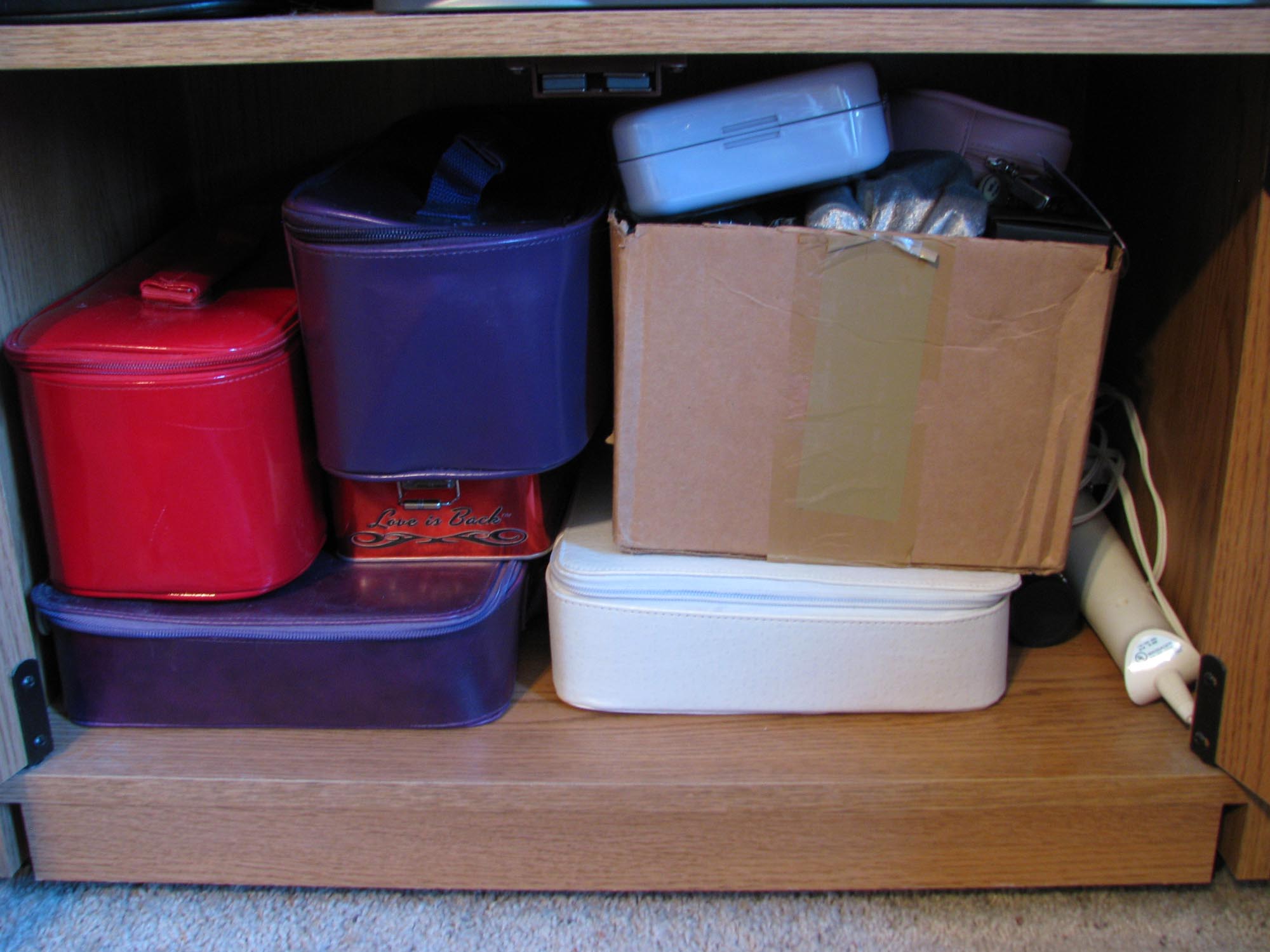 Yes, it's a sad day when a toy is demoted to the bags-inside-the-cabinet, or even worse, the cardboard-box-inside-the-cabinet. Well, I don't hate the Hitachi, but I never use it, and it's massive. (Not anymore!) Some of the toys in these bags are older, shittier ones that I acquired when I first started reviewing. Others are dead (why do I keep them? Fuck if I know). Some I was certain I would never use again once I reviewed them, so I demoted them quickly (like the Ticklers, this abomination, and the fail-tastic vibrating brief).
Of course, this whole system is in a constant state of evolution. My plastic drawers are already becoming more unruly. My cabinet is filling quickly. And, well, I'd be lying if I said there weren't toys scattered around the apartment in the weirdest of places: the Fleshlights hiding behind the cabinet, lube secured behind some tins on a bookshelf, the Eleven in its crazy case wherever I can find a place for it.
But that is the gist of my storage system, in photos. Have I satiated your creeper hunger?