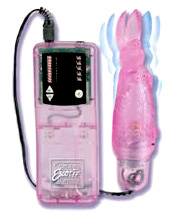 The Impulse Kit Bunny Arouser looks like a joke: a plastic, slightly pointed pink bullet with a TPR bunny-shaped sleeve. It is, essentially, a rabbit vibrator's clitoral stimulator severed from the rabbit. This is fine with me, as I recently denounced rabbit vibrators. The ones I've tried have failed at hitting my clit, and besides, I prefer to choose my own dildo (usually textured) and my own clitoral stimulator (always the Xtreme Pack G-spot Bullet). Sometimes I'll even throw a butt plug in there.
But I always liked the idea of the clitoral stimulators on rabbits — not because I think clitoral stimulators should be animal-shaped (god no), but because the soft, oddly-shaped material provides a unique sort of stimulation. Pinpoint, but not. Different than what plastic egg/bullet vibes provide. More of a flutter. But how useful can a TPR bunny sleeve shoved onto a plastic bullet really be? And how pleasurable?
Well, I hereby announce it: the toy that I expected would suck; the toy made by hit-and-miss California Exotic; the toy that looks like a 6th grader's ugly keychain… is actually really awesome. Like, up there with the Xtreme Pack awesome. With sleeve or without sleeve. It's awesome.
The formula for success involves three key elements: an interesting shape of TPR sleeve, a good shape of bullet, and a serious amount of power. Without the power of this toy's 3 AAs, I'd probably be unleashing my negative snark right about now. But no. The 3 AAs ensure that the sleeve will vibrate profusely, even at the tips of the ears. There are ten levels of constant vibration, and five vibration patterns (linear, wave, escalating, staccato, stair stepped) — definitely enough to keep me busy for a while.
I hoped the TPR bunny ears might feel similar to the Cyber Flicker (a CyberSkin-covered bullet with a tendril that provides a nice flickering tease, but only if I spread my labia). Turns out, the Impulse Kit is like the Cyber Flicker on steroids. The sleeve vibrates like a mofo, so labia-spreading is unnecessary. A lot of lube is required, and some patience, but once I find the right angle with the bunny ears and my clit, it's fabulous. It can definitely bring me to orgasm with its ears alone, which I did not expect at all.
The stimulation from the bunny ears may not be for everyone, though. They are very pointy, and if used at a certain angle can poke uncomfortably. The good news is, without the bunny sleeve, the bullet still rocks. It might even rock more. It's awesomely powerful, and its slightly pointed tip makes for excellent pinpoint stimulation unlike what most eggs/bullets provide. This bullet is the closest I've come to a rival for the Xtreme Pack G-spot Bullet. And that, my friends, says a lot.
There are several not so great things about the Impulse Kit Bunny Arouser: it's noisy, the sleeve is made of TPR (and therefore not sterilizable or shareable), the up/down buttons are close together, there's no off button, and it's a bit overpriced. The biggest downside to this toy is that the sleeve is very, very tight, and difficult to put on and remove from the bullet. I would not be surprised if it tore in the future, so I'm going to try to be careful.
But for anyone who has ever wished they could rip the clitoral stimulator off a rabbit vibrator and control it themselves, I highly recommend the Impulse Kit Bunny Arouser. It may not look like much, but it packs a wallop — both as a creepy vibrating bunny and as a plain ol' bullet.
This toy is no longer in production, but the Je Joue Rabbit Bullet and Nu Sensuelle Bunnii are much better similar toys anyway!