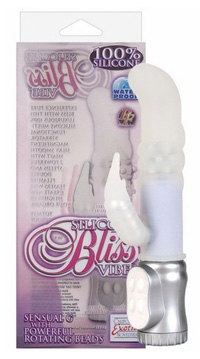 Silicone, eh? Is that so? Really? I don't believe you. You are California Exotic; you do not do this. You make jelly and plastic toys. Please explain…
The package for the Silicone Bliss says "100% silicone" on the front, both sides, and back. In small print under the type of batteries needed to run this rabbit, there are the words "Material: Silicone." There is nothing suggesting otherwise.
Still, I don't know if I believe it. I can tell you this material is soft (not at all sticky or tacky) and has a very light scent to it. If I had to associate it with a known material, it would probably be silicone. But is it 100% medical grade silicone? I wouldn't put money on it.
Upon close inspection, I noticed an array of thin bits of silicone sticking up from the seams. Like a tiny mohawk. Now, call me nit-picky if you want, but I've never seen that kind of stuff from a reputable 100% silicone toy-making company (like Tantus). This is not to say that the tiny bits make it not silicone, but they do signal low production quality.
So, moving on from my "is it silicone?" investigation. This rabbit takes four AAAs. The battery compartment is kind-of neat; after putting the batteries in their slots, you place a piece of plastic over the top and lock it into place. Complicated to explain, but it's a good system, and ensures that the batteries don't rattle around.
The settings on this toy are not as impressive. There are two speeds for the clit stimulator, and two directions of rotation for the beads (because, as you know, we all have pronounced preferences for one direction over another!). The shaft does not vibrate, just grooves to the motion of the beads. I guess four AAAs doesn't equal much power. Either that, or a lot of their juice is going toward the beads. The clit stimulator's levels are only in the mid-range, and come on, just two levels? Weak, bro.
The volume level of the clit stimulator isn't bad, but the beads create a wretched mechanical sound that I do not appreciate at all. This is probably common with beads in rabbits, but I don't have much experience with them.
Using this vibe, I felt very indifferent. I couldn't feel the beads moving at all (and I'm fairly certain they were moving). I don't know if this is an issue with my vagina or what, but they didn't feel like anything. Similarly, the g-spot curve did nothing for me. And to top things off, the clit stimulator was not my cup of coffee. Honestly, why would I want one pointy thing poking my clit? It does not feel pleasant, and in fact sort-of hurts. Plus, the shape of the clit stimulator will always remind me of some sort of microscopic household pest. Ugh. The more I think about it, the more creeped out I become.
I was slightly irritated while using this toy, because the clit stimulator is not aligned well with the controls. I was already not having much fun, but this detail made things worse, as I kept turning the base a little or pushing the clit stimulator a little to try and compensate for the difference.
I'm going to be generous and give this toy 3 stars (out of 5) because it is a step forward in terms of material. However, it did absolutely nothing for me as a toy, so if I were rating just on pleasure, I would give it only 2 stars. It's possible that other people with vaginas might enjoy this rabbit, but my body said "no, thanks."
Thankfully, there are better-designed body-safe rabbit vibes available now. Browse rabbit vibes here.