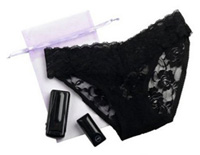 The Astrea I vibrating panties are "one size fits most," which of course means "one size fits size small." It cuts into my skin very efficiently. There's also a thong version if you're into a different style of skin cutting.
Being from the Dr. Laura Berman line, it comes with a tacky purple organza bag and batteries (2 AAAs for the vibrating piece and one 12V for the remote control). The remote is very inconspicuous: completely black with "C.E.N.I." on it. A few tests confirm that the remote has great range (well over the 12 feet it promises), though I question why that even matters since the toy has only one speed/function/setting: on.
There's a pouch in the underwear that I assume is meant for the vibrating part. Putting the 1″ x 2.5″ vibrating piece in there vibrates my perineum. My perineum, people! Which sounds a lot more pleasurable than it is.
Since the underwear is so damn tight, I can tuck the vibrating piece against my clit and it hangs out there. It's fairly quiet and could definitely blend in at a bar or concert. I would not suggest tight pants, though. You may appear to have a tiny erect penis. I would not suggest walking, either. It's too large to fit between my labia, so that's… awkward.
Somehow, some way, this is priced at nearly $70. Need I say more?