Genre: Lesbian
Director: Patience (from AbbyWinters)
Length: 110 minutes
Cast: Angie, Odette, Carys, Cleo, Fotina, Kiki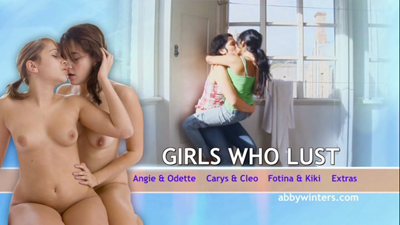 Special Features: Girl-Girl DVD previews (Girls in the Mood, Girls Who Like Girls, Girls Get Hot), solo masturbation previews (Girls in Need, Erotic Moods, Sensual Intimacies), website freebies (slideshow and website preview), and DVD bonus features. The bonus features are various clips of "before," "after," and "backstage" for the three pairings. Luckily, all of them reinforce that the passion is real. Cleo, for instance, has a crush on Carys. And pretty much everyone wants to fuck the director, Patience… as do I.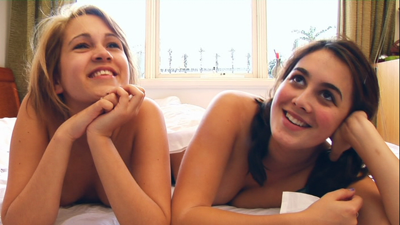 Audio/Video Quality: Shot in high-definition and anamorphic widescreen, Girls Who Lust looks pretty amazing. Two of the scenes are lit by natural light, making the girls' skin glow beautifully. Angie and Odette's scene is not naturally lit, and seems to be lit mostly from above, resulting in some unfortunate shadows at times. During the scenes, I was pleased that there weren't any ugly video transitions, so the scenes seem very continuous. The camera angles are not especially exciting, but they're natural, and so the cuts are fluid and unobtrusive.
For the most part, the audio is great. You can hear the breathing, the licking, and the wetness of their pussies, which I love. There are, however, some distracting muffled bumping sounds, probably from microphones being bumped.
Scene One: Angie and Odette (35:33)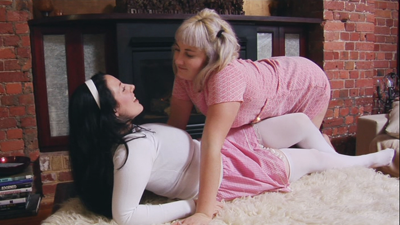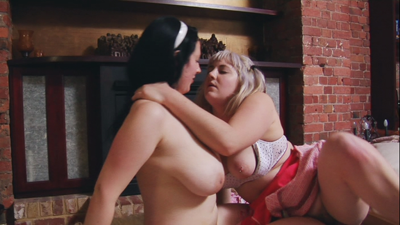 Angie (brunette) and Odette (blonde) are on a white fuzzy rug in front of a weakly-burning fireplace. Unfortunately, the rug is on top of a stage-like box, and it looks not at all comfortable.
The scene starts off awkwardly, with Angie "convincing" Odette to kiss her. They wrestle a little bit and Angie ends up straddling Odette, teasing her pussy through her underwear. They continue cat-fighting over dumb things like whether they should kiss, or whether Angie should lick Odette's pussy. But eventually they give up on that and just focus on pleasuring each other in various states of undress. Most of the time they take turns with each others' vulvas, but they also sixty-nine at one point and scissor for a short while at another. Both of them have several rattling orgasms throughout the scene.
They have good communication, and most of the time they seem into it, but I just didn't find them very hot together. A couple moments stand out as sexy for me: Odette fingering Angie's ass and eating her pussy while they furiously sixty-nine, and Angie coming hard from scissoring. Unfortunately, these are short-lived moments. I can see Angie being hot in other scenes, but this just didn't do it for me. If you find both Angie and Odette hot, you would probably love this scene.
Scene Two: Carys and Cleo (33:23)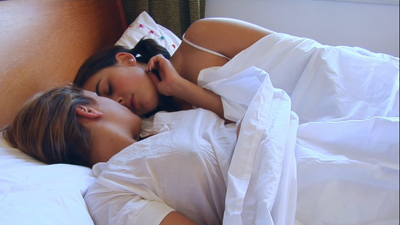 Oh man. Girls in bed. Girls pretending to be waking up and starting to make out in bed. Girls wearing white see-through shirts in bed. I am so there. You can even hear some noises from the street outside!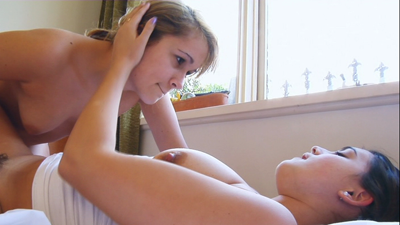 Carys (blondeish) is cute as fuck and reminds me of a very very Christian girl I had a major crush on in high school. Both Carys and Cleo have adorable baby faces, so it's pretty hot to see them melt into each other. Probably because I'm wet for Carys, their foreplay is exceedingly hot to me — kissing and sucking on skin, gentle and almost timid. There is no back-story for this scene, so I filled in my own: they are good friends that woke up horny and, due to pent up sexual frustration, started making out. Trust me, it's plausible. (Also, it's the best back-story of all three scenes, if I do say so myself.)
After some time, Carys starts fingering Cleo. Cleo seems almost like she's in pain, but I found she just looks like that when she's being pleasured. They seem to be in slow motion, and possibly on mute; it takes some time before they even start breathing heavily. Cleo pushes Carys off her so she can finger Carys. Then, Cleo on top of Carys, they tease each others' clits. Carys then sits on the windowsill so Cleo can eat her out–well, mostly just finger her clit. This part irks me because the camera stays focused on Cleo the whole time, and since Carys doesn't moan, I can't see if she's enjoying herself or not.
Then back to the bed, and finally we get some real moaning and real pussy licking as Carys goes down on Cleo. Sadly, this is not a turning point in the scene. It's followed by some awkward humping/scissoring that eventually turns into semi-hot humping as the girls breathe harder and look into each others' eyes. Then Carys rubs Cleo's pussy and Cleo comes, I think, but not very loudly. Then they switch, and Cleo rubs Carys's pussy, fingering her a little, to no end result. They finish out with some good old-fashioned naked kissing.
I had such high hopes for this scene. I wanted to see these girls totally go at it. I wanted to see their chemistry escalate from innocence to lust, but it never did; it just floated at a level of tenderness and slowness. I also wanted a lot more pussy licking. Carys seems to know how to do it, but we don't get to see her talents shine for very long. Most of the stimulation is fingering. Also, I count only one orgasm. Not fair. I didn't get to see my girl come. Now I have to go find her and do it myself.
Scene Three: Fotina and Kiki (29:50)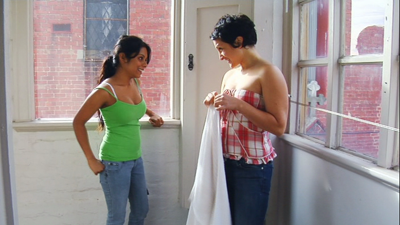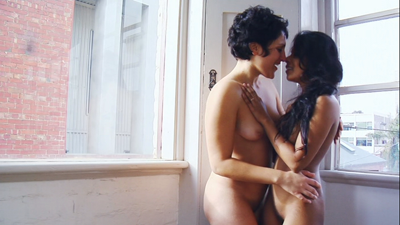 Fotina (short hair) is getting out of the shower in some ambiguous apartment building, apparently about to catch a plane, when she runs into Kiki. Inexplicably, they must fuck! Alright, I'm okay with this.
From the get-go, it's obvious that these chicks have more lust for each other than any of the two other couplings. They make out heavily while pulling off each others' clothes, Fotina grappling at Kiki's ass passionately, then setting her on the windowsill. Fotina kneels on the wood floor while Kiki rests her foot up on the windowsill, and Fotina licks and fingers Kiki's pussy. Kiki pulls Fotina's hair, which is hot as hell. Then they switch (seriously, it's pretty much the same position for both girls) and Fotina comes loudly and even squirts. Overcome with gratitude, Fotina attacks Kiki and commences eating her pussy — again, from the same position with giver on the floor and receiver standing propped against the wall and window. Kiki moans like a wild animal when she comes.
Each girl pleases the other one more time, making for two orgasms each. It is a bit repetitious, especially with the similar positions, but I don't care. Both girls know how to eat pussy, and their moans are just how I like them: abundant, but not fake. After their rendezvous, they help each other back into their clothes and share a kiss-laden goodbye. This scene was by far the sexiest on the DVD, and the only one that really made me want to jack off.
Summary: The three scenes in Girls Who Lust are beautifully lit and smartly edited, but they vary widely in sexual intensity and appeal to me. I appreciate AbbyWinters in general, and the fact that the girls on this disc have real orgasms and genuine chemistry. However, the Angie/Odette and Carys/Cleo scenes will only appeal to certain appetites. Not many people, I think, would enjoy all three scenes. The presence of "lust" on this DVD is questionable as well, leading me to believe that AbbyWinters's titles are arbitrary; it should really be called Girl-Girl Scenes We Shot Recently.
Stream Girls Who Lust here.