Sex shop floors, once bustling with customers, have morphed into makeshift staging areas for packing online orders. The display dildos stand around aimlessly, fulfilling no purpose. Lube testers lay dormant. Packing materials are everywhere. A print-out is taped to the door advising customers of the situation: this shop is closed — temporarily, indefinitely, who-knows-how-long. Shop online. Please.
Brick-and-mortar sex shops have been hit especially hard by the COVID-19 pandemic. In a matter of weeks, 85% of U.S. shops have shuttered, according to Kristen Tribby, Director of Marketing and Education at Fun Factory. For an industry that is still only half a century old, such a sudden and collective response is extraordinary and unprecedented. "This is unfamiliar territory for us," Good Vibes admitted on their site, "as we have been serving customers continuously for over 43 years."
In this new reality of stay-at-home orders, sex shops that relied on foot traffic must now rethink their priorities. Many have weighed the pros and cons of laying off employees to enable workers to collect unemployment. "If we are closed for eight weeks, we don't have enough money in the bank to pay both staff salaries and health insurance," said Jacq Jones, owner of Sugar in Baltimore. "We picked going to unemployment now and keeping health insurance."
Evy Cowan, co-owner of She Bop in Portland, Oregon, had to make a similar choice. Seven staff members were temporarily laid off, while five were retained to help with online orders — which, thankfully, keep coming. "Our main focus has always been in-store interactions and education with customers," she said, "so we were very happy to find that during this time those customers have shifted to supporting us online as well." Cowan is grateful for her staff, noting that they have "really stepped up and put their all into making the best of this new situation."
At Early to Bed in Chicago, owner Searah Deysach's staff has also dwindled: from 11 to just a few. She now works alone, in an empty shop, packing toys into boxes and responding to customer inquiries on Instagram. Online orders are vital — they allow her to continue paying her staff who are sheltering at home.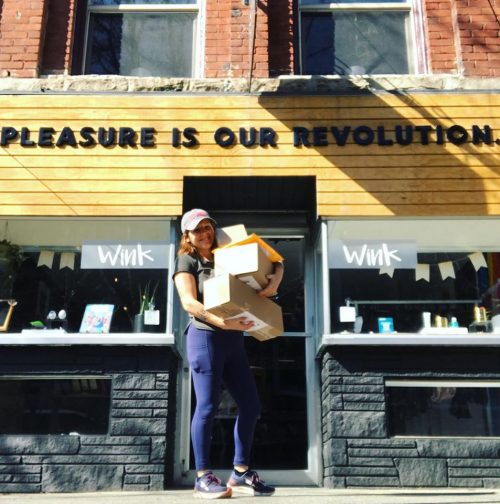 A few brick-and-mortar shops are even delivering directly to local customers' doorsteps. Dynamo in New Orleans offers a free, next-day contactless delivery option; co-owner Hope Kodman calls it "Ding Dong Ditch with Dildos." In Bellingham, Washington, the owner of WinkWink spends her days delivering bags of goodies to customers' porches. The endeavor has been popular: she's dropped off over 150 orders to date.
Some shops, including She Bop, Sugar, Good for Her, and Jellywink Boutique, have moved their educational programming online. Self Serve in Albuquerque has ceased taking online orders completely, focusing instead on their virtual class offerings.
In Minneapolis, Smitten Kitten has closed both its physical storefront and online store, planning to resume web orders once the state's stay-at-home order is lifted on May 4th. If it's lifted on May 4th. "Unfortunately we do sell significantly more product variety in-store than we have ever had available on our website," owner JP explained. "This means that we have tens of thousands of dollars worth of inventory sitting idle with no way to sell it."
All of this is particularly painful because, for many, working in the adult industry is more than just a job — it's a calling. "Quality pleasure product stores and boutiques are owned and staffed by some of the most passionate and caring people on earth," said Molly Romeo, wholesale distribution rep at Holiday Products. "For them to have to temporarily close their physical shops and pause their life's work is truly heartbreaking."
Online-only sex shops are also scrambling to source products and adjust operations with only a fraction of their usual crew. At SheVibe, owners Sandra Bruce and Thor Mikelic have taken over all the responsibilities of the warehouse staff. They are drop shipping from distributors who are still open. "I don't like not having control over how our packages arrive to our customers so we, under normal circumstances, avoid drop shipping," Bruce said. "Right now it's a lifesaver."
Customers have been empathetic and patient so far, and they should keep it up. Expecting a sex toy to land on your doorstep within days is not realistic at the moment. Processing times have increased. Shipments are delayed. Out-of-stock items might be out of stock for a while. "We can only get certain product lines from certain warehouses," explained Bruce, "and if those warehouses are closed, that product line will eventually dry up until things get moving again."
It's not out of the realm of possibility. Sex toy distributors Eldorado, Nalpac, and Williams Trading are all closed.
Most manufacturers are operating at a reduced capacity, with remote working and adjustments to warehouse protocol. Fun Factory has implemented safety measures at their factory in Bremen, Germany. Liberator, makers of sex blankets and positioning pillows, has begun producing masks and gowns. Social distancing is easy at Tantus, where eight in-house employees share a 30,000 square foot building. Owner Metis Black said they have not had trouble sourcing raw materials… yet.
As a one-man operation, Marco of Uberrime doesn't have as much to worry about. He has stocked up on silicone and other materials locally; his supplier works with hospitals and is therefore considered "essential." Sliquid reports their supply chain, entirely in the U.S., is holding steady, so there should be no shortage of lubricant. Je Joue and WOW Tech (We-Vibe/Womanizer) have experienced no disruptions. "So far we've been able to maintain ample stock and shipments from our global warehouses to meet our customers' needs," said Denny Alexander, Head of Communications — Americas for WOW Tech.
Not all have been so lucky: Dame is only now receiving more stock of their toys after a 1-2 month delay. "Manufacturing is catching up to demand again, but shipping is now overloaded," said co-founder Janet Lieberman-Lu, noting that China is one of the biggest manufacturers of personal protective equipment. Having stock is one thing, but that's not the only consideration. Marie Aoyama at Tenga acknowledged that a complete or partial shutdown of the distribution network, such as UPS and FedEx, would be "a big blow for us."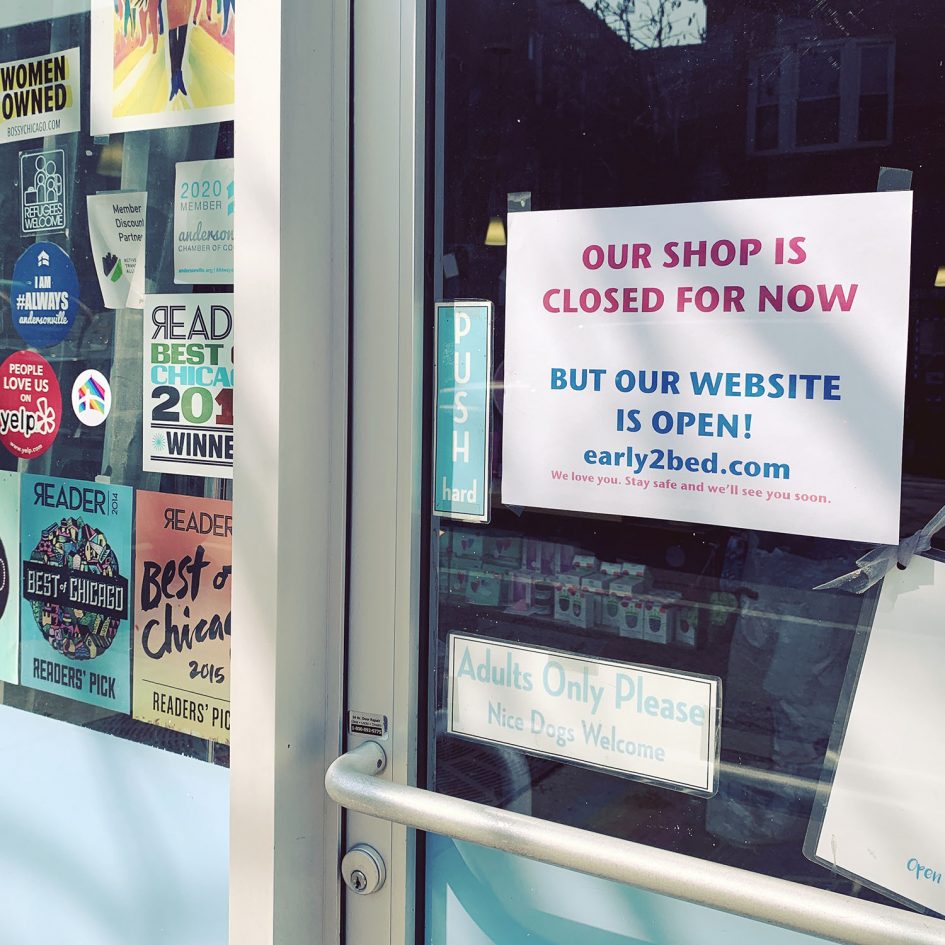 There are fears about the future. As time marches on, rent and bills must be paid. Everything is changing so fast, and what's sustainable today may not be tomorrow. "We've maintained a healthy level of online orders so far," said Jenn Mason, owner of WinkWink, "but we're very worried that this won't be enough to carry us through the long-run."
The pandemic is opening old wounds for folks in the adult industry, as they once again find themselves excluded from economic relief. "One of the biggest problems we have, and it started long before the pandemic, is our inability to access normal banking services and being forced to rely on short-term high-interest loans," explained Shellie Yarnell of Crystal Delights. "This became even more apparent with the recent government 'bailout' which again anyone in the industry isn't qualified to apply for."
The application for disaster loan assistance requires candidates to check a box on the very first page attesting that their business "does not present live performances of a prurient sexual nature or derive directly or indirectly more than de minimis gross revenue through the sale of products or services, or the presentation of any depictions or displays, of a prurient sexual nature."
In case law, prurience has been defined as a "shameful or morbid interest in sex." So sure, an adult business could argue they cultivate a healthy interest in sex, but that's no guarantee. "Ultimately, it will come down to some loan processor at the SBA or potentially their legal department deciding whether or not the prurient exclusion applies to any particular adult business," explained First Amendment attorney Lawrence Walters. "And that is inherently the problem: you are allowing government agents to make decisions on critical disaster relief based on the content of speech, which flies in the face of the First Amendment."
Legally dubious or not, this clause serves as a statement about which businesses are valued in society. "It's infuriating," said Mason. "As a legally-operating, tax-paying business, we (as well as sex workers, who very much need support during this time) should not be denied access to financial support simply because it clashes with our government's supposed belief system."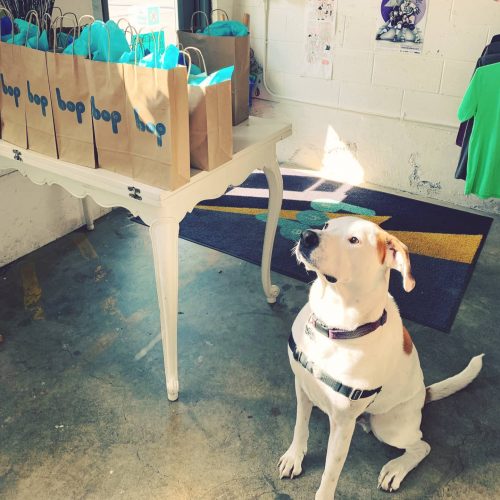 The stakes are high. Sex shops are merely small businesses, after all, and without loans, some of them may not survive. The prospect is terrifying to many in the industry. "Sex-positive retailers where customers can ask questions in a shame-free environment, pick up and handle toys before they buy them, and learn from sex ed programming are the lifeblood of the U.S. market," Fun Factory's Kristen Tribby stressed. "They're historically where smaller, innovative brands first get picked up and gain traction. The work that they do is so difficult to do online, and the loss of a lot of our brick and mortar retailers would be a serious blow to our industry and to the sex-positive movement."
Now's the time to replenish your lube stash. Buy a quality sex toy from your local shop. Take a class, or donate to someone in need with a scholarship ticket. And while you're at it, pick up a porn subscription or purchase content directly from your favorite performers. The adult film industry is observing a production hold until further notice, and sex workers need support more than ever.
You don't have to spend money to make a difference. When asked how customers could support Smitten Kitten, owner JP urged folks to put pressure on their elected officials to change discriminatory barriers to adult businesses. Spread the word. Advocate for independent sex shops and manufacturers. Speak up when your friend casually mentions getting toys on Amazon; explain why they shouldn't, ever, and especially not right now.
"COVID-19 is going to permanently change how we think about the economy, our governments, labor rights, human rights, how people and capital move through the world, and how we interact with each other's bodies," said Jack Lamon, worker-owner of Come As You Are. "I don't think people previously understood why buying from, say, Fun Factory in Germany is ethically important — but they're starting to realize paying an extra few dollars for a vibrator can actually change the world."