Yeah, yeah, this is an
April Fool's
joke. But it's also not, because I really want a Dildo Butler…
I am seeking a conscientious, sex-positive individual to fill the role of Dildo Butler. This is a highly unique live-out position that requires professionalism, discretion, and an exceptionally open-minded attitude. To be successful in this role you must, above all, possess a respectful demeanor that does not waver in the presence of sexual activity. If you can't watch porn with a friend without feeling embarrassed, this is not the job for you.
The role of Dildo Butler is a multi-faceted personal assistant type position that blends elements of hospitality with administrative and creative work. It requires close interaction with a person who is masturbating. Applicants should be organized, meticulous, and able to handle sensitive situations with maturity and a sense of humor. You must have impeccable character references as well as extensive knowledge of the sex toy industry. This is a multi-cat household.
JOB RESPONSIBILITIES:
General maintenance of my sex toy collection, including regular charging, cleaning, and organizing
Overseeing inventory of lubricant and home office supplies, re-stocking as needed
Proofreading blog posts and scheduling social media promotion
Assisting with photoshoots, including corralling my cats
Light housekeeping (sweeping, dusting, cleaning my keyboard) and occasional errands
Miscellaneous administrative tasks, such as answering emails and updating blog posts
Social media monitoring in the event of having gone "viral"
Attending masturbation sessions (see below)
As Dildo Butler, you will be responsible for working all non-recreational masturbation sessions, which will be scheduled in advance. During a masturbation session, you will be asked to reside in another room until your assistance is required. Shifts will range from 1-4 hours. No two masturbation sessions will be the same, so adaptability is a must. During your shift, you may be called upon to perform any of the following duties:
Retrieving, charging, or cleaning a specific sex toy
Cat wrangling (you will be supplied with laser pointer and other cat entertainment)
Refilling my lube dispenser
Standing by and holding a buzzing vibrator as I compare it directly to another toy
Preparing a light snack (e.g. carrots and ranch, cheese and crackers, Goldfish)
Ordering take-out to be delivered post-session
Other small unanticipated tasks (bringing my headphones, refilling my water bottle, etc)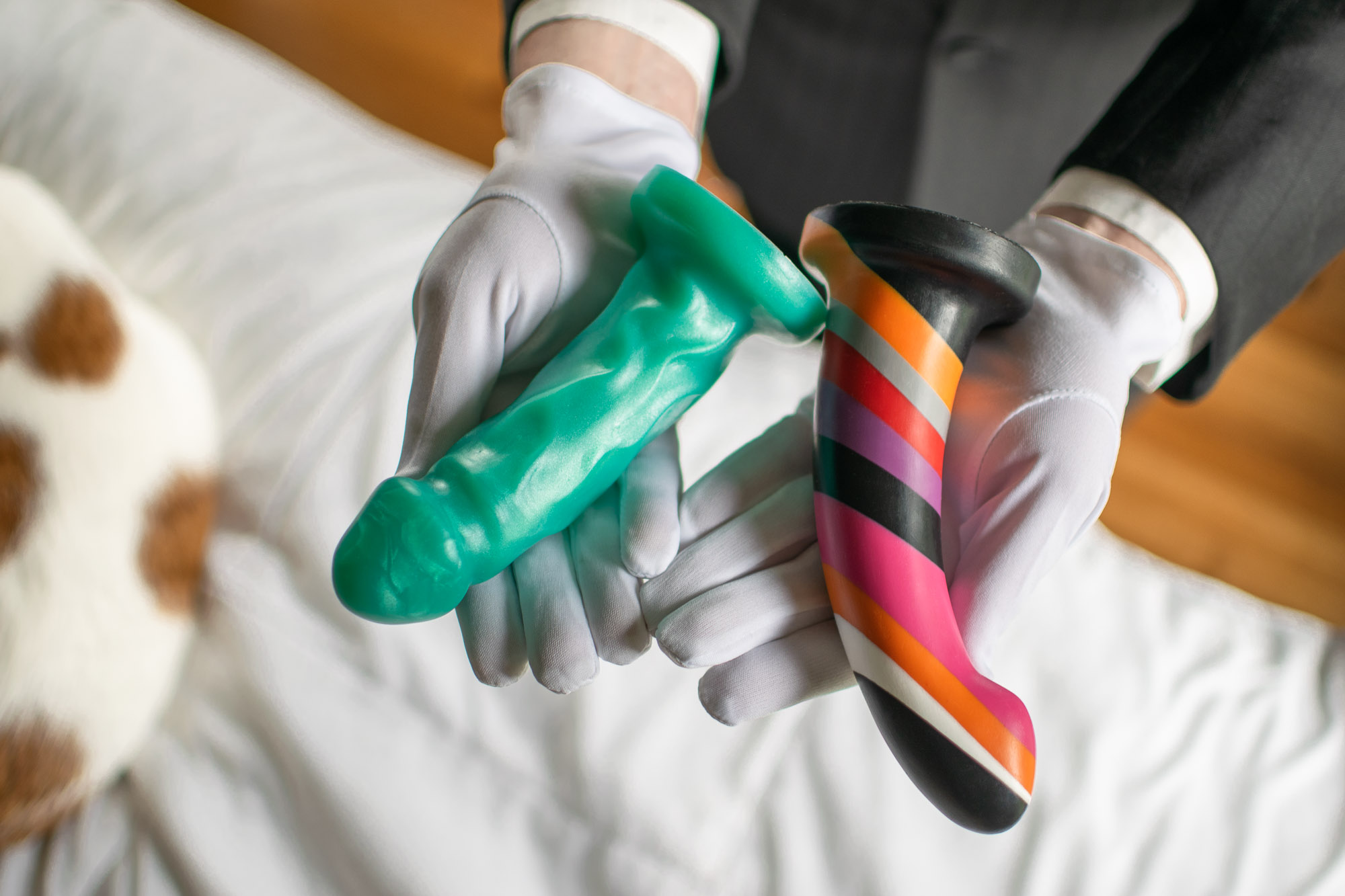 MASTURBATING WHILE ON THE CLOCK IS EXPRESSLY FORBIDDEN. Jacking off is my job, not yours. As Dildo Butler, you will undoubtedly be exposed to pornography, both visual and auditory. You will be expected to separate erotic sounds and objects from physical arousal; please do not apply if you do not believe this to be possible. Our relationship should be one of employer and employee, and therefore must remain strictly professional at all times.
Additionally, after each masturbation session, you will be responsible for:
Wine service
Taking dictation of orally delivered observations during a debriefing period
Serving take-out, if applicable, that has been appropriately heated
Collecting used sex toys and washing them thoroughly
Laundering soiled towels, sheets, and blankets
Returning dry sex toys to their correct drawers, or charging them
QUALIFICATIONS:
Encyclopedic knowledge of the sex toy industry

Exceptional awareness of sex toy names, manufacturers, types, and materials
Ability to differentiate between chargers from various manufacturers
Understanding of which vibrators are fully waterproof

Strong familiarity with my blog and my collection specifically
Outstanding verbal and written communication, with a sharp attention to detail
Ease and maturity around nudity, masturbation, and pornography
Comfort interacting with human liquids, including ejaculation and menstrual blood
Experience properly and thoroughly cleaning a wide variety of sex toy materials and types
Ability to handle sensitive situations with care and a sense of humor
Proficiency with technology (WordPress, social media platforms, spreadsheets)
Typing speed of at least 75 WPM
Basic cooking skills
The following are not requirements, but can increase your chances of being hired:
Adult industry experience
Feline handling skills
Formal training in writing, photography, or social media marketing
Knack for recommending wine and porn to suit specific tastes
Background in stenography
An Australian accent
Applicants must be 21 years of age or older. Flexible scheduling with availability to work weekends on occasion. Compensation: $25/hour DOE. Relocation fees covered for the right applicant. Formal wear not required but appreciated. DO NOT APPLY TO THIS POSITION IF YOU ARE UNCOMFORTABLE AROUND PORNOGRAPHY OR SEX TOYS.
Apply now
Do you have the fortitude to excel in the role of Dildo Butler? Please submit your application in the comments section below by answering the following initial interview questions:
Given the job requirements, why are you an excellent fit for this position?
Do you consider yourself a cat person? Tell me about a time you successfully wrangled a cat.
Down time is a part of this job. How will you occupy yourself while I masturbate?
What organizational strategies would you implement in my office? In which drawer would you file away the Jimmyjane Intro 2? The Fun Factory Volta?
I will be reviewing applications in the coming months and will be in touch with stand-out applicants to schedule video interviews.