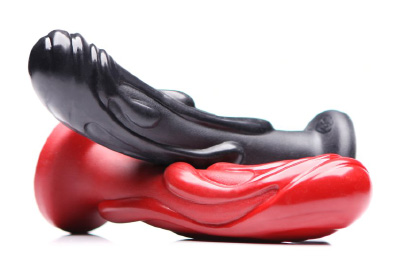 One of my favorite dildos — which was tragically discontinued years ago — has risen from the dead! Once known as the Tantus Splash, it's now called the Magma and comes in a softer silicone. Hopefully I can still feel those stimulating drips!
Our old friend the Hitachi Magic Wand is getting another iteration, and my vulva is flushing with excitement! It's called the Magic Wand Plus, a corded vibe with a smooth silicone head and the same settings as the Magic Wand Rechargeable, finally at a lower price point. YES YES YES.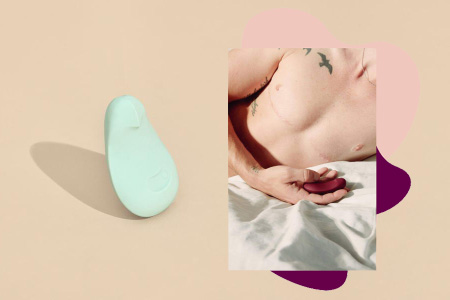 Dame, the company responsible for the nightmare that was/is the Eva, has released the kind of toy I suggested people buy instead of the Eva: a simple, compact rechargeable vibe. It's called Pom, and my favorite part is actually Dame's marketing of it, which casually features a trans guy. [My review is here.]
Speaking of marketing choices, b-Vibe's new campaign "Every Body Has a Butt" is what all sex toy advertising should be like.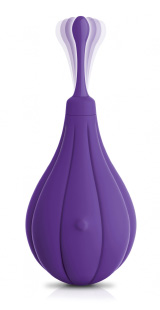 This new vibrator from Jimmyjane looks like a cross between an enema bulb, a toothbrush, and the Zumio. Please don't put it up your butt, in your mouth, or, probably, against your genitals.
I could regurgitate a laundry list of tech-y features of LELO's new masturbation sleeve here, or I could just tell you the only thing you need to know: it comes with LELO-branded fingerless gloves, "to go with the item's Formula One auto racing theme."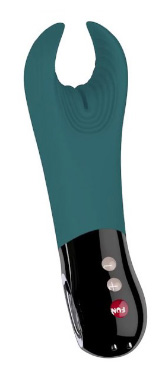 Okay yes it is very reminiscent of a lobster claw, but I have faith that the Fun Factory Manta could be a surprisingly stimulating toy — like an enlarged, more penis-focused version of the Volta.
In related news, Satisfyer's new batch of vibrators are almost all blatant rip-offs of Fun Factory toys. Way to play the game fairly. The most offensive one, in my opinion? The "Petting Hippo," obviously modeled after Fun Factory's iconic Patchy Paul. They turned a worm into a goddamn hippo. (Fun Factory, meanwhile, has been respectfully quiet save for this subtle burn.)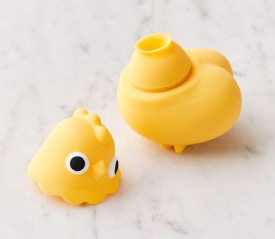 Back when Emojibator was making vibrators shaped like eggplants and bananas, it made sense. Now they're making an inflating shark and a demented-looking chick with a bubble butt. You do you, I guess?!