Facebook hates sex bloggers1. This is well-established. They've disabled my account twice now. The first time, they told me I needed to create a fan page if I wanted to be promoting myself. So I did. This time, when they reinstated my account, they had a new and exciting reason for my account being disabled.
Your account was suspended because you uploaded photo content that violated Facebook's Statement of Rights and Responsibilities. This content has been removed from the site.

Please review the guidelines below to prevent your personal account from being disabled in the future:

"¢ Do not send messages or post photos that contain nudity, graphic or sexually suggestive content.
Yet their terms (which they helpfully suggested I read!) don't exactly line up with this — their terms say, "You will not post content that: is hateful, threatening, or pornographic; incites violence; or contains nudity or graphic or gratuitous violence." But, you know, whatever, let's throw "sexually suggestive" in there too.
Because this is the offending content that they so graciously removed for me: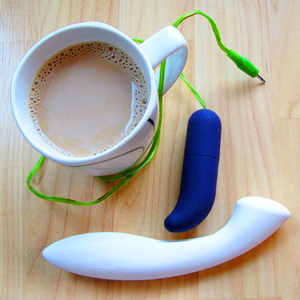 The universe mocked me when I logged in after being reinstated; at the top of my news feed was a photo album full of graphic porn stills. Sweet.
You know, I wish I could shun Facebook, but it's not like I can just use some other platform. Facebook is simply a fact of life, and damnit, I need all the social media outlets I can get. Even if they are disgustingly sex-negative.
So while I seethed about the stupidity of all this, I spent about 5,000 hours2 creating new images for my Facebook fan page. My greatest joy was editing my slogan to read, Conquering the world one *** *** at a time. Then uploading strategically-cropped sex toy photos into an album entitled "Art pieces."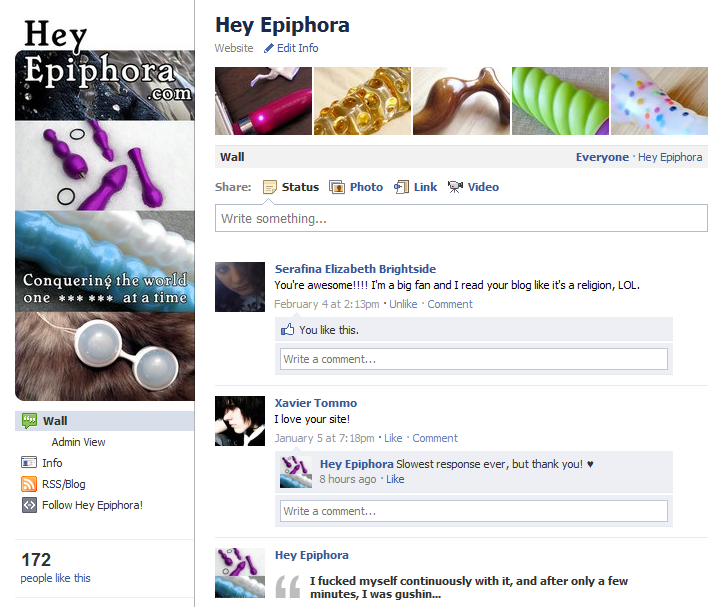 True, this is about 10x more photos than I had on my page before, and so perhaps it is 10x more likely to be disabled again… but if that happens, then the people at Facebook are total pervs who can recognize sex toys from cropped, abstract photos.
I know this kind of bullshit has happened to many sex industry friends. Let's discuss and rage together: what dumb reasons has Facebook given you for disabling your account? What tips do you have for beating the system? And what terrible shit have you seen on Facebook that is far more offensive than vibrators and dildos?