Content note
: this post contains mentions of James Deen. I no longer support
him or his work
.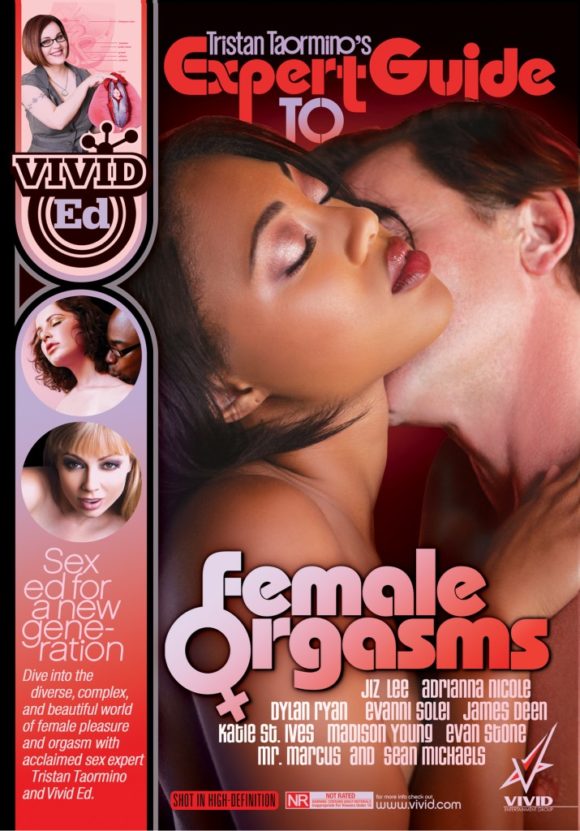 Tristan Taormino does incredibly important work with her Expert Guide series of porn movies. So many "how-to" movies are yawn-inducing, but Tristan realizes that she must mix education with super-smokin'-hot sex. Sure, if you're looking for an in-depth run-down of how to achieve orgasm, you'd be better off reading a book, but The Expert Guide to Female Orgasms does what a book can't: it proves Tristan's point — that orgasms come in many shapes and sizes — with moving images.
Tristan's 34-minute educational workshop is as helpful and non-judgmental as always. She discusses the phases of female sexual response: arousal, plateau, orgasm ("Women may make strange faces or appear to be in pain or frowning, but it's actually an involuntary muscle response"), and resolution. The length of each phase varies widely among women, she points out, and women who experience a long plateau may feel like giving up. Truth.
The stars of the movie also discuss their experiences with orgasm. Dylan Ryan and Madison Young talk about aftershocks/small orgasms. There are comparisons to fireworks and explosions. Dylan talks about how her orgasmic, euphoric feelings sometimes last for up to 30 minutes. I wish?!
Meanwhile, James Deen responds to a question about female orgasm in his usual awesome way: "How do I know when a woman is coming? Uh, if they tell me, 'I'm coming,' I choose to believe them."
Marry me.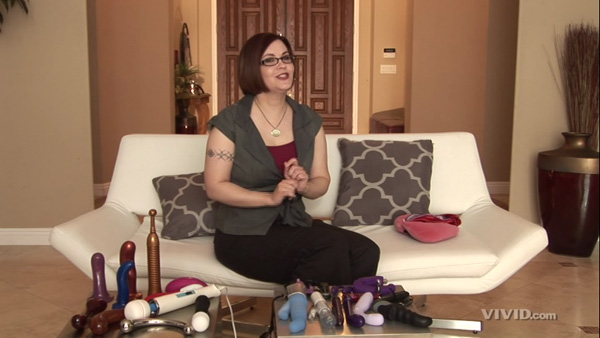 Tristan reminds us that a variety of things can make people come, and that classifying orgasms is too restrictive. Then she gives all kinds of ideas on how to stimulate the vulva ("Don't underestimate the power of a well-placed nose"). And of course, Tristan wins my heart yet again with her quote about vibrators. "Some clits need a powerful, focused, consistent kind of stimulation that no human being can provide. That's why vibrators exist!" Preach it, grrl.
The first three scenes in this movie are not scenes I would watch again. Katie St. Ives and Sean Michaels have decent chemistry and communication, and they use the almighty Mystic Wand when they have sex, but the lighting isn't the greatest and nothing really kept my attention. Evanni Solei and Evan Stone's scene is virtually silent save for the whirr of the Hitachi, and although I appreciate Evan's ass in those jeans, I do not appreciate his distractingly saggy balls (I love you, Evan, but I notice these things!). The authenticity of this scene is commendable, but it also makes for a sort-of awkward and monotonous viewing experience.
Then there's Madison Young and Jiz Lee. This is inevitably going to sound harsh, but I feel like I've seen it all before. Hitachi. Pure Wand. Intense fingering. Squirting. Madison moaning so loud that the audio peaks. Madison uses Randy on Jiz, but that's also something I've seen before. Make no mistake — I enjoy Jiz and I respect Madison greatly, but the only interesting thing was in the very beginning when Madison was meowing and barking1.
When Dylan Ryan and Mr. Marcus came on screen, I knew I was going to enjoy their scene quite a bit. It takes place on a plush couch with light pouring in from a window — YES. There is dirty talk — YES. There is stainless steel — YES. And there is great communication which never sounds the least bit forced (actually, it sounds like they're turned on by communicating).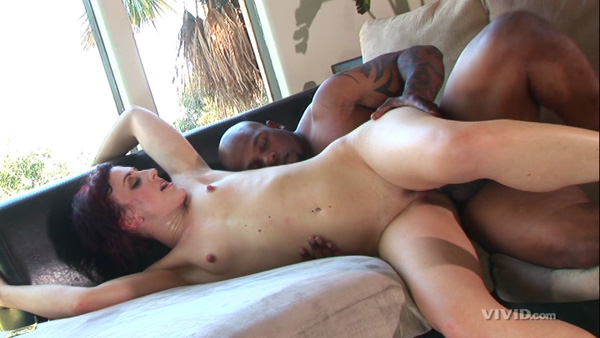 In an epic moment, Dylan squirts on Mr. Marcus's jeans. Then there's this other part where they're making out hardcore as he fucks her, and they're both whimpering, and she's clawing at his skin, and it's just amazing. Aesthetically, and on the gauge-in-my-pants, I loved this scene.
And finally, there's James Deen and Adrianna Nicole. Here you have two pornstars who are willing to go the distance, to really get lost in the scene and each other. Plus, James Deen is hottie of the century. Many times, Adrianna stares into James' eyes as she comes, because WHO WOULDN'T. The communication is superb, the chemistry is superb, the positions are superb, and the sex toy usage is superb (Pure Plugs!).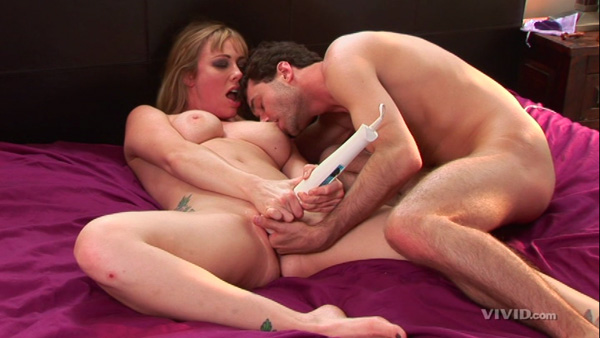 Also, the various sounds in this scene are awesome: the sound of the Pure Plug being jiggled around in Adrianna's ass, the sound of the Hitachi buzzing away as Adrianna sucks James' cock. At the end of the scene, James comes on Adrianna's belly, and they collapse in a pile of exhausted human.
Those final two scenes rock my world, and they make up for the lackluster scenes that came before them (that, I should note, other people may enjoy much more than I did). In general, The Expert Guide to Female Orgasms is a success, and a wonderful contribution to the world. It dispels myths, it showcases a variety of orgasms and techniques, and it includes two very hot scenes. Every single scene begins with cunnilingus or fingering, and the these acts are given the time they deserve, while the blowjobs are downplayed. This is a definite departure from the majority of porn.
Being the sex toy fiend that I am, I must mention one more thing. The credits thank NobEssence, and there are NobEssence toys on the table during Tristan's workshop, yet there are no NobEssence toys used in the scenes. HOW LONG MUST I WAIT TO SEE WOODEN DILDOS IN PORN?
Buy Tristan Taormino's Expert Guide to Female Orgasms at
SheVibe, or stream it here.
Browse more Expert Guides here or stream them here.