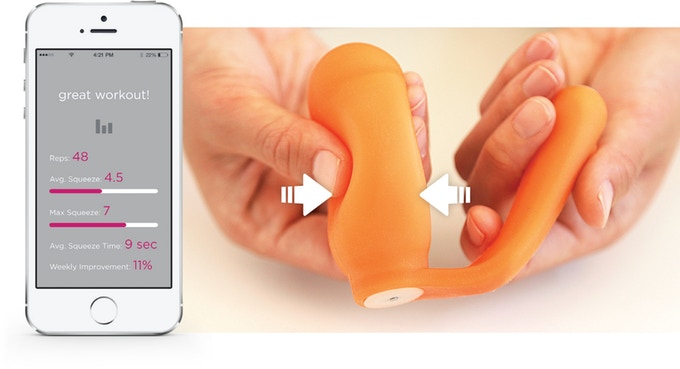 Everyone pause and bask in this moment.
I have found a sex toy crowdfunding campaign that isn't shitty.
It's a squeezable silicone bulb — er, they're calling it a pillow — that measures the clenching of your pelvic floor muscles, and it's called the kGoal (get it? Sounds like "kegel"? If you pronounce "kegel" that way?). It charges via USB and wirelessly communicates with an app on your phone, which serves up your exercise history, suggested workouts, and "max squeeze." I see a community scoreboard coming on.
As added incentive, the kGoal's motor offers vibrational biofeedback as you do your exercises, while the outer arm is equipped with a status light and second motor. So, you might be able to get off with it. Which would be a great bonus.
I'll proudly admit that prior to a recent planned orgy, I researched options for kegel strength testing devices in hopes of having an epic kegel-off. But everything seemed really primitive and medicinal — dubious white plastic devices with sketchy pump bulbs — or too difficult to actually acquire, as in the case of the Kegel8.
The kGoal, while not exactly the most attractive or ergonomic of sex toys (let's be real: it looks like a potato with a growth), is at least technologically advanced, body-safe, and rechargeable. Plus, if anyone's going to utilize squeeze technology, I trust Minna the most, since they've already used it in their Ola and Limon.
Still, I have some fears:
It could turn out like the vagina-offending Jopen Vanity Vr1 and I'd be so mad.
The lack of a smaller neck makes me fear it might be uncomfortable and/or difficult to keep in place.
"Splash resistant"? Bitch plz.
Nobody has $175, especially when actual kegel exercises are free, and cheap yet effective kegel balls exist.
But, for once, I choose to remain optimistic. As of this writing, people have pledged $222,725 of the original $90,000 goal, which means the kGoal will definitely become A Thing. But if you contribute even $1, you get to vote on which color the toy should come in. So. LET'S MAKE ORANGE HAPPEN.
Check out my thoughts on the Minna kGoal now that it has been released!