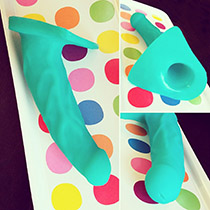 Let's start with the most amazing news in recent history: THERE IS FINALLY A NEW BLOWJOB DILDO. Some of you might remember Mr. Man, which has been out of production for ~7 years. This new take is similar: hollow in the middle, with an opening on each end to transfer suction from the head to the wearer's genitals. Right now it can be found at Early to Bed and She Bop. I'll also be reviewing it, once I put it through its paces.

I'm notoriously Not That Into "couples" toys like the We-Vibe, but even this jaded bitch over here can appreciate the changes they've made in the We-Vibe Sync. It now has two points of adjustment to fit a wider range of anatomies.
I don't even have to find a clever way to say this because the mere fact is strange enough: biodegradable vibrators.

Today in hipster sex toy videos, Dame Products (makers of the cringe-inducing Eva) are crowdfunding a toy that you hold between your fingers. It has 3 speeds because apparently more would hurt our brains, and there's a moment in the video that gives me serious flashbacks to the shit orb video, in which they claim all these toys are too "awkward":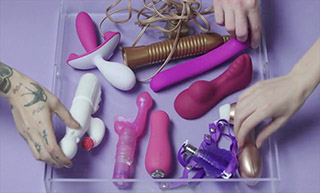 STOP. COMING. FOR. MY. EROSCILLATOR. How many times do I have to say it?!
…Okay. Breathe and look at these delightfully swirly new unicorn tail butt plugs from Crystal Delights.

Also: the Buck Off is one of the first1 masturbation sleeves specifically designed for trans guys! The Bro Sleeve, which my friend reviewed for me, was not marketed to the trans community and didn't provide suction unless altered, so I'm pretty excited about this development!2
Fun Factory has a new paddle/dildo hybrid called Buch Dich (which means "bend over" in German). Hmm, sounds a lot like the Tantus Plunge, but I guess there's room for two paddle dildos?
It can be Halloween all year long for your penis with these terrifying new sleeves from Fleshlight: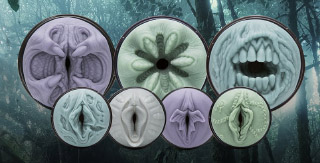 Finally, the Element MS looks like a sleek vibrating penis sleeve but its description begins "move aside ladies, it's his turn," which makes me want to rip the computer from the hands of whoever wrote that and drop it into the ocean. With an anchor attached.
Not the first ever, as there are similar products from FTM Pitstop, Frisky Beast, and A Krow's Nest.
even though Buck Angel is problematic