The Bloomy has been discontinued, but check out Fun Factory's
Bootie
.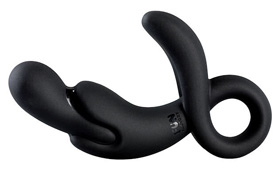 Nobody can argue that Bloomy isn't cute. It's freaking adorable, in fact. Cute designs are definitely Fun Factory's forte. The question is: what is it? Is it a butt plug? A prostate massager? A G-spot dildo? Something to hide among the chrysanthemums in the bouquet on your kitchen table?
All of the above, if you want it to be (not sure how well the black Bloomy would hide among flowers, though). However, my opinion of Bloomy shifts depending on whether I'm talking about it as a butt plug or as a dildo.
As a butt plug, it's great. Insertion is very smooth, and it feels quite comfortable once inside. It's not too small, but it's not too large or too wide either. The looped end ensures that the Bloomy will never get sucked in my butt, and it doubles as a valuable removal loop. I had no trouble sitting on it, but I'm not sure how it would fare for long-term sitting.
As a dildo, Bloomy confuses me. I have tried it numerous times vaginally, but each time it has bothered me in a vague and annoyingly indescribable way. It feels fine at first but, once I insert it all the way, it begins to feel uncomfortable and odd. The feeling is intensified when I thrust with it. It does hit my G-spot, but it doesn't actually feel good; in fact, it hurts a bit. I can only conclude that the flowery shape of the shaft has to do with my discomfort, but I'm not really sure. That clitoral protrusion is a stroke of genius, though.
Bloomy is made of 100% sterilizable, hygienic silicone, which is definitely a must if one is going to use this in both vagina and ass (on separate occasions, after a thorough sterilization, of course). As with all Fun Factory toys, it is impeccable in quality. The loop is also perfect for a bullet or egg vibe.
Bloomy's biggest asset is its versatility — the likes of which the sex toy world has rarely seen — but I was disappointed in it as a dildo. Ella it is not, but it's still a pretty awesome butt plug.