Everything's temporary if you give it enough time.

Jewel
Last week, I learned that Fucking Sculptures is closing up shop. It seems like just yesterday they popped into existence, delighting me with their jaw-dropping, hand-blown glass dildos and unabashedly straightforward company name. Their G-Spoon was lauded as a serious A-spotter, the beastly Double Trouble revered by size queens. They donated dildos to my giveaways. My partner visited their studio.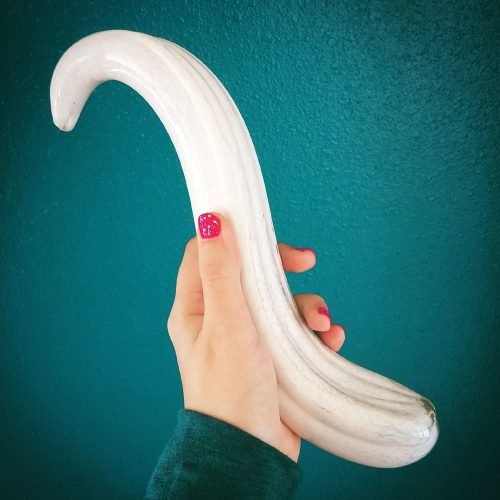 Now… they're gone. After four and half years producing gorgeous toys, their website has been reduced to a vague goodbye message, and we're left to scramble to scoop up the last of their inventory at retail shops.
It all seems creepily familiar.
As a lifer in the adult industry, I watch companies come and go on a regular basis. Many are no great loss, but some of them are, and those are the ones that get me. There's no funeral for a dead sex toy company. No procession of people paying their respects. A few stray tweets here and there, maybe, but nobody heaping praise on their work. One day they're here, and the next they just aren't. Without blogs, without the few sex toy aficionados out there, these companies and their toys would be lost to the ether.
Usually, I imagine, the reason is money. Artisans can't compete with giant companies churning out toys in factories. To stay afloat, their prices must reflect the process of hand-crafting each and every toy… and consumers don't want to spend $180 on a dildo. Without undercutting someone somewhere, the sex toy manufacturing business is probably not particularly lucrative.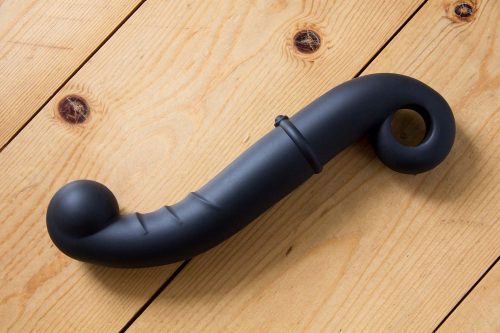 Part of my sadness is knowing I can never point folks to the wonderful toys these companies made. I still mourn the death of Ophoria, manufacturers of forgettable vibrators and one unbelievably good G-spot dildo, the Beyond 3. No hyperbole: this dildo makes me squirt all over the floor in 30 seconds flat. It also made my partner squirt for the first time. Something about that shape, the way you can grasp the handle and thrust with all your might. It's just perfect. But the company bit the dust in 2012, with nary a peep except a tweet inviting folks to a "NSFW garage sale" at their location. (Dude, if I could've gone to that… I would've bought like five Beyond 3s.)
I routinely wish Jollies was still in business, because they made several toys that to this day have not been rivaled. [Update, 3/12/18: THEY'RE BACK and now called LuzArte!] For stationary G-spot stimulation, their rainbow polka dot Jollet is hard to beat. I also love the Jack, which aside from containing FLAKES OF GOLD GLITTER features the surprisingly stimulating combo of a smooth shaft and a textured, off-kilter head. Then there's the revolutionary Mr. Man, which for the first time allowed someone with a clitoris to receive a phallic blowjob. (The BJ is similar, but not as effortless to use.)
For a while, you could collaborate with Jollies and embed virtually anything you wanted in a custom dildo. I have many #regrets that I never did that, although I still have a funny memento from the company: a silicone ashtray they sent me.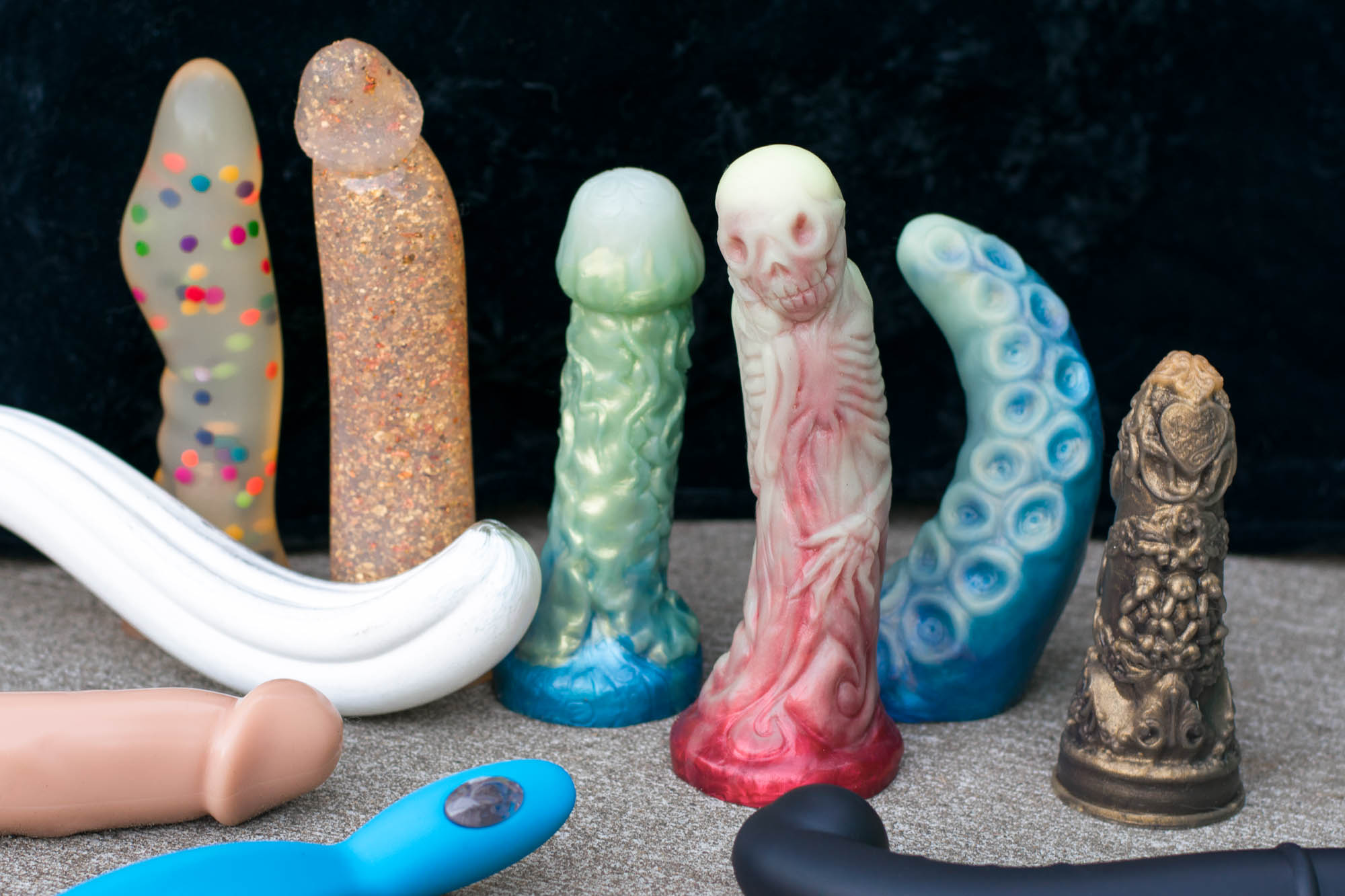 2014 marked the demise of Whipspider Rubberworks, who made 100% silicone toys in fantastical, incredibly detailed shapes, such as unicorn horns and tentacles. My texture-loving vag was really into the Jellyfish, so before they disappeared, I grabbed myself a Ghost — a glow-in-the-dark skeleton dildo with hauntingly realistic eye sockets, perfect for Halloween play parties and actually just an excellent dildo.
There have been other, short-lived companies. Eros & Isis, who made silicone toys that resembled bronze sculptures, sent me their "Chunkee Munkey," an intricate dildo featuring the three wise monkeys. Penetralia made wooden toys, one which I still pull out when I want a no-nonsense vag-filler. Papaya Toys' vibrators came in a vibrant neon green that I loved. Once, on an excursion to a megastore sex shop, I found a Papaya Toys Ice dildo in their clearance bin for $8. It has, perplexingly, a removable jewel in the tip.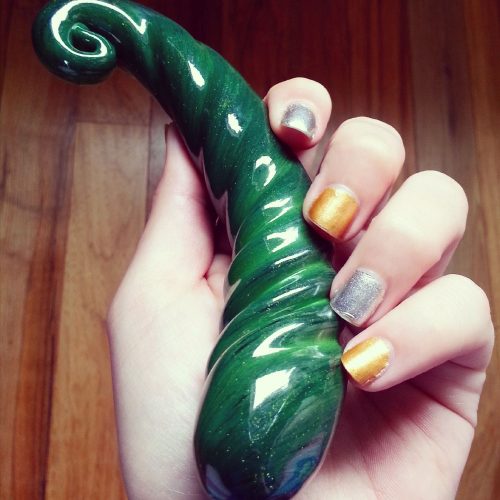 These days, there are newer silicone options — Hole Punch Toys, Split Peaches, and Etsy sellers make playful toys in unique shapes, while others offer generic shapes in fun colors. But where will we go for our artisan glass? Now that Fucking Sculptures, Phallix, and Luxotiq are gone, there are but a few companies left: Crystal Delights, Simply Blown, Standard Glass. Pickings are slim.
It is strange to think, looking at the landscape now, that some of these companies will survive, and some will not. Some will endure, much as we wish they wouldn't, and others will quietly dissolve. A few years will pass, and most people will forget.
I'm a sap. I know. But when we lose companies we love, it feels alarmingly out of my hands. I'm not a glass-blower, sculptor, silicone pourer. I can't design or produce sex toys myself. I can't fill the void left by Fucking Sculptures, but I can do my part to immortalize them and other bygone companies. They existed, once. They made beautiful toys, toys that brought many people great pleasure. They mattered, and we miss them.
Which now-defunct sex toy companies do you miss most? Which toys do you wish you owned?