Note
: The Beyond 3 is sadly now gone forever, but the
Jopen Comet II Wand
is comparable and awesome.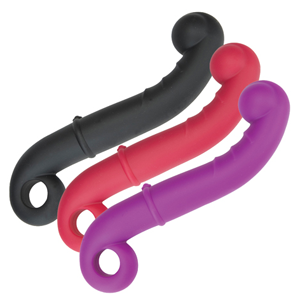 I guess I'm an old geezer, because I remember when Ophoria was the brand new sex toy company on the block, and now I'm around to witness the very unfortunate discontinuation of many (all?) of their toys — including the one that's easily their best, the Beyond 3. I'm hearing through the grapevine that they're being discontinued by suppliers and vendors. SheVibe was smart enough to snatch up a batch of Beyond 3s, and to my knowledge, they are the only site that still has them in stock.
I actually acquired my Beyond 3 from Ophoria themselves in exchange for filling out a survey about my experience (no idea what I wrote in it, but it was probably some form of "HOLY SHIT OMFG"), but I had to review it later because I needed the world to know about its majesty. I wrote:
The Ophoria Beyond 3 makes me squirt in less than 30 seconds. Less than 15 if I really go for the gold.

. . . I don't think I've ever used the Beyond 3 for more than a few minutes at a time. I never need to; it gets the job done quickly and consistently. This isn't a dildo you take out to a romantic dinner and snuggle up with at night. It's for intense, automatic G-spot stimulation, almost instantaneous squirting, and forgetting to breathe for 15 seconds straight.

I'm serious. Instasquirt.




It is, basically, a silicone Pure Wand. I called it "beginner G-spot dildo #1." And I'm very sad I won't be able to direct people to it anymore.
I wasn't able to extract any information from Ophoria (they didn't reply to my email), but I don't have a good feeling about this. Like, look at this tweet they sent out in May: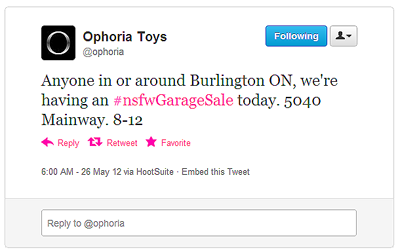 Doesn't exactly sound like a company that's thriving, does it? (As awesome as a sex toy garage sale sounds…)
So if you've been wanting a Beyond 3, get one now before they're all gone. And probably if there's any other Ophoria toy you've been wanting, pick that up, too. Don't say I didn't warn you!