I suspected it was coming when I saw the Jollies toys disappearing from the stores. Everything becoming out of stock. There have been rumors, even scares, before — about Jollies going out of business. Then rumors about them being revived. But now I know, after an email from Jollies CEO Luze Chavez, that it's permanent.
Yes Jollies is dead and gone. We just had no time to continue as we have a different business and it is so busy, we did not have time to devote quality time to Jollies.
Damnit, I'm really sad about this. The toys Jollies made were fun, colorful, eclectic, and innovative (especially that!). There was no set color palette. There was glitter. There were polka dots. Jollies made some crazy shit. Some of it worked, some did not. But they tried.

Jollies' crowning toy was named, fittingly, the Jollie. The dildo's odd shape came from a mold of an actual woman's vagina, and the toy was not really made for thrusting, which made it peculiar and unique. It came in a large variety of colors, including a festive Valentine's Edition. At one time, it was possible to order custom Jollies with just about anything suspended in the silicone. COME ON, THAT IS AMAZING.
When Jollies made a toy that looked like a penis, it was not the usual penis. This one, Jack, had an odd shape to the shaft, and it leaned slightly to one side. The very pronounced head had a sort of gravelly texture to it — how they did that with silicone, I have no idea. In a sea of penis-shaped dildos, Jack feels unlike any other, and is one of my favorite dildos. It hits my G-spot like a freakin' champ.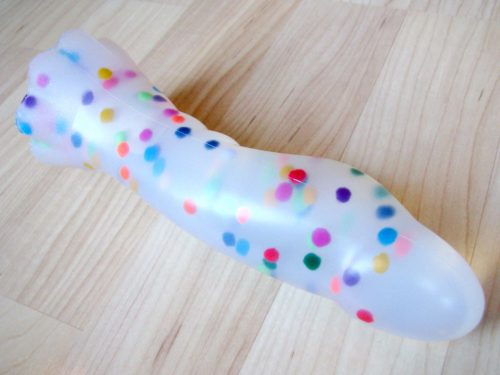 One of my other favorites? The Jollet, with its epic G-spot bump and adorable scalloped base. I was lucky enough to get my hands on a polka dot one. I will treasure it forever.
I am also honored to be one of few who own Mr. Man. Arguably Jollies' most groundbreaking toy, Mr. Man is a cock-shaped dildo with a hole down the middle; it transfers suction from the cock's head all the way down to the recipient's clit. And it feels damn good. If I could will just one Jollies toy back into existence, it would be this one. As my friend Vega said to me, "Mr. Man should fucking exist."
Jollies also invented the Rider — an insertable, vibrating blob of silicone that resulted in one of my funniest reviews of all time, and the coining of the distress call, "MY VAGINA IS CLOGGED." They also made the Luna, a butt plug molded from a woman's anal cavity. Jollies' other toys were the Thrust, Wave, Bubbles, Bandito (a really interesting toy — basically a cock ring with a dildo attached), and some Hitachi attachments.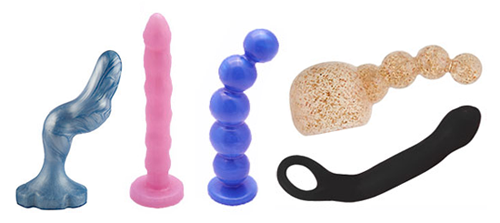 I keep thinking about how new bloggers, new sex toy fiends, will stumble across old reviews of Jollies toys. For a moment, they will be filled with such hope. Then they will learn the truth, and eventually, simply owning a Jollies toy will be something to be cherished. Oh god, I'm getting so depressed.
Friends, let's reminisce and mourn. Do you have any Jollies toys? What did you admire most about Jollies as a company? What would you embed in the silicone of a custom Jollie? How the fuck can we get another company to manufacture Mr. Man? You have my full permission to get sappy.
Get Jollies / LuzArte toys at Spectrum Boutique. (My faves are listed here.)
Or use code EPIPHORA to get 15% off your entire order directly from LuzArte.