I mourned the death of sex toy company Jollies half a year ago, but it looks like we all might have a new chance to get some of their toys. A couple days ago, a friend messaged me with a link and wrote, "Since when is Jollies stuff sold in an Etsy shop with pot leaf ash trays?"
My first thought was that some creeper was selling off their used Jollies toys on Etsy. But then I saw the name of the shop:

Chavez is the last name of the founder of Jollies, Luze. It was starting to seem legit. So I emailed them to find out. A guy named Ernie replied to me.
Yes, Luze is my mother and both me and my wife Shannon are selling most of THE Jollies Toys. We have back stock and hope to extend Jollies life.
And so it is. Chavez Dezignz sells ash trays, jewelry… and dildos. Their "Mature Adult Toys" section carries almost all the Jollies toys we know and love, such as the Jollet, Jollie, and Jack. There's also the lump-o-silicone Rider, in case you want to clog your vagina, and the Luna butt plug, in case you want to clog your ass.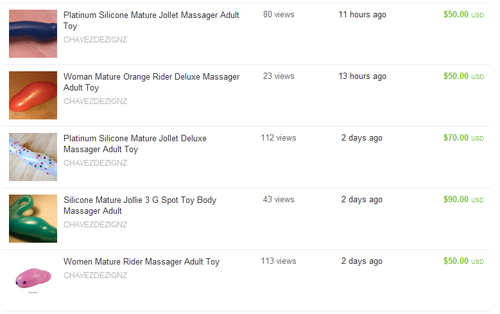 In all seriousness, though — this is pretty awesome. Some of the toys are even available in sparkle, gold, and polka dot!
Sadly, one particularly desirable toy, Mr. Man, is missing, and when asked about it, Ernie said there is no back stock of that one, but he would let me know if they decide to produce any toys. I'm sorry, everyone who always asks me about Mr. Man, but I tried!
This'll very likely be everyone's last chance to get anything from Jollies, so act fast. UPDATE: Production is happening! But not every toy will be produced. Ernie says,
I got the green light from my mom this morning to begin production on Jollies toys. So I need to get everything from her (masters, molds, etc.) Then I'll get started. I knew you were going to ask about the Mr. Man and I hate to tell you that we are probably not going to get to do that one anymore….I know sad news =(.
So some Jollies will be sticking around, albeit in the small pond of Etsy. Hooray! My recommendations are the Jollet (a unique shape that stays put and presses on the G-spot) and Jack (a semi-realistic dildo with a slight lean and a textured head — I never reviewed it, but I adore it). Jack is the one with the blanked-out thumbnail. TOO OBSCENE FOR ETSY.
Get Jollies / LuzArte toys at Spectrum Boutique.
Or use code EPIPHORA to get 15% off your entire order directly from LuzArte.