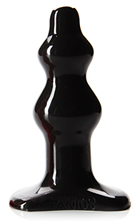 I don't know how to say this in a way that is pleasant, but that's okay — I've never really been the queen of class.
It feels like I'm pooping.
Because the Tantus Severin's final bulge rests right inside my ass, it feels like I'm on the verge of a poop. Constantly. Especially if I walk around. It feels awkward, like it wants out.
I've tried to push the plug in further, but it always ends up resting right at that spot, with the neck hanging out and the base poking into my ass cheeks. The base isn't super uncomfortable, but it's definitely… obvious. And distracting. And I don't know why it has to be so big. And it blocks my vag.
But mostly, this butt plug just feels odd. I was hoping the bulges would feel nice, but instead that last bulge just feels like a persistent reminder that the thing in my butt doesn't want to be there. I like butt plugs that slide into place and stay put, not ones that are planning their escape. Even if that escape never actually happens, the sensation is not fun.
My Severin is the small version (4″ long, 1.5″ wide); there's a medium version (2″ wide), and a large version (2.35″) that make me scream in terror. Yeah, I'm sticking with my Ryder.
Get the Severin at SheVibe or directly from Tantus. See all my favorite Tantus toys here!