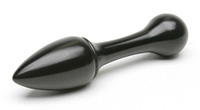 After my disappointing experience with California Exotic's aluminum butt plugs, Metis Black (president of Tantus) offered to send me Tantus's take on an aluminum plug: the Alumina Pace. Considering my close bond with my Alumina Motion and Revolve (especially the Motion, which is my warm-up lover), I had to say yes.
Aluminum is an amazing material, no doubt about that — it is incredibly receptive to temperature, it's nonporous (and thus easily sterilized), and it's weighty but not too weighty. I love it in my vagina, and I'm sure I could love it in my ass.
But after thorough testing of the Pace, I have come to this unfortunate conclusion: my anatomy and the Pace don't get along. And it's not the pointiness that's a problem — it's the length of the neck. With the pointy end in my ass, I never really feel like the plug is securely in place. The neck, while certainly thin enough, is too long. My ass clamps down around the beginning of the neck, leaving the rest of it kind-of hanging out of my butt. That's the only way I can describe it… it feels like it's dangling out of my ass. Like a tail.
And I'm not keen on pushing a pointy butt plug further into my butt than it seems to want to go. I've tried it, and it's not a pleasant experience. I prefer to let butt plugs hang out where they want to hang out. Unfortunately, the Pace seems to want to hang out half in and half outside of my ass.
"So turn the plug around, Epiphora!"
I tried that, too — inserting the ball end. It felt okay, but then I had a pointy thing sticking out of my butt. It was noticeable through my jeans and made sitting down pretty uncomfortable.
"So unscrew it and use it with your other Alumina toys!"
Good point. That I can do, as all the Alumina toys have a rubber O-ring that holds their two sides together. But what kind of hybrid do you want me to make? I can make a miniature dildo by pairing one side of the Motion or Revolve with one side of the Pace, but that's about it. Nothing spectacular.
On the bright side, the O-ring provides some extra stimulation inside me, and I know for sure that it would never come unscrewed on its own. These Alumina toys are built to last, and it takes some serious twisting to unscrew them. The Pace could, and has, worked well for others… but it's not for me.
The Tantus Alumina line has been discontinued, but Crowned Jewels makes aluminum toys. See all my favorite Tantus toys here!